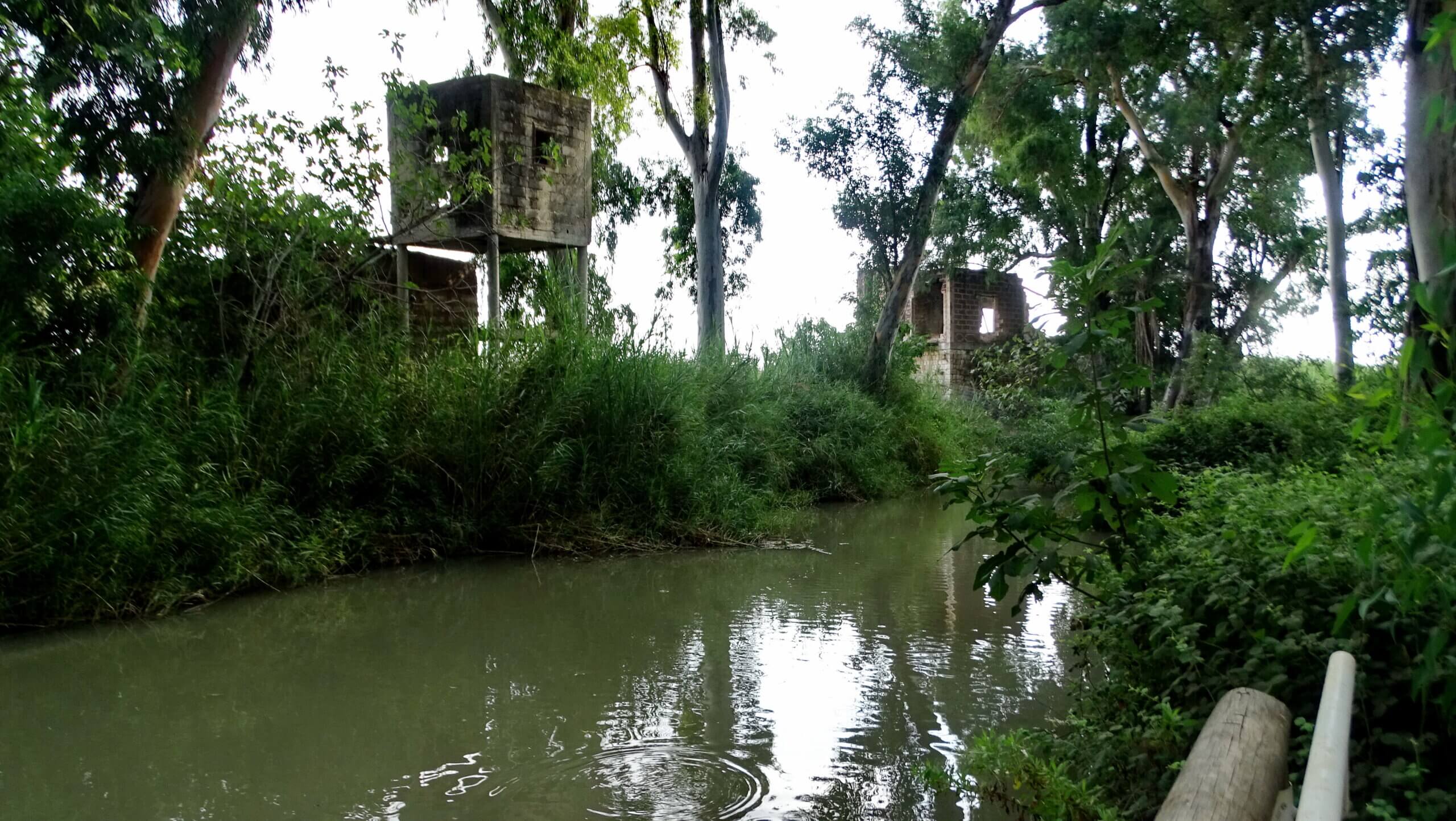 איך האָב זײער גיך פֿאַרשטאַנען אַז דאָס פֿאָרן מיט אַ ראָװער דורכן פּאַרק הירקון, אין צפֿון תּל־אָביב, איז נישט קײן לײַכטע זאַך. אַן אָן־סופֿיקע בלאָנדזשערײַ פֿירט אײַך אַהין און אַהער, אַריבער צװײ שלעפֿעריקע טײַכן און אונטער עטלעכע שאָסײען, געװײנטלעך אָנגעפּאַקט מיט קװיטשענדיקן געפֿאָר.
דאָנערשטיק נאָך מיטאָג – דער סוף פֿון אַ װאָך אָנגעשטאָפּט מיט רעפֿעראַטן װעגן ייִדישן פֿאָלקלאָר – האָב איך פֿאַרבראַכט אין מײַן באַליבטסטן רעסטאָראַן "יוליאַ", אינעם געגנט פֿון דעם אַלטן פּאָרט, לעבן פּאַרק הירקון. אָבער סאַראַ היץ! ס׳האָט זיך מיר געדאַכט אַז דרײַ אַ זײגער זיץ איך אין אַ מידבר אין סאַמע צענטער הױפּטשטאָט פֿון שװיצלאַנד. ס׳אַרט מיך נישט – יעדערער שװיצט אין יולי. שפּעטער, װען איך האָב שוין נישט געקענט אַראָפּנעמען די אױגן פֿונעם ברױזיקן ים מיט דער אונטערגײענדיקער זון, װען עס איז שױן געװאָרן בין־השמשות־קילער, זײַנען אַרײַנגעקומען אין רעסטאָראַן אַזױ פֿיל משפּחות און געשעפֿט־גרופּעס אַז איך, אַן אײנציקער, האָב מער נישט געקענט האַלטן מײַן טיש נאָר פֿאַר זיך. חוץ דעם איז פֿיר שעה שױן געװען גענוג צײַט װאָס איך מאַך אַן אָנשטעל אַז איך שרײַב טאַקע.
געסילוקט דעם חשבון, האָב איך אױפֿגעשלאָסן דעם ראָװער,  און אָנגעשטעלט "גוגל" אַז ער זאָל מיך פֿירן צו מײַן געדונגענעם צימער אין רמת גן. װי געװײנטלעך, האָט ער צו ערשט זיך געלאָזט אין װעג אַרײַן דורך די טומלדיקע געזעמלעך אױפֿן ים־פּראָמענאַד ("אין צװײ הונדערט מעטער, פֿאַרקערעווע זיך אױף רעכטס, דערנאָך אױף לינקס") , װײַטער איבער דער שמאָלער בריק אין פּאַרק הירקון אַרײַן ("פֿאַרקערעווע זיך אױף לינקס, דערנאָך אױף רעכטס"), און פֿון דאָרטן, אױף זײַן שײַנענדיקן עקראַן, האָט ער מיר אָנגעװיזן דעם ריכטיקן װעג, דורך די שטילע, נישט־לאַנג פֿאַרלאָזטע סטעשקעס. "אַ דאַנק, גילגול!" האָב איך זיך געחכמהט.
נישט װײַט פֿונעם בנין "המועצה לישׂראל יפֿה" (ד״ה, דער "ראַט פֿון אַ שײן ישׂראל") האָבן זיך דרײַ שאַקאַלן זײער רויִק שאַטײַעט פֿאַר מיר אַריבער דעם װעג. עטלעכע פֿון מײַנע חבֿרים, װאָס װױנען אין צפֿון תּל־אָביב און הערן אַלע אָװנט דאָס יעלהן פֿון די שאַקאַלן, האָבן מיך לעצטנס באַרויִקט אַז איך דאַרף נישט מורא האָבן. די שאַקאַלן זײַנען נישט װי װעלף. אָבער עס האָט זיך מיר געדאַכט, אינעם דריקנדיקן פֿינצטערניש, אַז די דאָזיקע שאַקאַלן האָבן פֿױגלקעפּ… "אַן איבעראַקטיװער כּוח־המדמה," האָב איך דערהערט פֿון ערגעץ װוּ.
דערנאָכדעם האָט גילגול באַפֿוילן: "פֿאַרקערעווע זיך אױף רעכטס," און איך האָב אָנגעהױבן אַרױפֿצוקריכן מיטן ראָװער אױף דער "ראָש־ציפּור"־בריק װאָס שפּאַנט איבער די טײַכן, דאָס הײסט, דעם ירקון און איילון. אַ גליק װאָס איך האָב געהאַט אַ שטאַרקע פֿאָדערליכט אױף מײַן ראָװער, װײַל דער בריקװעג האָט זײער שאַרפֿע בײגן. אַרױף, אַריבער גלאַט, און אַראָפּ. אָבער…טשיקאַװע. צי האָב איך טאַקע פֿאַרזען אַז ס׳איז דאָ אַ דריטער טײַך? איך האָב געהערט פֿון גאָר אונטן דאָס פֿיצקען פֿון װילדן װאַסער. קױם װאָס איך האָב געכאַפּט די לעצטע װערטער פֿון גילגול אַראָפּגעקומענדיק בײַם ברעג טײַך: "פֿאַרקערעווע זיך אױף רעכטס. זײַ מיר געזונט. דאָס װײַטער איז נישט מײַן באָבעס עסק." און דער עקראַן האָט זיך פֿאַרלאָשן.
אָן גילגול װי אַ װעגװײַזער, האָב איך זיך אָפּגעשטעלט ניט װײַט פֿונעם עק בריקראַמפּע. אַ שװערע מראַקע האָט מיך אַרומגערינגלט, דעריבער האָב איך נישט געקענט זען אָדער הערן דעם טײַך. דערצו איז קײן סטעשקע נישט געװען. איך האָב דערפֿילט באַװעגונגען אין דער נאָענט… און װאָס נעענטער. איז פּלוצעם אַלץ געשען אַזױ גיך, אַז איך האָב נישט געהאַט קײן צײַט צו שױדערן. באַלײַכט דורך דער פֿאָדער־ליכט פֿון מײַן ראָװער – אַנטקעגן מיר, צענדליקער שאַקאַלן.
"פֿאָרט נאָך אונדז!" האָט פֿאַרלאַנגט אַ שאַקאַל צװישן זײ מיט אַ פֿױגלקאָפּ, און די זיך באָרבלענדיקע סטײַע האָט מיך שטילערהײט דערפֿירט צו אַ פּאָליאַנע אַרום נישט קײן קלײנער כאַטע. פֿאַר דער כאַטע, באַהעלט פֿון דער מנוחהדיקער שײַן פֿון צװעלף נאַפֿטלאָמפּן, איז געשטאַנען עפּעס אַ בריאה. די שאַקאַלן זײַנען פֿאַרשװוּנדן געװאָרן.
"שלום-עליכם, רב ייִד, צום סוף ביסטו אָנגעקומען," האָט ער מיך באַגריסט. איך בין אַראָפּ פֿון ראָװער. כאָטש איך האָב אין יענעם מאָמענט געמײנט אַז דער בעסטער פּלאַן װאָלט געװען אַװעקצולױפֿן, װוּהין זאָל איך אָבער לױפֿן? אַן אױפֿגעציטערטער האָב איך דערזען, אונטער אַ לאַנגער קאַפּאָטע, זײַנע גענדזענע פֿיס. אָט די װערטער פֿון באַשעװיס, װאָס מיר האָבן דעם טאָג געהאַט געלײענט אין קלאַס, האָב איך זיך פּלוצלינג דערמאָנט: שװאַרץ װי פּעך, לאַנג װי אַ לאָפּעטע, מיט אײזלשע אױערן, הערנער פֿון אַ באָק, אַ מױל פֿון אַ פֿראָש, אַ באָרד פֿון אַ ציג. אַ דערשראָקענער האָב איך אױסגעשריגן: " דו ביסט אַ שד!"
"אוּוואַ! כ׳בין צופֿרידן אַז מיר דוצן זיך שױן!" האָט ער זיך צעלאַכט. "נו, זיץ. הײַנט האָסטו געשװיצט אין דער היץ." זײַן פֿראָש־מױל האָט אַ שמײכל געגעבן. אױפֿשױדערנדיק האָב איך זיך אַװעקגעזעצט אױף אַ בענקל װאָס האָט זיך געיאַװעט פֿאַר מיר. "צי װײסטו אַז שדים האָבן ליב גראַמען? איך בין זיך מחיה אַז דו האָסט אױך ליב גראַמען," האָט ער געזאָגט און דערנאָך, ווײַזנדיק מיט די הערנער צו דער כאַטע, צוגעגעבן: "װײַל גראַמען געפֿעלן איר נישט."
איך האָב געהאַלטן בײַם זאָגן אַז איך האָב גאָרנישט נישט געזאָגט װעגן גראַמען, װען ער האָט זיך אַלײן איבערגעהאַקט. "װאָס זאָג איך? שדים." זײַן קול איז אַ ביסל פֿאַרטױבט געװאָרן. "ס׳זײַנען מער נישטאָ קײן שדים." ער האָט געשאַרט מיט די פֿיס פֿון זײַט צו זײַט.
איך האָב זיך געשטאַרקט מיט אַלע כּוחות און קװענקלענדיק געפֿרעגט: "װאָס מײנסטו אַז עס זײַנען מער נישטאָ קײן שדים? ביסטו דער לעצטער? װי אַזױ? פֿון װאַנען שטאַמסטו?"
" אַזױ פֿיל פֿראַגעס! איך בין אַ לובלינער," האָט ער שטאָלץ געמאַכט, "אָבער אַשמדאַי האָט מיך געשיקט אױף אַ שליחות ערגעץ אין אַ העק. יאָ, אין דער העק טישעװיץ. מיט דער הילף פֿון אַ שרעטל האָב איך געפּרוּװט אַרײַננאַרן עפּעס אַ נײַ רבֿל. ער האָט זיך לעצטנס אַריבערגעקליבן קײן טישעװיץ מיט זײַן װײַב. אַ נעכטיקער טאָג! ער האָט מיך אָפּגענאַרט. מיך!" ער האָט געגלעט די באָרד מיט מאַניקורירטע נעגלעך.
 "צוליב דעם — האָט ער אָפּגעזיפֿצט —איז אַ באַפֿעל געקומען אַז איך זאָל בלײַבן אין געהאַקטע צרות אין טישעװיץ. ׳ריר דיך נישט אַרױס װײַטער װי אַ תּחום־שבת! אױס לובלין! בין איך געבליבן שטעקן אין דער העק."
װאָס פֿאַר אַ חידוש. צי האָב איך זיך דאָס אױסגעמאָלט? צי האָב איך טאַקע געזען טרערן אין זײַנע אױגן – אױגן װאָס האָבן נישט געהאַט קײן װײַסלען? "אױ טישעװיץ!" האָט ער פּלוצלינג אַ קרעכץ געטאָן.
איר פֿאַרשטײט, טײַערע לײענערס, אַז דאָס רעדן מיט אַ שד איז נישט קײן לײַכטע זאַך. איך האָב געפֿונען אין מײַן פּעקל אַ פֿלעשל װאַסער. נאָך אַ שלוק, האָב איך געפֿרעגט: "אָבער דאָ איז תּל־אָביב? אמת?"
ער האָט מיך געהערט װי דעם קאָטער. פֿאַרטיפֿט אין זײַנע מחשבֿות, האָט ער געזאָגט: "כ׳האָב אַלץ בײַגעװױנט. חורבן טישעװיץ, חורבן פּױלן. מ׳דאַרף מער נישט קײן שדים. פֿאַרטיליקט. פֿאַר װאָס בין איך אַ לעבן געבליבענער – װײס איך נישט… אַלץ האָט זיך געביטן." ער האָט אױפֿגעהערט שאַרן מיט די פֿיס.
"אָבער איצט ביסטו דאָ, אין תּל־אָביב, אמת?"
"יאָרן לאַנג בין איך געבליבן אין טישעװיץ – אײביק מיט אַ מיטװאָך. צום סוף האָב איך זיך אײַנגערעדט אַז אַשמדאַי האָט פֿאַרגעסן אין מיר. גיך בין איך אַװעקגעפֿלױגן – װײַט, הױך, װײַטער, העכער – און פּונקט אין דעם מאָמענט װען איך האָב זיך געפֿרעגט: "װוּהין פֿליסטו?" האָב איך דערהערט אַ טראַסק און דערזען אַ פֿאַרבלענדנדיק ליכט. כ׳בין אַראָפּגעפֿאַלן דאָ." דעמאָלט האָט ער שטילערהײט צוגעגעבן: "אפֿשר האָט אַשמדאַי מיך באַשטראָפֿט מיט אַ געפֿערלעכן שליחות?"
"אַ שליחות דאָ, אין תּל־אָביב?"
 "זי רופֿט עס עפּעס אַנדערש." ער האָט נאָך אַ מאָל געוויזן מיט די הערנער צו דער כאַטע. "זאָרג זיך נישט. דו ביסט נאָך אין פּאַרק הירקון."
זאָרג זיך נישט. דאָס איז טאַקע געװען קאָמיש. איך שמועס מיט אַ שד ערגעץ װוּ אין פּאַרק הירקון. װי קען איך זיך ניט זאָרגן? "איר האָט , פּאַניע, שױן צװײ מאָל דערמאָנט אַ פֿרױ. װער איז זי?"
"פּאַניע!" האָט ער אונטערגעשמײכלט, און איך האָב געכאַפּט דעם ריח פֿון אַן אָפּגאַנג. "פֿאַרגעס נישט װאָס איך בין! זי איז אַ פֿרױ, יאָ, אָבער װאָס פֿאַר אַ פֿרױ? אַ גולע – אַ טײל פֿון דעם פּאַלעסטינער פֿאָלקלאָר. די גולע װױנט אין אָט דער כאַטע. פֿאַרשטײסטו פֿאַר װאָס דער מצבֿ איז אַ געפֿערלעכער?"
איך האָב געװאָלט ענטפֿערן, אָבער עס האָט מיך נישט געפֿאָלגט די צונג. האָב איך געשאָקלט מיטן קאָפּ אױף נײן.
"בהמה!" האָט ער אױסגעשפּיגן. "װײַל געװײנטלעך קענען זיך בריאות פֿונעם פֿאָלקלאָר פֿון פֿאַרשײדענע פֿעלקער ניט טרעפֿן!" איך האָב באַמערקט אַז זײַנע נעגלעך האָבן גענומען װאַקסן און גרײַזלען.
אַזױ רויִק װי מעגלעך, האָב איך תּיכּף־ומיד געזאָגט: "מחילה, איך בעט דיך מחילה. כ׳פֿאַרשטײ, כ׳פֿאַרשטײ!" כאָטש באמת האָב איך נישט פֿאַרשטאַנען גאָרנישט. "אַ גולע? װאָס פֿאַר אַ בריאה איז דאָס?"
"פֿײַן. מיר דוצן זיך, נאָך אַ מאָל. אױב דו געפֿעלסט איר נישט װעט זי דיך צערײַסן אױף שטיקער און… אָפּעסן."
איך האָב נערװעיִש געגעבן אַ קוק אױף דער כאַטע. "זי איז איצט אין דער הײם?"
"נײן, איצט קאַראַפּקעט זי זיך דורך די צעשאַרטע חלומות פֿון איר פֿאָלק בכדי זי זאָל נישט פֿאַרגעסן װערן. באַלד װעט זי אַהײמקומען. די יללות פֿון די שאַקאַלן זײַנען אַ סימן אַז זי איז שוין כּמעט אָנגעקומען."
"און… כ׳מעג פֿרעגן אױב איר זײַט אַ פּאָרל?"
נאָך אַ מאָל האָט ער זיך אָנגעברוגזט. "ס׳איז נישט דײַן עסק!  ס׳װאָלט זײַן בעסער צו פֿרעגן װי אַזױ דו קענסט אױסמײַדן דײַן גורל װי אַן אָפּגעגעסענער!"
אױפֿגערעגט האָב איך זיך פֿאַרענטפֿערט: "איך װײס נישט װאָס דו װילסט פֿון מיר, שד. כ׳בין  אַ ייִד פֿון אַ גאַנץ יאָר, אַ פֿרעמדער, װאָס האָט ליב שפּאַצירן אױף אַ ייִדישער גאַס, טראָגן אַ מגן־דוד אָן קיין שום אַנגסט, זיצן אױף אַן אָפּערע אַרומגערינגלט מיט אַ ייִדישן עולם, לײענען װעגן פֿאָלקלאָר אין אַ זומערקורס אין אַ ייִדישן אוניװערסיטעט… איך װיל זיך נישט טרעפֿן מיט קײן גולע! "
דער שד האָט מיך געװאָרנט: "היט זיך די בײנער!"
"איך װײס שױן װאָס איז דער עיקר," האָב איך ממשיך געװען. "מער פֿאַר אַלץ, זיכערקײט. זיכערקײט און רויִקײט דורכן גאַנצן לאַנד… מע טוט װאָס מע דאַרף טאָן – בעסער אַז מע זאָל ניט וויסן װאָס געשעט." נאָך אָט די װערטער מײַנע, האָט אַ פּחדימדיקע שתּיקה אַרויפֿגעבליט אַרום דער פּאָליאַנע.
פֿאַר מיר האָבן זיך געיאַװעט אַ טיש, מיט פּאַפּיר און אַ בלײַער. "באַלד װעט אַהײמקומען די גולע," האָט דער שד געבראָכן דאָס שװײַגעניש. "זיכער װעט זי װעלן רעדן מיט דיר װעגן זיכערקײט… און אַנדערע זאַכן. לאָמיר האָפֿן אַז זי װעט דערפֿילן אַז דו פֿאַרשטײסט איר צרה. פֿון דעסט װעגן, לײג איך פֿאָר אַז דו זאָלסט שרײַבן אַלץ װאָס האָט פּאַסירט זינט דו ביסט אַװעק פֿונעם רעסטאָראַן. עס קען זײַן אַז דײַן שרײַבעכץ װעט העלפֿן אַן אַנדערן."
עס האָט זיך מיר געדאַכט אַז ער האָט טרױעריק צוגעגעבן: "און אָט דאָ איז אַ לעצטע מתּנה פֿון מיר. אַ גראַם. עס איז אַ נאַכט אַזאַ, װען שטערן װילן װײנען…עס איז אַ נאַכט אַזאַ, װאָס עס לײַטערן זיך די מײנען. שײן, נײן?" נאָך די מאָדנע װערטער, האָט ער זיך אומגעדרייט, אױסגעשריגן: "אַשמדאַי, צו אַל די שוואַרצע יאָר!" און גענומען זיך שאַרן צו דער כאַטע.
טײַערע לײענערס, איך װיל באמת שרײַבן װײַטער. אָבער איך האָב נאָר װאָס דערהערט די יללות פֿון די שאַקאַלן.
The post The female ghoul of Yarkon Park appeared first on The Forward.