This article is part of our morning briefing. Click here to get it delivered to your inbox each weekday.
Our senior political reporter, Jacob Kornbluh, shares what's in his notebook…
After Twitter reinstated former President Donald Trump's account on Saturday, Anti-Defamation League chief Jonathan Greenblatt called the decision "dangerous" and questioned whether it was "time for Twitter to go." The platform's new owner, Elon Musk, replied mockingly, tweeting "Hey stop defaming me!" 
Meanwhile, Kanye West, who Musk invited back on the platform earlier this month despite his antisemitic tirades, tweeted "Shalom" with a smile emoji.
Trump, for what it's worth, said he does not plan to rejoin the social media platform. Speaking virtually at the Republican Jewish Coalition's annual leadership summit, he also repeated his claim that American Jews don't love Israel as much as evangelical Christians. Accusing the Biden administration of damaging relations with Israel, Trump said: "They don't even listen to your leaders." 
The three-day conference featured other potential 2024 presidential contenders: former Vice President Mike Pence, Florida Gov. Ron DeSantis, former Secretary of State Mike Pompeo, former U.S. Ambassador to the U.N. Nikki Haley, former New Jersey Gov. Chris Christie, outgoing Maryland Gov. Larry Hogan and Sen. Tim Scott from South Carolina. Matt Brooks, executive director of the RJC, told reporters that many Jewish donors "are window-shopping right now." 
Israeli Prime Minister-designate Benjamin Netanyahu downplayed possible tension with Biden in a satellite appearance at the RJC event. "We agree to disagree on some matters," Netanyahu said, adding that those are disagreements  "within the mishpucha —within the family."
Also at the event, GOP House leader Kevin McCarthy said he would remove Democratic Rep. Ilhan Omar from the House Foreign Affairs Committee for suggesting in 2019 that AIPAC was paying politicians to support Israel. (McCarthy neglected to mention that even if he is elected Speaker, he cannot remove a member of a standing committee on his own; it takes a majority vote on the floor). Meanwhile, Republican Rep. Marjorie Taylor Greene, who was last year stripped of her House committee assignments for incendiary comments including some that were antisemitic, is expected to join the powerful Oversight and Reform Committee. 
The group also celebrated the increase from two to three in the number of Jewish Republicans in Congress, with speeches by Reps. David Kustoff (Tennessee),  Max Miller (Ohio)  and George Santos (New York).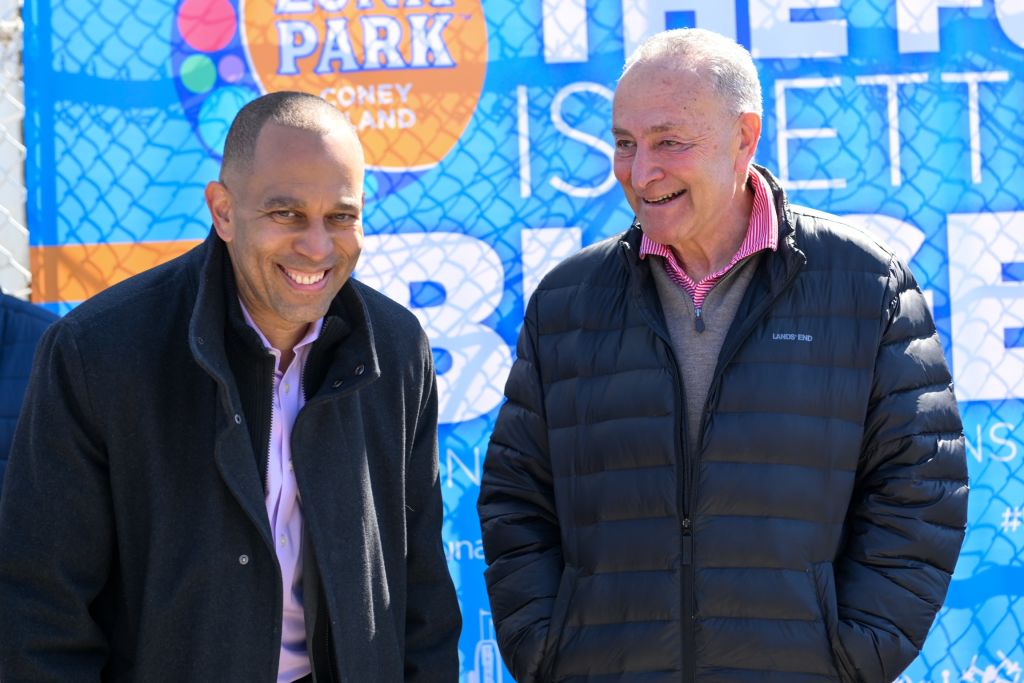 Rep. Hakim Jeffries and Sen. Chuck Schumer in Coney Island earlier this year. (Getty)
Brooklyn is in the House: Rep. Hakeem Jeffries, who thus far is running unopposed to succeed Nancy Pelosi as House Democratic leader, has visited Israel five times since he was elected in 2012 and calls Jerusalem New York City's sixth borough. If he wins, both chambers of Congress would have Democratic leaders from Brooklyn (Senate Majority Leader Chuck Schumer lives in Park Slope; Jeffries is from Crown Heights.)
Jeffries said recently he expects to return to Israel next year for its 75th anniversary. In a panel discussion at AIPAC's policy conference in 2019, Jeffries described the Boycott, Divestment and Sanctions movement "inherently antisemitic." 
Jewish Democratic group steps up spending in Georgia runoff: The Jewish Democratic Council of America released two ads this morning highlighting Sen. Raphael Warnock's relationship with the Jewish community and hitting Republican Herschel Walker on democracy. It is part of a $125,000 investment by the political action committee in the Dec. 6 runoff targeting Georgia's Jewish voters bringing the group's spending in the state this year to $245,000. Read the story ➤
President Joe Biden at last year's annual turkey pardoning. (Adam Schultz/The White House)
Three rabbis talk turkey as Biden prepares for annual pardon: What can we learn about justice and mercy from the annual forgiveness of fowl crimes? Instead of being sacrificed as a mark of atonement, the turkeys are being given a second chance at life, which can be viewed as an act of charity. "We should be providing, you know, turkey dinners for people who are poor," said Rabbi Joshua Hammerman. Then again, as a vegetarian, Hammerman thinks  "every turkey should be pardoned." Read the story ➤
Kyrie Irving apologizes, returns to court: The NBA's suspension of the seven-time All-Star ended Sunday night when Irving suited up with the Brooklyn Nets to face the Memphis Grizzlies. (The Nets won.) In a television interview with the New York outlet SNY published on Saturday, Irving said that he wanted to "apologize deeply" for having posted a link to an antisemitic film last month and refused to denounce it. "I'm not antisemitic," Irving said. "I never have been. I don't have hate in my heart for the Jewish people or anyone that identifies as a Jew. I'm not anti-Jewish or any of that." Read the story ➤
Move over Golden Calf — meet Elon Musk's Golden Goat: Musk has many devout fans, and one has turned him into a literal idol: a 20-foot-tall giant golden statue of the billionaire. Our Mira Fox cracked open her Bible for a little history lesson. "The calf idol, it should be noted, did not do anything to save its acolytes," she writes, "because — to recap — it was a false god." Read the story ➤
At the movies…
"She Said," the new film about two New York Times reporters – Jodi Kantor and Megan Twohey – who exposed Harvey Weinstein's serial sexual misconduct, opened this weekend. We've got three takes:
"Weinstein repeatedly tried to relate to me kind of Jew to Jew," Kantor told our editor-in-chief, Jodi Rudoren, for her latest column. "I found it offensive."
Kantor expounded on this idea with our colleagues at the JTA, saying in a Q&A that Weinstein "seemed to expect that I was going to have some sort of tribal loyalty to him."
And in a review of the film, our Mira Fox asks: At a time when antisemites are accusing Jews of controlling Hollywood, how do we talk about one who did?
Music mensch: Sunday's edition of the Forward's California Briefing newsletter was full of fun nuggets, but I particularly enjoyed this one: Drake, the Grammy-winning Jewish rapper, is buying an avant-garde art carnival. If you don't already subscribe, sign up here to receive the weekly email hosted by LA-based reporter Louis Keene.
And finally: How well did you read this newsletter last week? Test yourself with our latest Jewish news quiz.
WHAT ELSE YOU NEED TO KNOW TODAY
There are two Jewish players – Matt Turner, left, and DeAndre Yedlin – on the U.S. team at the World Cup. (Getty)
  Two men were arrested Saturday in Penn Station in connection with online threats to attack a New York City synagogue. And here's a plot twist: One of the suspects is Jewish, his lawyer said in court, and lives with his grandfather, a Holocaust survivor. (CNN, NY Post)

  The editorial board of The New York Times penned a deep dive on white supremacy titled "There Are No Lone Wolves" and arguing that the problem must be treated as a global phenomenon demanding systemic response. "Extremists succeed when they have access to power — be that positions of power, the sympathy of those in power or a voice in the national conversation," the editorial says. "They should be denied all three." (New York Times)
  Azerbaijan has reportedly decided to open an embassy in Israel.  The countries already work together on defense and Azerbaijan has trade and tourism offices in the Jewish state, but it had avoided full diplomatic relations for fear of alienating other Muslim-majority countries including neighboring Iran. (Jerusalem Post)
  Facebook announced it will remove several categories of information from user profiles, including religious views, political views, addresses and a field called "Interested in" that indicates sexual orientation. The company said this is an attempt to streamline the service, and align more with other social media platforms. The change goes into effect Dec. 1. (Gizmodo)

  A former anti-abortion leader has come forward saying that years before the leaked draft opinion overturning Roe v. Wade, a breach occurred in a case involving contraception and religious rights. That 2014 opinion ruled in favor of Hobby Lobby, the craft store chain owned by Christian evangelicals, that a family-owned business does not have to provide health insurance that covers contraception. (New York Times)
  Henderson Biggers has worked at the same South Florida deli since 1957, outlasting eight owners. He announced he will retire after his 86th birthday in December to spend time with his family – he has more than 20 great-grandchildren –but won't stay away for too long. "I think I'll come by," he said, "and have a corned beef sandwich." (Miami Herald)

  If you go to Getty Images right now, search for Mel Brooks, and sort by "newest," there will be a bunch of photos taken on different days of the comedy legend signing autographs for fans while leaning over the same trash can. Turns out it's right in front of his go-to lunch spot in Beverly Hills. (Vulture)
Shiva calls ➤  Melvin Zax, a psychologist who spent a long and meaningful career at the University of Rochester, died at 94. He was the grandfather of our Talya Zax, the Forward's innovation editor and occasional host of this newsletter … Danny Kalb, a founding member of the 1960s band the Blues Project and a former roommate of Bob Dylan, died at 80 … Mitchell Rosenthal, a psychiatrist and founder of one of the largest addiction treatment facilities in America, died at 87.
What else we're reading ➤  As Trump launches new presidential bid, will former faith advisers back him? … Israeli elections stir concern among Holy Land Christians … Here are all the Jewish angles to this year's World Cup.
Paul Baran giving a lecture on how the internet began.
On this day in history (1969): The first permanent connection via ARPANET, the government-sponsored precursor to the internet, was established between researchers at UCLA and Stanford. Paul Baran, a Jewish Lithuanian-American computer researcher, helped create some of those networks, specifically coming up with the idea of separating information into "messaging blocks" before sending them across a digital network.
On the Hebrew calendar, it's the 27th of Cheshvan, when the biblical floodwaters subsided.
In honor of National Gingerbread Cookie Day, discover why this Hanukkah version of a gingerbread house really annoyed one of our columnists.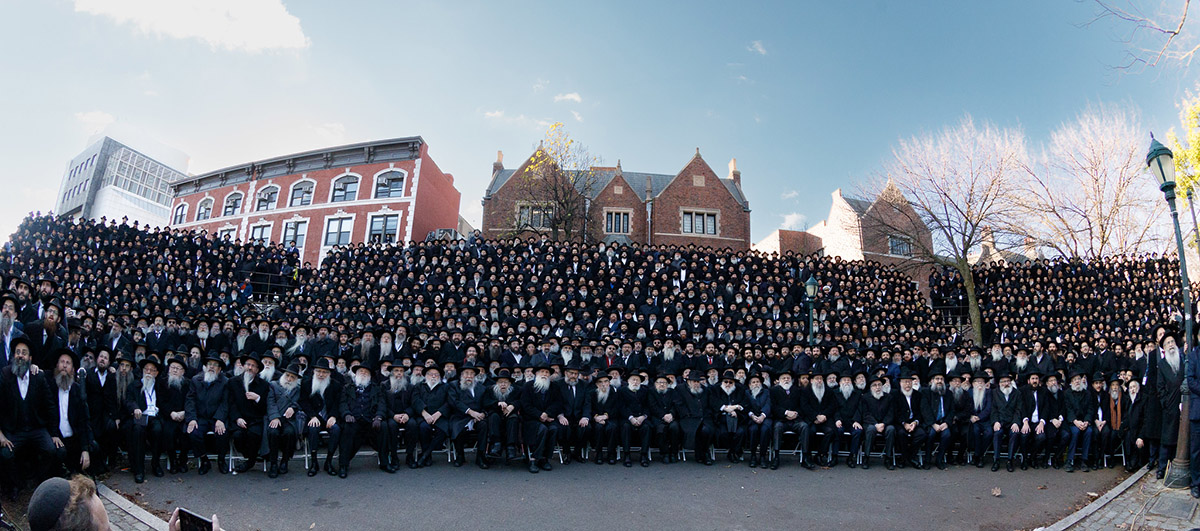 Thousands of Chabad rabbis gathered on Sunday for their annual "class photo" — after two years off because of the pandemic. They traveled from all 50 states (shoutout to my very own Rabbi Zalman Gurevitz of West Virginia) and more than 100 countries to attend a six-day convention at the group's headquarters at 770 Eastern Parkway in Brooklyn.
The rabbis paid tribute to the late deputy chief of the New York Police Department, Charles M. Scholl, who had supervised the safety and the setup of the group photo since 2014. Each year, Scholl would also take part in a light-hearted tradition of swapping his police cap for one of the rabbi's black hats. He died this summer at 64.
Bonus video: Rabbi Avrohom Rapoport of the Jersey Shore was at the gathering with a tape measure to see which Chabad rabbi has the longest beard. The winner's was 26 inches!
–––
Thanks to PJ Grisar, Jacob Kornbluh, Sarah Nachimson and Talya Zax for contributing to today's newsletter. You can reach the "Forwarding" team at editorial@forward.com. 

The post On Twitter, Musk mocks ADL and Kanye says 'Shalom' appeared first on The Forward.