"I hear in your voice that you have an American accent…Now that this has happened to your family, do you regret having moved to Israel?"
The question was posed to me by an Israeli radio show host a few hours after my 18-year-old daughter Naomi was in a terror attack. She had been on her way to work when a Palestinian detonated a bomb at her bus stop, killing one person and injuring 22 others, including Naomi.
Thankfully, she wasn't terribly hurt, but the terror attack was nerve-wracking and shocking to our family. The notion that Palestinian terrorists surveyed the area, planned the attack and carried it out, all without being detected, is disappointing. Even if the bomber is found, there's an entire network that supported him. But even knowing all of this, our family is still in Israel to stay.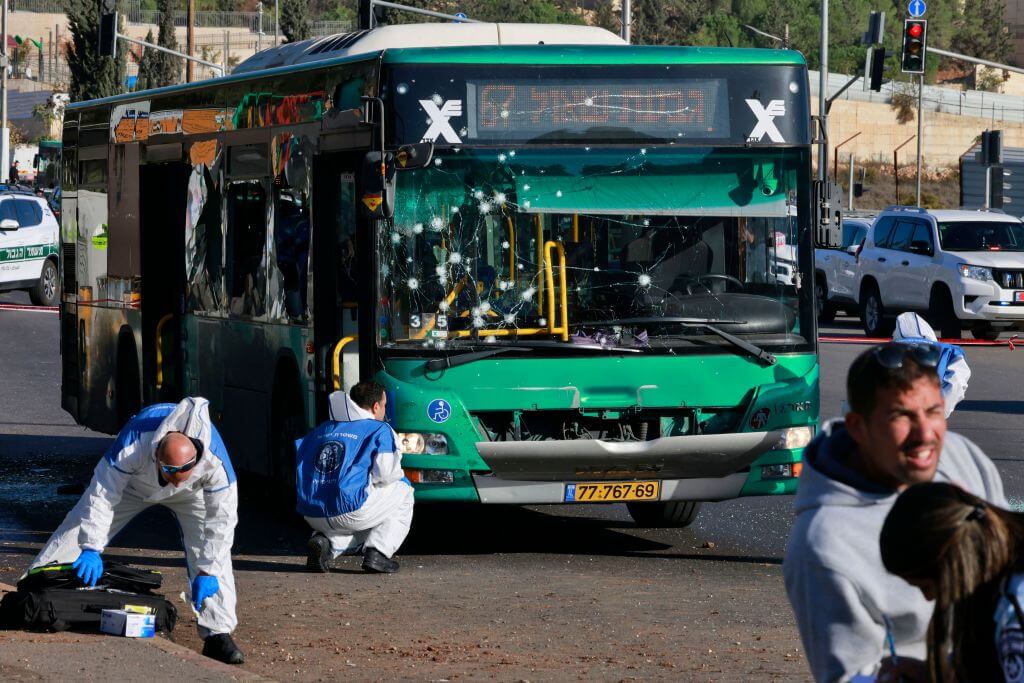 Israeli forensic experts work at the scene of the explosion at a bus stop in Jerusalem on November 23, 2022. Photo by Menahem Kahana/AFP via Getty Images
We made the decision to move to Israel during the summer of 2014, while rockets fired by Hamas terrorists in Gaza were falling on Israel. We landed under rocket fire and were quickly rushed out of the airport — Nefesh B'Nefesh, an organization that assists immigrants to Israel, did their best to make our arrival ceremony as grand as possible under the circumstances. 
On our first night in our new home in Mitzpe Yericho, we were invited to our Israeli neighbors' barbecue. We didn't know them, or the other two couples they were hosting, but we didn't want to be rude and accepted the invitation.
After introducing ourselves and explaining that we had just moved to Israel, one of the guests turned to me and said some of the most devastating words I'd ever heard. He said, "You know, you'll never be a real Israeli. Not an Israeli like us," motioning to the rest of the native-born "sabras" at the table.
I figured he meant that I was not born here, but he meant something completely different. "You see," he explained, "You have an American passport, and if things get too challenging here in Israel, if there are too many rockets, you can escape back to America. We have no other land to run to in case of trouble."
I was stunned by his words, and they did not make me feel welcome on my first night in our new home and community. In one of Israel's most famous songs, Gali Atari sings, "I have no other country. Even if my land is on fire, only a word in Hebrew penetrates to my veins, to my soul aching in the body, hungry in the heart…here is my home." Could Israelis really think that this song only applied to them? Did they look at all immigrants as having one foot back in the land from which they moved?
I explained to him that no matter how challenging the situation in Israel, we would not be leaving.
I frequently tell this story when Israelis ask me if I plan on moving back to America. Sensing the radio host wasn't looking for a long philosophical answer to her question, I simply paraphrased Gali Atari and responded, "Israel is our home, and you're always safest at home."
Early Zionists envisioned a Jewish state that would provide the Jewish people with a place where they could determine their own future and ensure their own safety and security. Their goal was to guarantee that Jews would never have to rely on anyone else for their own safety. Today's Israel is the achievement of their goals.
Any actuary will tell you that statistically, living on an empty beach in Portugal or a small town in North Dakota is safer than living in Israel. But while the Jew living in rural North Dakota might have less of a chance of running into an enemy, if Jews ever face trouble, he'll be completely reliant on the kindness of the gentiles around him.
The future of the Jewish people is being built in Israel, and we want front row-seats to watch it unfold.
To contact the author, email editorial@forward.com. 
The post My daughter survived a terror attack in Israel. We're still not moving back to America appeared first on The Forward.