This article is part of our morning briefing. Click here to get it delivered to your inbox each weekday.
Opinion | Kanye West's antisemitism is playing right into white supremacists' hands: The rapper and fashion mogul continues to make headlines, most recently for aligning himself with white supremacists like Nick Fuentes. "Race is a construct, and one often used to divide us," writes our opinion editor, Laura E. Adkins. What West "misses is that this is precisely the world that his strange bedfellows want to live in." She adds that "it's not Jews making life tougher for Kanye, but Kanye himself — and he's playing right into the white supremacists' hands." Read her essay ➤ 
N.Y. health officials worry that polio will strike again in Hasidic enclave: Experts are alarmed that dozens of wastewater samples in Rockland County have tested positive for the paralytic polio virus linked to a case in the area this summer. "You don't find polio just willy-nilly in wastewater in the United States 40 years after eradication," said Dr. Eli Rosenberg, the state's polio response coordinator. Complicating matters are residents who believe polio is a hoax and are skeptical of vaccines. County officials are responding with educational pamphlets in Yiddish and an information hotline, 929-4-GEZUNT. Read the story ➤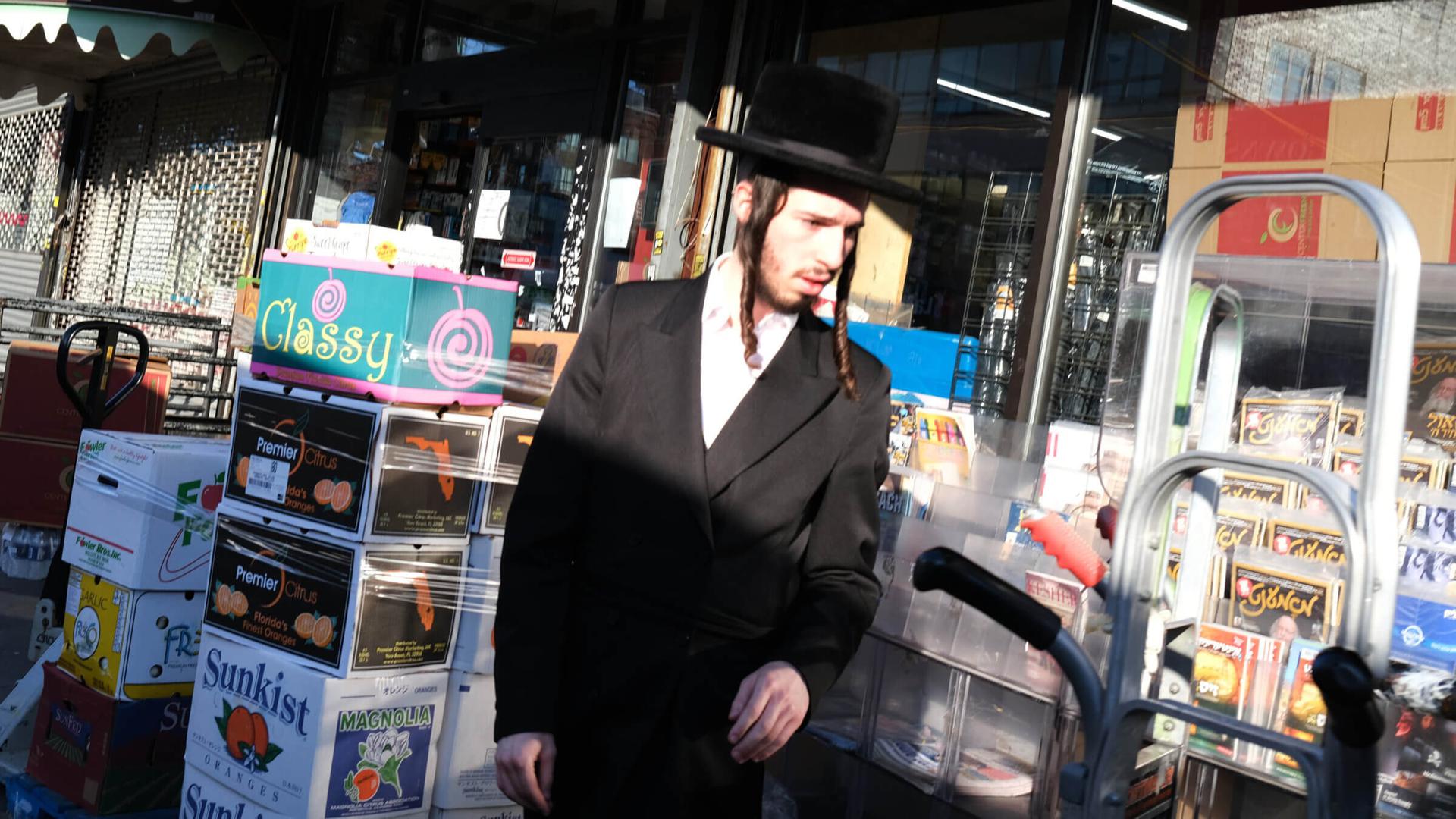 A man walks by a newsstand in the Borough Park neighborhood of Brooklyn. Shtetl, a new online publication, seeks to provide independent coverage of the Haredi community. (Getty)
Critic of yeshiva education promises 'independent' coverage of Haredi issues in new publication: The current slate of media outlets that cater to the ultra-Orthodox often limit what they cover to avoid offending religious leaders. A new multimedia publication called Shtetl aims to hold truth to power. "I am focusing on building a top-notch team," said founder Naftuli Moster, who said he has secured funding for two years of operations. Read the story ➤
In this Ephron-esque romcom, Sally meets Harry — then gets divorced two years later: "The Gett," a new play, chronicles one Jewish woman's post-divorce journey of self-discovery. It also features a concerned mother who "is constantly trying to get in touch, leaving rambling voicemails that touch on Kabbalah, sex toys and the Jewish lawyers that all her friends' kids are dating," writes our Irene Katz Connelly. Read her review ➤
How one Jewish woman's crusade became the year's most talked-about documentary: The second documentary to ever win the Venice Film Festival's top prize is All the Beauty and the Bloodshed, a layered portrait of photographer Nan Goldin and her crusade against the Sacklers, the pharmaceutical family largely responsible for the opioid epidemic. Film critic A.J. Goldmann has been grappling with just what makes the film so powerful. "What emerges from the confrontation between Goldin's art and her activism is their common source and origin: addiction," he writes. Read the story ➤
And one more: Stephen Sondheim, who died a year ago this week, makes a pretty on-the-mark cameo in Glass Onion, the critically-acclaimed new murder mystery movie. The composer and lyricist was obsessed with puzzles and cryptic crosswords.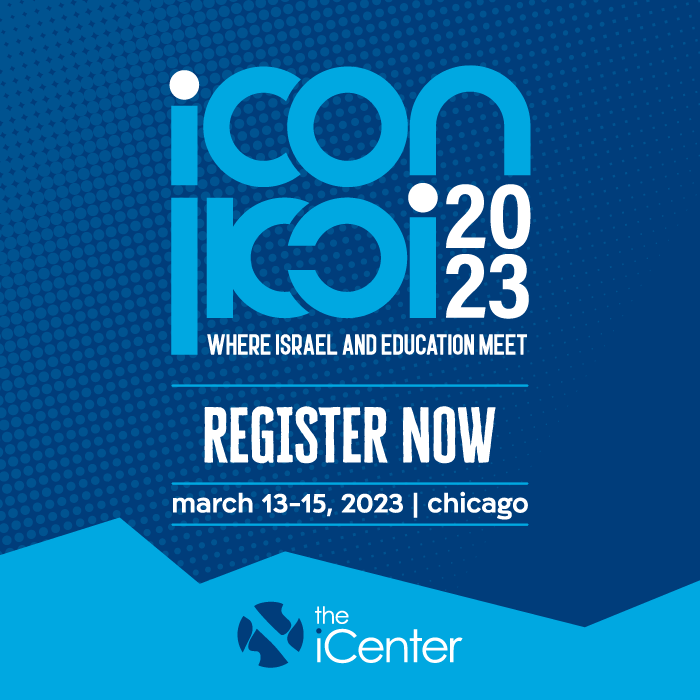 Forwarding the News is now also available on our website. Click on the blue button below to share it on social media or send to friends.
WHAT ELSE YOU NEED TO KNOW TODAY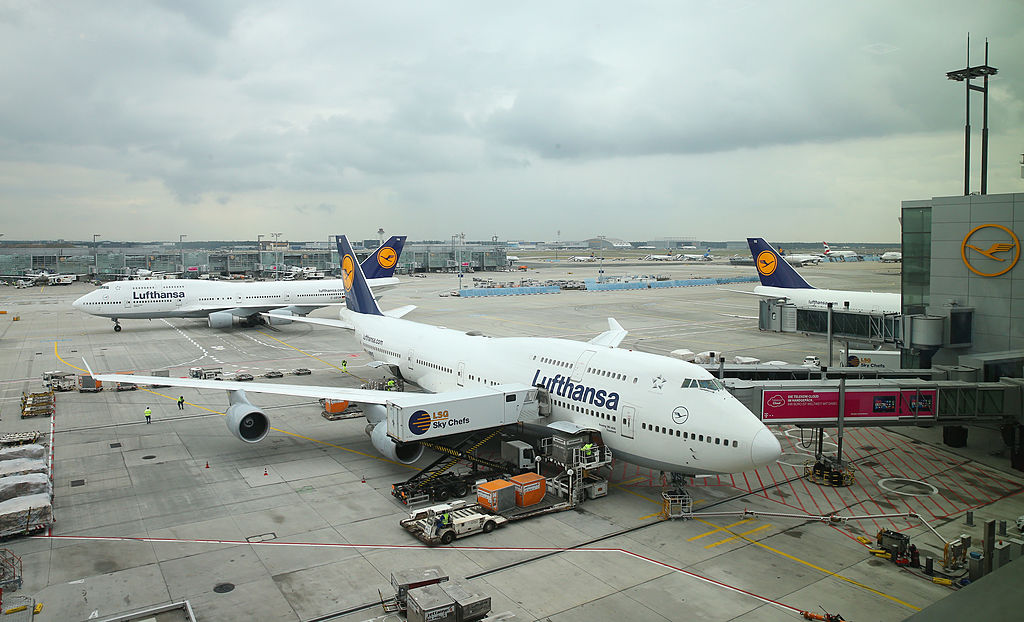 Lufthansa has started to send settlement checks of some $21,000 each to more than 100 visibly Orthodox Jews who were barred from a flight earlier this year after some of them did not comply with mask guidelines. (JTA)
  The Senate passed bipartisan legislation Tuesday to protect same-sex marriages, an extraordinary sign of shifting national politics on the issue. Religious groups including the Orthodox Union and the Church of Latter-Day Saints came out in support of the bill in recent weeks. The bill now goes back to the House for a final vote before heading to the president's desk for signature. (NBC News, JTA, Salt Lake Tribune)

  A jury convicted the leader of the Oath Keepers, a far-right militia, and one of his subordinates of seditious conspiracy for plotting to keep former President Donald Trump in power. Our columnist Rob Eshman spoke this summer with a former leader of the group about why he left in 2016 after hearing some members express Holocaust denial. "That was for me something I just could not abide," he said. "Because I thought of my Jewish family." (NPR, Forward)

  Walmart removed from its site $40 "elegant sunscreen scarves" after complaints that they were actually prayer shawls for Messianic Jews. (JTA)
  The Center for Jewish History is offering free DNA kits to help Holocaust survivors find lost relatives. "Their families were erased," said a genealogist working on the project. "And now we can bring them back a little bit." (AP)
  A Catholic pilgrim reached Jerusalem on foot nearly a year and some 3,700 miles after setting out from Spain. She completed the final leg of her trek by crossing the Jaffa Gate into the Old City on Sunday. (Algemeiner)
Quotable ➤  "I think he made a mistake. I hope it's not repeated." – Incoming Israeli Prime Minister Benjamin Netanyahu on former President Trump's recent dinner with Kanye West and Nick Fuentes, one of the United State's most prominent young white supremacists. ("Honestly" podcast with Bari Weiss)
Shiva call ➤  Charles Koppelman, a music executive who orchestrated deals for Barbra Streisand, Dolly Parton and Vanilla Ice, and later served as chairman of Martha Stewart Living, died at 82.
What else we're reading ➤  Tom Stoppard fears the virus of antisemitism has been reactivated … Researchers crack secret of 1,400-year-old inscription from catacomb in Israel … Jewish comedians are navigating a tricky social climate by leaning into their Jewishness.
Ina Garten reflected on her career as the Barefoot Contessa in a recent appearance on the Today show.
On this day in history (2002): The Food Network aired the premiere of Barefoot Contessa starring Ina Garten. The show made Garten, who had worked on nuclear energy policy in the White House, a household name — and her devoted husband, Jeffrey, an internet sweetheart. The duo's loving on-air dynamic earned them a spot on the Forward's 2019 list of 24 power couples. "The couple that launched a thousand mail-deliveries of homemade brownies defines 'couple goals,'" wrote Jenny Singer. "They seem to love taking care of each other more every year."
Last year on this day, we reported on the release of Mel Brooks' 480-page memoir, "All About Me!: My Remarkable Life in Show Business."
On the Hebrew calendar, it's the sixth of Kislev, the yahrtzeit of Israeli Prime Minister David Ben-Gurion, who died in 1973.
In honor of National Mississippi Day, check out these seven Jewish facts about the Magnolia State, and read about how a small Mississippi town helped build Reform Judaism.
Tuesday Dec. 6 at 2 p.m. PT: Our columnist Rob Eshman will host a conversation about Hollywood and the Holocaust to mark the 40th anniversary of the film Sophie's Choice. Joining Rob are Dr. Michael Berenbaum, a Holocaust museum and film consultant, and Stephanie Goodman, a film editor at The New York Times. Register here ➤
In the latest episode of Yiddish Word of the Day, Rukhl Schaechter tells you how to sound like a khokhem while watching the World Cup. Hint: Don't confuse it with American football!
–––
Thanks to PJ Grisar, Rukhl Schaechter and Talya Zax for contributing to today's newsletter.
You can reach the "Forwarding" team at editorial@forward.com.
The post Is Kanye West doing the bidding of white supremacists? appeared first on The Forward.