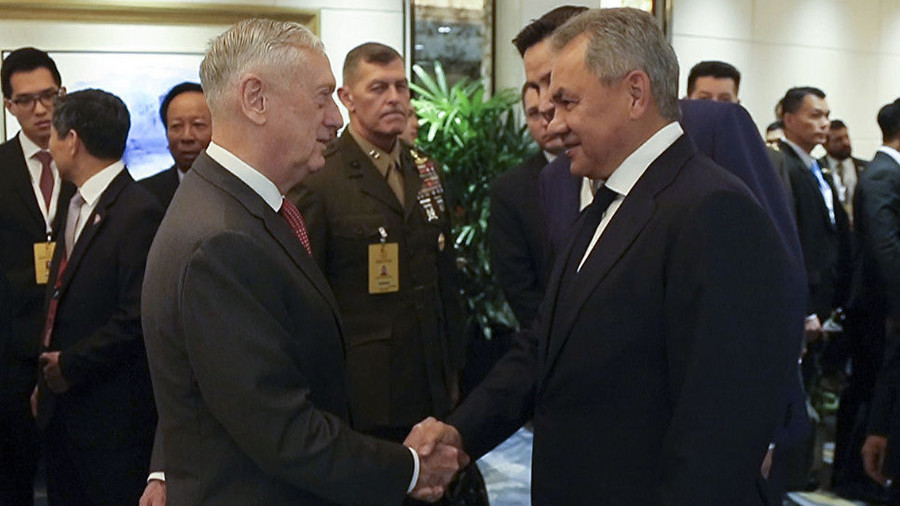 _________________________________
Mike Nova's Shared NewsLinks
mattis shoigu acean group photo – Google Search
---
mattis shoigu acean group photo – Google Search
---
mattis shoigu acean group photo – Google Search
---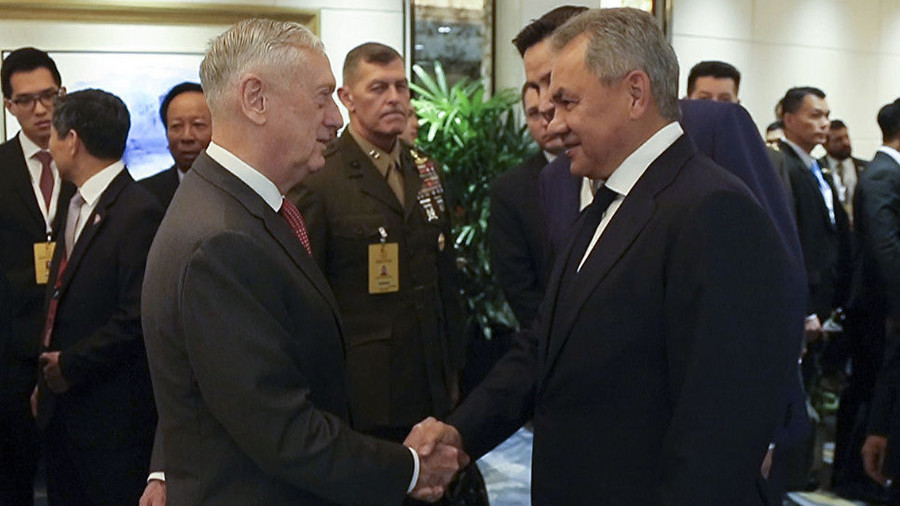 Russian, US Defense Ministers Meet in Person for 1st Time in Singapore
| | |
| --- | --- |
| | mikenova shared this story from Sputnik International – Breaking News & Analysis – Radio, Photos, Videos, Infographics. |
---
Russian Defense Minister Sergei Shoigu and Pentagon Chief James Mattis have met in person for the first time on the sidelines of ASEAN ministerial meeting in Singapore.
Russian Defense Minister Sergei Shoigu and his US counterpart James Mattis met in person for the first time on the sidelines of the fifth ASEAN and Dialogue Partners Defense Ministers Meeting (ADMM-Plus) in Singapore on Saturday.
© AFP 2018 / AMER ALMOHIBANY
Shoigu and Mattis met before the beginning of the summit. The two high-rank military officials shook hands.
During their conversation, the Pentagon chief expressed condolences over the deadly attack on a Kerch college in Crimea. Mattis noted that similar situations had happened in the United States, so US nationals could sympathize with Russians over such a tragedy.
READ MORE: Photos From Inside Kerch College After Deadly Blast Released
Before the ADMM-Plus session, Shoigu also had conversations with his counterparts from China, India and other countries. Moreover, Shoigu and Mattis stood next to each other during the official photo shoot at the opening of the summit.
Russia says kills 88,000 Syria rebels
---
By Afp
Published: 10:03 BST, 20 October 2018 | Updated: 10:03 BST, 20 October 2018
Copy link to paste in your message
Russia first launched air strikes in support of the Syrian regime in September 2015
Russia's defence minister said Saturday that almost 88,000 rebels had been killed in Syria in the three years since Moscow's intervention to back government forces.
"Over the course of the operation, a total of more than 87,500 rebels have been eliminated, 1,411 settlements have been liberated and more than 95 percent of Syria's territory," Shoigu was quoted as saying at a forum in Singapore in a ministry statement.
"Most of the rebels have been liquidated," Shoigu said.
Britain-based war monitor the Syrian Observatory for Human Rights says close to 365,000 people have been killed during the seven-year civil war.
Russia launched strikes in support of President Bashar al-Assad's regime in September 2015.
Russian air forces have carried out more than 40,000 bombing missions, hitting about 120,000 targets of "terrorist" infrastructure, Shoigu said.
The defence minister said that "Syrian armed forces currently control territory where more than 90 percent of the population lives."
Share or comment on this article:
Sorry we are not currently accepting comments on this article.
shoigu – Google Search
---
"Over the course of the operation, 87,500 militants were destroyed, 1,141 settlements and over 95% of Syria's territory were liberated," Shoigu …
Sputnik International
–
7 hours ago
Russian Defense Minister Sergei Shoigu and Pentagon Chief James Mattis have met in person for the first time on the sidelines of ASEAN …
Sputnik International
–
Oct 2, 2018
Work on installing a unified air defense control system in Syria will be finalized by October 20, Russian Defense Minister Sergei Shoigu said at …
Шойгу отчитался о 87 тысячах убитых боевиков в Сирии
---
Министр обороны России Сергей Шойгу отчитался о результатах участия страны в военных действиях в Сирии за последние годы. По его словам "бандформирования" ИГИЛ в Сирии уничтожены.
"Всего за время операции уничтожено свыше 87500 боевиков, освобождено 1411 населенных пунктов и более 95% территории Сирии", – сказал Шойгу.
По словам министра, сирийское правительство контролирует территорию, на которой проживает более 90 процентов населения страны.
Сообщения о выступлении Шойгу на совещании министров обороны Ассоциации государств Юго-Восточной Азии (АСЕАН) и партнеров по диалогу в Сингапуре поступили в различные СМИ. Согласно ним, Шойгу не говорил о количестве российских военнослужащих, которые погибли в Сирии.
Россия официально участвует в военной операции в Сирии с 2015 года.
По официальным данным, в Сирии с 2015 года погиб 91 российский военный, 39 из них – при крушении военно-транспортного самолета в марте этого года. Речь идет только о военнослужащих российской армии. Россияне, которые воюют в Сирии в составе частных военных компаний в этих цифрах не учтены.
Путин ведет Россию к развалу и она скоро повторит судьбу СССР – генерал
---
Эксперт по вопросам безопасности, ветеран внешней разведки, генерал-лейтенант ВАСИЛИЙ БОГДАН прокомментировал "Апосторофу", как отравление Скрипалей в Великобритании повлияет на отношения России с демократическим миром, а также рассказал, как Россия строит сеть своих агентов среди высшего руководства Украины, и какие меры предпринимают наши спецслужбы, чтобы противодействовать этому.
– После того как в марте отравили Сергея Скрипаля, новости о расследовании этого дела не утихали. Когда сегодня уже известны почти все факты о лицах, которые это совершили, даже их настоящие имена, можно говорить о том, что дело идет к завершению?
– С точки зрения ситуации, которая сейчас складывается с расследованием этого дела, стоит, во-первых, сослаться на определенный довольно значительный период межгосударственных отношений между Россией и Великобританией. Начиная с давних времен, несмотря ни на династические браки, родственные отношения между Романовыми и королевской династией, были проблемы, которые связывали с тем, каким образом доминировать в мире, как конкурента остановить, как конкурента опередить, как не допустить его союза с противниками с одной или другой стороны. Ну, и самый яркий пример – это когда Павел I начал контактировать с Наполеоном Бонапартом, конечно, в союзе против Великобритании, против которой тогда Наполеон применил континентальную блокаду, и уже даже подготовил войско для похода на Индию совместно с французским императором, то Великобритания, не будучи заинтересована в этом, и понимая угрозу, которую несет в себе союз тогдашней России – императора Павла I и Наполеона, приняла все меры для того, чтобы через свою агентуру, своих лоббистов в российской тогдашней элите, сместить Павла I. Как вы знаете, тогда состоялся дворцовый переворот – его задушили известные люди. И при Александре І с Великобританией отношения начали налаживаться. Дальше известно, чем закончилась война с Наполеоном I.
Поэтому, можно сказать, что отношения между этими странами и в советское время, и в современных условиях – оставались сложными. На определенных этапах они улучшались, но конкуренция, противостояние практически оставалось всегда. Даже в новейшее время было несколько случаев, когда Великобритания высылала значительную часть дипломатических представителей уже современной России из своей страны за деятельность, не совместимую со статусом дипломата, то есть это разведчики под прикрытием. Всем известна скандальная история с этой Анной Чапман, с нелегальной агентурой и т.д. И поэтому то, что там произошло, имеет свою историю, закономерную, взаимоотношений между этими странами. Понятно, что в условиях, когда и Россия хочет сменить свой статус регионального государства на статус, будем так говорить, полярной силы в многополярном мире, и Великобритания, которая начала выскакивать из Европейского Союза, потому что реализации ее имперских амбиций мешает, очевидно, та ситуация, в которой они находятся в ЕС. А, вы знаете, что Великобритания была очень мощная империя, которая имела колоссальное количество колоний, ее называли раньше "владычица морей".
Вот сейчас и Россия, и Великобритания хотят выйти на новый уровень, получить новый статус в глобальном мире. И понятно, что противостояние между ними должно было возникнуть и нарастать, ярким примером этого является как раз данная громкая тема – террористический акт российских спецслужб, а читать – "путинского режима", в отношении бывшего своего гражданина и действующей гражданки, его дочери, по их физическому уничтожению способом применения химического оружия, называемого "Новичок". Понятно, что состоялся прокол, фактически эта операция провалилась, и ситуация стала широко известной. Более того, специальные органы Великобритании, США, Украины, Германии и Израиля получили информацию о том, кто это сделал, почему и каким образом, – это свидетельствует, на мой взгляд, что в деятельности и режима Путина, и спецслужб Российской Федерации наблюдается определенная деградация, недооценка врага, на их взгляд, и оппонента относительно их возможностей, а также падение профессионализма. Такая самоуверенность, учитывая то, что у них получилось в Приднестровье, в Чечне, в Грузии, да и в Украине частично получилось – аннексия Крыма и временная оккупация соответствующих территорий Донбасса.
Поэтому, учитывая, что со стороны России западная демократия почувствовала реальную угрозу их безопасности и безопасности своих собственных граждан и собственных интересов, все было поставлено таким образом, чтобы доказать, что это была именно террористическая акция российских спецслужб, там было применено именно это химическое оружие – "Новичок", и ее осуществили конкретные кадровые сотрудники российских спецслужб. И Bellingcat, и "Организация по запрещению химического оружия" принимали участие в исследовании всех компонентов этого вещества. Поэтому сейчас появляется новая информация о том, кто же эти двое мужчин, их фамилии подтверждены не только расследованием международных организаций, но и жителями тех городов, где они родились и выросли. Они идентифицированы не только как граждане России, но и как кадровые сотрудники Главного разведывательного управления РФ, уже появляется информация, какие они получили награды, какие получили вроде бы квартиры в Москве и др.
Понятно, что целью такой деятельности путинского режима является уничтожение, на их взгляд, так сказать, своих предателей, запугать свою страну, свой истеблишмент и тех сотрудников, которые задействованы в соответствующих операциях и работают в спецслужбах. А с другой стороны, продемонстрировать мировому сообществу, какую якобы мощь, силу и ресурсы имеет Россия, и поэтому с ней надо считаться, ей надо идти на уступки, в частности, в украинском вопросе, в других вещах, связанных с ситуацией на Ближнем Востоке, на Северном Кавказе и так далее. Поэтому, на мой взгляд, на сегодня уже достаточно обоснованно доказано, что отравление этих людей – дело российской военной разведки, и установлены лица, которые этот террористический акт осуществили. Сейчас продолжаются мероприятия по сбору доказательной базы, чтобы впоследствии выйти на соответствующие и международные судебные институты, и применить более жесткие санкции к самой России, и поставить в этом вопросе не только точку по выяснению того, кто имеет к этому отношение, кто виноват и кто должен понести наказание, но и отработать серьезные, на мой взгляд, международные меры противодействия российской стратегии цепной агрессии не только в отношении своих соседей, но и в глобальном измерении.
– Как думаете, почему после того как Скрипаль пришел в себя, не мог поверить в то, что его отравила Россия? Также появились его интервью, где он поддерживал политику Кремля, поддерживал аннексию Крыма и не слишком дипломатично высказывался об украинском народе.
– Российский демократ, как сказал один известный человек, заканчивается там, где начинается украинский вопрос. То, что он стал агентом британских спецслужб, не означает, что он перестал быть русским шовинистом и империалистом – он воспитан в той системе, он исповедует те же ценности, что и Путин, как бывший сотрудник разведки КГБ СССР. То, что на определенном этапе его личные интересы не совпали с интересами этого режима, не означает, что он не является "патриотом России" и не разделяет ее агрессивные планы и намерения в отношении соседей ближнего зарубежья России. Он является продуктом того режима, той спецслужбы, и это его заявление не должно никого удивлять, поэтому он остается русским национал-шовинистом. И, безусловно, его поддержка ситуации с аннексией Крыма, и то, что он называет украинцев "стадом, которое надо пасти" – это все исходит из его идеологических убеждений и того воспитания, которое он получил.
Другое дело, что в силу каких-то личных проблем, возможно, в силу того, что его возмутила ситуация, связанная с разгулом безумной коррупции в высших эшелонах российской власти после обретения независимости Россией, возможно, это и привело к тому, что он перешел на другую сторону. Плюс, конечно, жажда личного обогащения, красивой жизни и все такое. И спецслужбы Великобритании, Испании знали, какие у него есть слабости, и на этом сыграли. Поэтому он и стал тем, кем стал. Поэтому в оценке личности Скрипаля у нас не должно быть никаких иллюзий, кто он, он не является нашим другом, другом Украины. Но другое дело, вправе ли Россия подобным образом устранять своих же граждан такими террористическими актами. И Украина как демократическая страна, исповедующая демократические и мировые ценности, конечно, с этим не может согласиться, мы это осуждаем и всячески способствуем расследованию этого дела.
Более того, в деятельности спецслужб есть отдельные моменты, когда информация разведки не совсем воспринимается высшим военно-политическим руководством той или иной страны, и впоследствии это влечет достаточно тяжелые последствия для жизни и здоровья людей и всей страны в целом. Яркий пример – 11 сентября в Соединенных Штатах Америки. Разведка получала информацию о подготовке таких акций, докладывалось на определенном уровне, но эта информация не была оценена должным образом, и, к сожалению, произошла трагедия. Второй пример из истории Украины. Не буду называть фамилий и спецслужб, скажу так, что в период, когда президентом Российской Федерации был Борис Ельцин, украинские спецслужбы получили информацию, что Путин имеет непосредственное и прямое отношение к наркобизнесу. Еще находясь в Санкт-Петербурге и работая совместно с Собчаком, он уже тогда был задействован в той сети, получал от этого прибыль. Так вот, украинская спецслужба доложила тогдашнему президенту, главе государства, с предложением проинформировать господина Ельцина относительно этой ситуации, но в силу каких-то причин наше высшее руководство не согласилось и не дало хода этой информации. Теперь пожинаем последствия: Путин стал президентом, путинская Россия совершила агрессию против Украины, аннексировала Крым и оккупировала часть территории Донбасса. Если бы тогда были приняты соответствующие меры, очевидно, Ельцин не сделал бы его своим преемником и Путин не стал бы президентом. И, возможно, пришел бы человек, который исповедовал несколько иные ценности, и межгосударственные отношения между Украиной и Россией не приняли бы такой трагический характер, как сейчас.
– Появилась информация, что один из этих сотрудников ГРУ – Анатолий Чепига, бывал в Украине неоднократно, последний раз в конце 2013 года, когда начинался Майдан. Какие у него здесь могли быть задачи?
– Эта информация соответствует действительности, могу сказать уверенно, еще и потому, что на каком-то этапе высшее украинское руководство согласилось, чтобы в Севастополе были открыты представительства Главного управления военной разведки и ФСБ Российской Федерации. Они тогда очень бомбили руководство Украины, мол, за контингентом Черноморского флота надо следить, чтобы они там чего-то не натворили и тому подобное. Проблема, и об этом публично говорилось, что инфильтрация на территорию украинского государства этих спецслужб, безусловно, угрожала национальной безопасности, и то, что произошло в Крыму – это следствие тех просчетов тогдашнего украинского руководства, оно позволило это России, а Россия этим воспользовалась и совершила то, что она сделала, и от чего мы сейчас страдаем и стараемся справиться с последствиями. Поэтому они принимали активное участие в формировании и агентурного аппарата, и проведении соответствующих акций для провоцирования сепаратистских настроений в этнически русской среде, особенно в Крыму, среди российских военнослужащих, которые после службы на Черноморском флоте и в других военных формированиях оставались жить в Севастополе и на других территориях Крыма и Украины в целом. А это тот контингент, который и был той взрывной силой, из которой затем была создана так называемая самооборона. Это все доказано, что Чепига имел отношение и к организации захватов административных зданий на территории Донбасса и самом Донецке, и он был в Киеве, и в Межигорье, когда Янукович бежал из Украины, и имеет отношение к этому.
– Какие уроки для себя Украину может извлечь из этой истории со Скрипалем?
– Скажем так, выводы Украина сделала тогда, когда ситуация стала уже трагической, и на кон поставлено вообще существование государства Украина и украинской нации. Сейчас предпринимаются меры для того, чтобы укрепить нашу обороноспособность, усилить сектор безопасности и обороны в целом, предоставить соответствующие ресурсы украинским спецслужбам, разведывательным органам СБУ и т.п. Это будет стимулировать усиление как контрразведывательного режима, так и административного режима с тем, чтобы не допускать на территорию нашей страны террористов, русскую агентуру, не допускать создания здесь российских разведывательных резидентур и т.п. Но, на мой взгляд, еще недостаточно у нас законодательной базы для того, чтобы дать в руки специальным службам и правоохранительным органам такой инструментарий, который присущ стадии, когда объявляется режим чрезвычайного положения или военного положения. Это вообще уникальный вопрос, когда против Украины совершена даже не агрессия, а интервенция с угрозой ее расчленения и уничтожения как государства, а у нас действует просто особый период, когда в правовом и административном отношении осложняется принятие надлежащих мер к тем, кто пытается сейчас дестабилизировать обстановку в Украине, к тем, кто фактически стал на сторону позиции Кремля, а этот шабаш псевдо-пацифистов сейчас активизируется перед выборами. Повыскакивали на поверхность бывшие нукеры Януковича, эти опоблоковцы, это охвостье режима Януковича, и откровенно льют грязь.
Кстати, тот же Медведчук, которому доверили, я так понимаю, определенную миссию и в этом минском процессе, и, очевидно, в отношениях с Путиным, потому что они близки, и он является его кумом, откровенно говорит такие вещи, которые вообще не могут быть озвучены в стране, против которой ведется война той страной, к которой питает симпатию господин Медведчук. Он исключает, что это агрессия, он не воспринимает то, что Украина получит томос, вообще он ничего такого не воспринимает, что направлено на развитие украинского государства, украинской идентичности, и самое главное – эффективного отпора врагу, он этого не признает. И фактически его идеологемы, его пропагандистские заявления полностью лежат в плоскости кремлевских месседжей, которые пытаются внедрить в общественное сознание Украины и в сознание мировой общественности.
Поэтому в этом контексте Украина как государство должна принимать эффективные законодательные, административные, финансовые меры, использовать международные ресурсы для того, чтобы не только отстоять свою независимость и суверенитет, но и восстановить свою территориальную целостность. То есть создать такие условия, в том числе и военным путем, чтобы агрессор, интервент покинул международно-признанную территорию Украины – Донбасс и Крым. И я думаю, что это произойдет, несмотря ни на что. Потому что ситуация в самой России тоже складывается очень непросто, санкции влияют, уже газовые проблемы не настолько подпитывают экономику страны, уже россияне приступили к продаже тех американских активов, которые у них были. А это очень серьезные вещи. И международные специалисты, и российские, кстати, тоже, прогнозируют, что Россия вступила в этап экономической стагнации. Более того, я считаю, что Россия вступила в этап застоя, который привел Советский Союз к развалу и катастрофе, и думаю, что если будет продолжаться такая политика узурпатора Путина, его коррумпированной среды и элиты, то Россию ждут очень тяжелые времена. Простой русский народ сейчас достаточно серьезно страдает из-за падения уровня жизни в стране: в Москве, Санкт-Петербурге немножко что-то крутится, а на окраинах – там очень серьезная проблема.
– Если Россия вступила в этап застоя, то что говорить об Украине, которая не может прожить без очередного кредита МВФ? Есть мнение, что экономических ресурсов в России хватит еще минимум на 10 лет. Вы верите, что санкции помогут в ближайшей перспективе?
– То, что мы уже пятый год успешно, при международной поддержке, противодействуем России на восточном фронте, и она не решается так, как это было в Чечне, грубо против нас воевать, говорит о том, что ресурсы в Украине есть, не только экономические и финансовые, но и демографические и интеллектуальные. К слову, в последнее время в результате проведенной работы и конструкторскими бюро, и нашими учеными, появились новые виды вооружения. Эффективно, на мой взгляд, хотя и медленно, реализуется стратегическая государственная программа "Ракетный щит": уже Украина имеет крылатые ракеты, имеет возможность доставать того, кого надо. А в отношении России – да, там пока ресурс, но этот ресурс тает очень быстро. Почему сейчас такой психоз, почему такая истерия и в Парламентской ассамблее Совета Европы, куда хотела Россия вернуться, и попытки политической коррупции западной элиты с тем, чтобы снять эти санкции? Это все говорит о том, что они чувствуют безумные убытки от этих санкций и от той изоляции, в которую попала Россия. И чем дальше, тем эта изоляция будет сильнее.
И самое главное, во-первых, в России наметилась тенденция, когда подавляющее большинство населения уже не воспринимает Запад как врага, а во-вторых, они уже начинают не воспринимать агрессивные методы взаимодействия со своими близкими и дальними соседями. Россияне уже перенасытились милитарной терминологией, милитарными перспективами, которые все больше и больше тают. И то могущество, о котором всячески пытаются говорить российские пропагандисты типа Киселева и других, не столь мощная по сравнению с милитаристским ресурсом НАТО и западного мира в целом. Путин и его режим будут идти до тех пор, пока его не остановят, пока не применят к нему соответствующие методы. Как только ему, извините, дадут в морду, он остановится, успокоится, и я так думаю, что если не он, то кто-то другой пойдет на конструктивные шаги для урегулирования ситуации, в том числе и с Украиной. Он задекларировал 10 лет для своего господства в России, а это фактически культ личности. И меня удивляет поведение подавляющего большинства российских демократов, гуманистов, как они говорят, как они могут закрывать глаза, когда фактически в России восстанавливается крепостное право, и учитывается мнение только одного человека. О какой там можно говорить демократии, гуманизме, ценностях и т.д.! И поэтому, по моему мнению, впоследствии в России будут происходить определенные процессы, и я думаю, что они начнутся, возможно, с окраин, а возможно, и из центра. Потому что есть такая расхожая формула, что в Украине власть меняется на Майдане, а в России – путем дворцовых переворотов.
– В материале BBC о происшествии, которое произошло в Солсбери, сказано, что сотрудники ГРУ есть везде – и в Украине, и во всех горячих точках мира. Говоря о российских спецслужбах, которые вербуют украинских политиков, как думаете, насколько их может быть много в украинском государственном аппарате?
– Все помнят, как недавно разоблачили в аппарате премьер-министра переводчика, заместителя руководителя этого аппарата, российского агента. Есть и другие примеры: в отношении и известного журналиста, даже сотрудников спецслужб Украины, которым сейчас объявили обвинение в государственной измене. То есть, вне всякого сомнения, есть русская агентура в структурах даже высших органов власти и государственного управления, но показывать на кого-то пальцем неуместно, потому что все же мы живем в демократическом правовом государстве, а для того чтобы конкретно кого-то обвинять в таких преступлениях, нужно иметь доказательства. Однозначно можно быть уверенными в том, что российские спецслужбы – и военная разведка, и разведка внешняя, и ФСБ России принимают все меры для того, чтобы не только активизировать и задействовать здесь свою агентурную сеть, но пополнить ее, расширить и самое главное – внедрить в те государственные структуры и спецслужбы, где принимаются решения, где планируется наша оборонная деятельность, где формируется стратегия Украины относительно отпора агрессии и восстановления суверенитета и территориальной целостности страны.
– Возможна ли такая ситуация перед президентскими и парламентскими выборами, что будут пытаться вербовать каких-то ключевых политических лиц? Насколько возможны сценарии диверсий, терактов, нападений и убийств активистов, то есть расшатывание ситуации в стране?
– У Путина, учитывая те проблемы, которые есть в России, и ввиду того, что его стратегия все больше и больше терпит поражение, сейчас есть намерения, и они уже реализуются, применить к Украине многоходовую операцию для дестабилизации обстановки, с целью приведения на следующих президентских и парламентских выборах к власти пророссийских сил, и тем самым сменить евроатлантический вектор Украины относительно своего будущего. Я уверен, что этого не произойдет. Но весь ресурс российских спецслужб, весь ресурс коллаборантской пятой колонны в виде соответствующих политических сил и отдельных средств массовой информации, к сожалению, которые проплачены Москвой, как раз сейчас в этом направлении и задействован.
Я хочу заметить, что эта ситуация и эти планы России и Путина – известны и высшему военно-политическому руководству Украины, и национальным спецслужбам, и Министерству обороны, и Министерству внутренних дел, и принимаются меры для того, чтобы, прежде всего, предупредить такой сценарий развития событий и не допустить прихода к власти тех, кто может снова из Украины – независимой демократической и правовой – сделать Малороссию, раба России. Другое дело – насколько это эффективно. Поскольку, как я сказал выше, нужна существенная работа законодательного органа Украины, чтобы дать в руки наших спецслужб более решительные и более карательные функции для подавления деятельности, которая наносит ущерб национальным интересам Украины. И если речь идет о судьбе страны, нации и людей, то надо действовать решительно, надо применять соответствующие законодательные и другие меры, в правовом поле, конечно. А для того чтобы это правовое поле было, нужны соответствующие законы, постановления и все такое, чтобы не давать возможности нашим врагам каким-то образом апеллировать к мировому сообществу, что здесь нарушается свобода слова, права человека и т.п. Но, подчеркиваю, сотрудникам правоохранительных и специальных органов нужно предоставить возможность действовать легитимно, но смело и решительно в плане обеспечения государственной и национальной безопасности.
tim cook – Google Search
---
tim cook – Google Search
---
tim cook – Google Search
---
In an interview with BuzzFeed News, Apple CEO Tim Cook called on Bloomberg to retract its story alleging that Chinese spies compromised a …
LONG Russia's Patriarch Kirill Blames Istanbul Orthodox Church For 'Schism'
---
The head of Russia's Orthodox Church has blamed Orthodox leaders in Istanbul for prompting a schism, the worst crisis to face the religion in hundreds of years.
Patriarch Kirill on October 19 blasted church authorities — known as the Ecumenical Patriarchate of Constantinople — as "schismatic" for a decision earlier this month moving to grant independence to the Ukrainian Orthodox Church.
The move pushed Moscow to break ties with the Constantinople Patriarchate, widely recognized as the spiritual authority of Orthodoxy.
"The Constantinople Patriarchate identified itself with schismatics," Patriarch Kirill told a conference in Moscow.
"Uncanonically, violating all rules, it invaded our jurisdiction and forgave schismatics," he added.
Ukraine has three Orthodox churches: the Ukrainian Orthodox Church of the Moscow Patriarchate, the Ukrainian Orthodox Church of the Kyiv Patriarchate, and the Ukrainian Autocephalous Orthodox Church.
The Moscow Patriarchate, which has the most believers in Ukraine, remains loyal to the Russian Orthodox Church. The Kyiv Patriarchate declared independence from the Russian church in 1992, but that has never been recognized by the Ecumenical Patriarchate of Constantinople.
Earlier this month, however, Patriarch Bartholomew, who is considered the "first among equals" leader among Orthodox leaders, endorsed the Kyiv Patriarchate's request for independence from Moscow.The Kyiv Patriarchate has not yet received the formal, final blessing to be autocephalous, or independent.
The move from Bartholomew prompted angry words from not only Russian church leaders, but also government officials.
On October 15, the Russian church announced it had decided to end its relationship with the Constantinople Patriarchate.
Several Orthodox churches in former Soviet republics, many of which are under the direct jurisdiction of the Russian Orthodox Church, also cut ties with the Constantinople Patriarchate.
Bartholomew's move has added to tensions between Kyiv and Moscow, already high since Russia's 2014 seizure of Crimea and the war in eastern Ukraine between government forces and Russia-backed separatists.
Reacting to the Russian Orthodox Church's announcement, the press secretary of the Kyiv Patriarchate said, "Patriarch Kirill has personally been an architect of the schism in the Ukrainian church since 1991″ and that his conduct has "pulled all of Orthodox Christianity into conflict."
There are an estimated 300 million Orthodox Christians worldwide, with the Russian church claiming to have the largest number of believers.
With reporting by RFE/RL's Belarus Service, AFP, AP, and The National Catholic Register
Russian woman CHARGED with conspiring to interfere in US elections | World | News
---
On Friday, the US Justice Department opened a criminal complaint and charged 44-year-old Elena Alekseevna Khusyaynova for her allegedly meddling in the US political system, including this year's midterm elections.
Ms Khusyaynova was the chief accountant for "Project Lakhta", funded by Russian oligarch Evgeny Viktorovich Prigozhin who allegedly has close ties to Russian President Vladimir Putin.
Hackers from Project Lakhta used social media and several other avenues to conduct a full-fledged "information warfare against the United States."
They have been accused of embedding ideas of distrust amongst US political candidates, using information warfare to effectively interfere in the election voting process.
Two companies run by Mr Prigozhin's – Concord Management and Consulting LLC and Concord Catering – also allegedly funded the project.
In February, Special Counsel Robert Mueller's office indicted Concord Management and Concord Catering for an alleged criminal and espionage conspiracy to tamper with the 2016 US presidential elections.
The two companies were among three entities and 13 Russians who were accused of meddling votes to favour of US President Donald Trump and oust his opponent, Hilary Clinton.
In July, Mueller's office also indicted 12 Russian intelligence officers who were accused of hacking Democratic computer networks as part of Russian meddling in the 2016 U.S. election.
This comes after US intelligence officials said they feared "ongoing campaigns" by Russia, China, Iran and other states to influence US voters.
The Office of the Director of National Intelligence (ODNI), the Homeland Security Department, the Justice Department and the FBI expressed concerns over countries aiming to "seek to influence voter perceptions and decision-making" in future US elections.
In January 2017 a joint report produced by the CIA, FBI and other security agencies concluded that Russian action ahead of the 2016 election was designed to help Trump and harm Hillary Clinton.
The ODNI states that Russian leadership favoured Mr Trump over his democratic rival, Hilary Clinton, after Mr Putin ordered an "influence campaign" to oust Mrs Clinton and "undermine public faith in the US democratic process".
US President Donald Trump has repeatedly denounced the official investigation, led by special prosecutor Robert Mueller, as a "witch hunt".
The Latest: Britain says Russia has 24 theories on poisoning
---
MOSCOW (AP) – The Latest on the poisoning of a Russian ex-spy and his daughter (all times local):
12:00 a.m.
Britain's U.N. ambassador says Russia has come up with 24 theories on who bears responsibility for the poisoning of an ex-spy and his daughter in England, but the United Kingdom has only one – that it's highly likely Russia was responsible.
Karen Pierce told a U.N. Security Council meeting called by Russia on Thursday: "We believe that the U.K.'s actions stand up to any scrutiny. … We have nothing to hide, but I do fear that Russia might have something to fear."
Pierce strongly criticized Russia for insisting on having its own experts participate in the examination of the nerve agent used in the attack on Sergei and Yulia Skripal. Samples of what is believed to have sickened them are being analyzed by the Organization for the Prohibition of Chemical Weapons.
Pierce also told reporters later that she finds it "grotesque" that Russia is blocking the investigation into responsibility for chemical weapons use in Syria while demanding that it be part of the investigation into the March 4 poisonings of the Skripals in the city of Salisbury.
___
11:25 p.m.
Russia's U.N. ambassador says Moscow assumes "with a high degree of probability" that the intelligence services of other countries are behind the likely the poisoning of a former Russian spy and his daughter in Britain.
Vassily Nebenzia told the U.N. Security Council at a Thursday meeting called by Russia that "everything confirms this is a coordinated, very well-planned campaign" intended "to discredit and even delegitimize Russia."
He did not name the intelligence services that Russia suspects, but said their goal is to accuse Moscow of using "a horrible, inhumane weapon, of concealing the arsenal of this substance," of violating the Chemical Weapons Convention, and putting in question Russia's "role not only in finding a solution in Syria, but anywhere else."
Nebenzia said Britain is required to allow Russia to participate in the investigation of the March 4 attack on Sergei Skripal and his daughter, Yulia.
He also questioned the British government's claims of Russian responsibility by asking what antidotes for exposure to the Novichok nerve agent the Skripals were given and where they were for four hours without cellphones on the day of the attack.
___
11:00 p.m.
Russia's ambassador to the United Nations has given a blistering indictment of the British government's allegations that Moscow was behind the nerve-agent poisoning in England of an ex-spy and his daughter.
U.N. Ambassador Vassily Nebenzia opened a meeting of the U.N. Security Council on Thursday with a lengthy statement in which he claimed that Russia was the victim of a hasty, sloppy and ill-intentioned defamation campaign by Britain and its allies.
Nebenzia said: "Great Britain refuses to cooperate with us on the pretext that the victim does not cooperate with the criminal….A crime was committed on British territory, possibly a terrorist act, and it is our citizens who are the victims."
Russia called the Security Council session at U.N. headquarters in New York to appeal to other nations for support in pursuing another explanation for the March 4 attack on Sergei Skripal, a former Russian military intelligence agent who was convicted of spying for Britain.
Nebenzia challenged Britain to take his statement as "a litmus test" of the country's integrity and respect for international norms.
___
This item has been corrected to show the current U.N. ambassador from Russia is Vassily Nebenzia, not Vitaly Churkin.
___
9:15 p.m.
Britain's ambassador to the United Nations says she fears Russia called a meeting of the U.N. Security Council to discuss the poisoning of an ex-spy in England to show "contempt" for international institutions such as the U.N.
Ambassador Karen Pierce said she also has "a bit of a fear" that Moscow is trying "to build a narrative" for why it won't accept the forthcoming findings from the Organization for the Prohibition of Chemical Weapons on the nerve agent that sickened Sergei Skripal and his daughter.
Piece told reporters ahead of Thursday afternoon's Security Council meeting that Britain looks forward to the chemical weapons watchdog's report and has "nothing to hide."
She said: "We ask, what have the Russians got to fear?"
Pierce said a number of factors led the British government to conclude that "this was a Russian state attack." She says they include a Russian declaration that its ex-agents are fair game, knowledge that Russia has made military-grade nerve agents and "other information that I am not able to disclose."
___
7:50 p.m.
Russia's Ambassador to Britain, Alexander Yakovenko, has rejected the notion that the embassy is "trolling" Britain with its Twitter account.
The London Embassy's account, which has sometimes mirrored the wry humor of the ambassador, has been vocal in demanding evidence backing Britain's insistence that Russia was behind the March 4 nerve agent attack on former spy Sergei Skripal and his daughter, Yulia, in the city of Salisbury.
One March post featured a picture of actor David Suchet as Hercule Poirot, the intrepid sleuth of Agatha Christie novels.
On March 18 the Russian Embassy tweeted: "In absence of evidence, we definitely need Poirot in Salisbury!"
Pressed on the tweets, Yakovenko said Thursday that "We are using in this situation a sense of human humor because some statements are really not friendly."
___
4:30 p.m.
Russia's top diplomat says Moscow must participate in a probe into the poisoning of an ex-Russian spy in Britain and see evidence if it is to accept the probe's results.
Britain blamed Russia for the March 4 poisoning of former double agent Sergei Skripal and his daughter, accusations Russia has denied.
Russian Foreign Minister Sergey Lavrov said Britain stonewalled Moscow's request for evidence and refused to let Russia join the probe.
Asked Thursday if Russia would accept the conclusions of the international chemical weapons watchdog, Lavrov said Moscow can't give an advance approval to a verdict coming after a secret investigation to which it had no access.
Lavrov said that the expulsions of over 150 Russian diplomats by two dozen Western nations threatened global stability. Moscow expelled the same number of Western diplomats.
___
4:15 p.m.
The poisoned daughter of Russian ex-spy Sergei Skripal says in a statement released by police that her strength is growing daily and that she is grateful for the interest shown in her case.
Yulia Skripal said Thursday that she woke up over a week ago after being poisoned along with her father in the southwestern city of Salisbury on March 4. The 33-year-old expressed gratitude to the people who came to their aid.
She says that "I am sure you appreciate that the entire episode is somewhat disorientating, and I hope that you'll respect my privacy and that of my family during the period of my convalescence."
Britain has blamed Russia for the poisoning using a military grade nerve agent. In response, more than two dozen Western allies including Britain, the U.S. and NATO have ordered out over 150 Russian diplomats in a show of solidarity.
___
3:45 p.m.
Russian state television has released a recording of what it says is a phone call between the daughter of an ex-spy poisoned in Britain and her cousin in Russia.
In it, Yulia Skripal says she and her father, former double agent Sergei Skripal, are both recovering and in normal health. She says her father is sleeping and his health has not been irreparably damaged.
Rossiya TV says Skripal's niece, Viktoria, who lives in Moscow, provided it with the recording of her conversation with Yulia. The broadcaster says it can't verify the recording's authenticity.
Britain has blamed Russia for the March 4 nerve agent attack that sickened the Skripals. The British hospital treating them said Yulia's condition has improved, while her father has remained in critical condition. Russia has vehemently denied involvement in the poisoning.
___
11 a.m.
Russia's top diplomat has dismissed the recent expulsions of Russian diplomats as a mockery of international law.
Two dozen countries have kicked out a total of more than 150 Russian diplomats in a show of solidarity with Britain, which blames Russia for last month's poisoning of a former Russian spy in Britain.
Foreign Minister Sergey Lavrov said Thursday the nerve agent poisoning of Sergei Skripal was "staged" to justify the expulsions from many countries "whose arms were twisted."
The international chemical weapons watchdog on Wednesday rejected Russia's calls for a joint investigation with Britain. Russia said the number of countries that abstained from the vote suggested many have doubts about Britain's allegations that Moscow was behind the attack.
Copyright © 2018 The Washington Times, LLC.
THE WASHINGTON TIMES COMMENT POLICY
The Washington Times welcomes your comments on Spot.im, our third-party provider. Please read our
 before commenting.
'Novichok' claims against Russia may stem from 'domestic political climate', says Medvedev More: http://tass.com/politics/1026659 – Google Search
---
TASS: Russian Politics & Diplomacy
---
MOSCOW, October 18. /TASS/. London's claims that Russia was behind what the UK describes as an attempt to poison former GRU Colonel Sergei Skripal and his daughter Yulia are false and may stem from the 'domestic political climate,' Russian Prime Minister Dmitry Medvedev told the Euronews channel in an interview on the eve of his visit to Brussels.
"First, the assessments put forward by a number of countries do not reflect the actual situation, and second, they definitely are not leading us to a brighter tomorrow," Medvedev said. "In the majority of cases, similar assessments and similar sanctions are not meant to punish anyone, or do anyone harm, or demonstrate an international position. No! They have other reasons why they do it; so as to pander to the domestic political environment."
He expressed regret "any evaluation like this definitely does not promote international cooperation." He recalled that similar practices that existed "in the Soviet era, when the Soviet Union would use labels …, but this did not lead to anything good."
"That is why we believe that everyone has to be careful when furnishing assessments," Medvedev noted
Перейти на сайт рекламодателя
Реклама 00
Пропустить
Anti-Russian rhetoric powerless
Prime Minister Medvedev said that anti-Russian rhetoric was coming from the United States, too, but it was unable to affect Moscow's policies whatsoever.
"Nine times out of ten, this anti-Russia crusade is being pursued entirely for domestic political purposes, to hold on to power, form a government or achieve some other goal. But, certainly not to sway Russia's position. It cannot be influenced, something that everyone realizes very well," he stated.
"We are perfectly aware of the fact that all that everything connected with Russia in the United States now is after various objectives. For all intents and purposes, its internal political squabbling. Feuds between the Republicans and the Democrats and discord inside the Republican Party," Medvedev said adding that the current events looked like "anti-Russian hysteria." The same can be said about the European countries," Medvedev emphasized.
Not acquainted with Downing Street's 'suspects'
When asked by the interviewer about the two Russians, Alexander Petrov and Ruslan Boshirov, whom London alleges of being involved in the poisoning of the Skripals, Medvedev refrained from commenting.
"I do not know. I will not comment, just because I am not acquainted with those people, neither am I acquainted with the comments to a sufficient degree," he said when asked if he believed the two men's story about the reasons for their visit to Salisbury, where the alleged poisoning took place. "I do not know. How can I know?"
If the British version of the incident is to be believed, former GRU Colonel Sergei Skripal, convicted in Russia of spying for Britain and his daughter Yulia on March 4 were infected by a Novichok class nerve agent in Salisbury. London rushed to claim that Moscow was highly likely involved in this incident. However, Russia strongly dismissed all speculations on this matter.
British Prime Minister Theresa May on September 5 briefed parliament on the investigators' findings to declare that London suspected two Russians of committing the alleged assassination attempt. The men, she said, carried passports issued in the names of Alexander Petrov and Ruslan Boshirov. British secret services claimed that both individual were agents of the Main Directorate (the former GRU) of Russia's General Staff. Petrov and Boshirov appeared on Russia's RT television channel to dismiss Britain's charges, including the claims they were Russian secret service officers.
Wolfgang Krieger on intelligence services – Google Search
---
Wolfgang Krieger on intelligence services – Google Search
---
Wolfgang Krieger on intelligence services – Google Search
---
Wolfgang Krieger on intelligence services – Google Search
---
Wolfgang Krieger on intelligence services – Google Search
---
Wolfgang Krieger on intelligence services – Google Search
---
Wolfgang Krieger on intelligence services – Google Search
---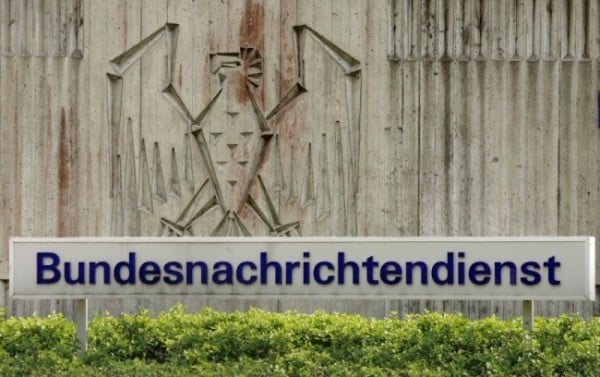 Wolfgang Krieger on intelligence services – Google Search
---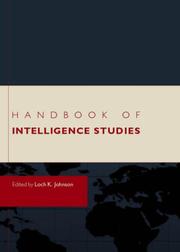 Wolfgang Krieger on intelligence services – Google Search
---