Mike Nova's Shared NewsLinks
The Lady In Black: German at the Center of the Manafort Case
---
Ina Kirsch is sitting at a table at Berlin's Café Einstein. She has chosen to sit in a corner on the second floor because there usually isn't much going on there. The expression she wears on her face reflects what she had said earlier on the phone: that she doesn't want this meeting. It's a "Let's get this over with" kind of face.
Kirsch, who is almost 50, wears a turtleneck sweater, a jacket, pants and loafers, all in black. She seems to want to be invisible, or at least inconspicuous. As presumably anyone would want to be who has been pulled into the machinery of a global scandal, into the American investigation into the Russian contacts of Donald Trump's team.
FBI Special Counsel Robert Mueller filed an indictment in Washington in October against the president's former campaign manager. The 31 pages of the "United States of America vs. Paul J. Manafort, Jr." reveal that the German woman played a central role in what has become the primary focus of the investigation: whether Trump's campaign manager, Paul Manafort, secretly, and therefore illegally, did lobbying work in the United States on behalf of the Ukrainian government before he joined Trump's team.
This also means Kirsch played a supporting role in the much larger drama — the battle over the White House — because the indictment is just one part of the bigger picture. It is intended to create pressure for Manafort to testify about other events. At issue is the question of whether the Trump team may have colluded with the Russian government during the election — something that could cost the president his job.
The special counsel believes the German was Manafort's strawman in his well-camouflaged lobbying work in the U.S. Kirsch allegedly helped Manafort clean up the Ukrainian regime's image up until 2014 — a dirty job that supposedly made Manafort millions. Although Kirsch's name does not appear explicitly in the indictment, every reference in the document to the European Centre for a Modern Ukraine is also directed at her. Since 2011, Kirsch has headed the Brussels-based center, an allegedly independent organization with the noble pursuit of tying Ukraine more closely with the West.
INTERNATIONAL NEWSLETTER
Sign up for our newsletter — and get the very best of SPIEGEL in English sent to your email inbox twice weekly.
But suspicions arose early on that the center was being used as a cover for corrupt President Viktor Yanukovych and his party. And as Special Counsel Mueller sees it, Manafort was also hiding behind the group's façade and working for Yanukovych. Kirsch, it appears, may have been a willing accomplice.
But is that inaccurate? Has Kirsch, as she claims, been wrongly depicted in Mueller's indictment? Kirsch orders a latte, which she sips unenthusiastically. The only reason she came, she says, is to make it clear to the reporters that there is no reason for them to write about her, because she never worked for Manafort. Kirsch claims she never received instructions or assignments from him. And she also says she was never a mouthpiece for the Ukrainian government. "That is totally untrue," she says, before adding, "One is always smarter in hindsight." So, is it possible that Kirsch was merely naïve and that she had been taken advantage of unwittingly?
Kirsch speaks fluent Russian. She was born in Khabarovsk, far in Russia's east, only a few millimeters from China on a map. Her mother worked for a newspaper there and her father was famous in East Germany (GDR). Rainer Kirsch, the lyricist and novelist, was kicked out of the Socialist Unity Party, East Germany's Communist Party, and refused to collaborate with the Stasi secret police. After the fall of the Berlin Wall, he served for 10 months as the last president of the East German Writer's Union.
His daughter Ina grew up in the GDR. She defected to the West in 1987 by staying in London during a trip there. She wasn't even 20 years old at the time. After the fall of the Wall, she joined the center-left Social Democratic Party (SPD). She went to Moscow for two years to work for the Friedrich Ebert Foundation, a think tank closely aligned with the party, before moving to Brussels take a job with the Social Democrats in the European Parliament.
A Difficult Partner
As an EU staffer with the Social Democrats, she worked on an agreement in 2014 with the Party of Regions, Ukrainian President Viktor Yanukovych's party. He would prove to be a difficult partner — a money-grubber who had boxed his way to the top and collected rare cars, exotic animals and horded exorbitant amounts of money. At the same time, he was so vain that he also wanted to be admired as a politician, as hungry for prestige as he had been.
For quite some time, it had been unclear whether Yanukovych would ally himself with the Russians or with the West in his pursuit of this goal. In any case, the West fought to gain him as an ally. Martin Schulz, the head of the Social Democrats' party group in the European Parliament at the time agreed to a contract with Yanukovych's party, promising regular meetings and "support."
The key step, which Kirsch also worked on, was the Ukraine-European Union Association Agreement. The aim of the treaty had been to pull Ukraine into the Western sphere once and for all. The final outcome, of course, is now part of history: After a long back and forth, Yanukovych refused to sign it, ultimately triggering the Maidan revolution and his own fall from power.
That couldn't have been foreseen in 2011, the year that Kirsch left her staff position with the SPD party group in the European Parliament and founded the European Centre for a Modern Ukraine, the mysterious entity that former FBI head Mueller considers to have been a strawman for the regime. What seems to confirm this suspicion is the fact that the impetus for the group came from a man close to Yanukovych, later Foreign Minister Leonid Kozhara. He was among the group's founders, and Kirsch took over operations. Officially, the center wasn't supposed to have anything to do with Ukraine's ruling clique. Kirsch says that no money or instructions were given.
A 'Mouthpiece' for Yanukovych?
According to Special Counsel Mueller, though, that isn't true. In his eyes, the group served solely as a "mouthpiece" for Yanukovych and his party and had been under the "ultimate direction" of the Ukrainian government. He also alleges that the main person pulling the strings was Manafort, who used the group to polish his clients' image in the United States.
The lobbyist and later Trump adviser had already been working since the 1980s with corrupt dictators who paid him large sums to wash the blood from their hands. His clients included Ferdinand Marcos in the Philippines and Mobutu Sese Seko in what was then Zaire, and now he was peddling Yanukovych as a serious politician in the battle against rival Yulia Tymoshenko.
AFP
Special Counsel Robert Mueller: Was a Brussels organization used to hide an illegal PR campaign for Ukraine in the United States?
According to the indictment, Manafort used the center as a cover. In the U.S., if you want to do lobbying work for foreign governments, you are required by law to register that activity and disclose the names of the clients and the payments made. But it appears that Manafort didn't want to do that. The indictment also alleges that Manafort and his partner earned $75 million for their work. It appears they tried to hide the money from the U.S. tax authorities, because it ended up in offshore companies in Cyprus and in the Caribbean. Page after page of the indictment provides a detailed listing of the gigantic sums of money that flowed from those companies to antiques dealers, luxury boutiques and car dealerships in the U.S., providing Manafort with his opulent lifestyle.
As Mueller outlines in the indictment, the relationship between Manafort and the center worked like this: Manafort stayed in the background, but he was in charge. Kirsch, meanwhile, signed contracts with Podesta and Mercury, two of Washington's most expensive PR firms. The contracts stated that the fees would be paid by Kirsch's organization, but Mueller's investigators also believe that to have been a cover. They allege that the money was actually paid by the Manafort companies, and the numbers also appear to back that claim. The organization allegedly only had around 10,000 euros a year in revenues, but the indictment states that Podesta and Mercury were paid over $2 million.
At first, Kirsch seems to have difficulty explaining things. Her voice is cold and controlled, her look suspicious, and she butts in every time a question is posed that isn't to her liking. She's trying to maintain control over a story that has long since gotten out of her hands. She says she's required to adhere to the non-disclosure clauses in the contracts with Podesta and Mercury, but they actually already expired over a year ago.
Who's Right: Kirsch or Mueller?
Later, after the meeting in Berlin, she uses three densely written pages to share her version of the events with DER SPIEGEL. She tells the story of a woman who had a burning desire, and even spent her own money, to give Ukraine a better future, in the West, in the EU. And the story of people like Manafort, whom Kirsch describes as a "gold digger." She claims he was merely using Ukraine. If her story is true, then Mueller is wrong. But is it?
Kirsch admits having met with Manafort three times. She says there was resistance in the U.S. to attempts to draw Ukraine closer to the West. This led the center to decide in 2012 to do a bit of lobbying work there. She claims that Manafort gave her the tip to hire Podesta and Mercury for those efforts. That's why she signed contracts with the firms to carry out small assignments in the U.S., like distributing the center's English-language newsletter.
She claims she didn't have any idea that the PR firms were also carrying out additional work for Manafort under the exact same service contracts. "The scope of services we had agreed on was much smaller than the work that Podesta and Mercury apparently did in coordination with Paul Manafort." The PR firms "should have come to me to discuss this, but they didn't," she says. Kirsch claims never to have received a bill from Podesta or Mercury, nor any reports on the work that had been done. She says she honestly isn't aware of all the things that were potentially done in her name.
A Money Trail
But that's a bit strange. How were Podesta and Mercury paid? Who did she think was paying if she never received a bill from Podesta and Mercury? She says her center in Brussels had sponsors and that instead of making payments to the organization itself, they sent money directly to the PR agencies. But what sponsors? European companies. Which companies? She claims she's not allowed to tell.
But now she has a problem — and not only because the suspicion remains that the money came from the Yanukovych regime. Mueller might also take interest in the fact that Kirsch didn't just have contracts with Podesta or Mercury, but also signed one with an offshore company in Cyprus — a copy of which is now in Ukraine. The company was called Marziola and it served as a kind of piggy bank: It was meant to collect the money from the organization's sponsors and send it onwards to America. Mueller's indictment reveals the person he believes to be behind Marziola: Paul Manafort.
And Kirsch argues she didn't notice this? She never checked to see who was involved in Marziola? No, she claims, she only found out Marziola belonged to Manafort when she read the indictment. She says she no longer has anything to do with Manafort. "The abuse of our efforts for personal interests of individuals is a great disappointment," she says.
Neither Manafort, nor the lobbyists with Podesta and Mercury answered requests from DER SPIEGEL for responses. Manafort has since filed a suit against Mueller claiming that the U.S. authorities had already been aware of the company structures in Cyprus and the Caribbean for years.
After four hours in the café, Ina Kirsch gets up. She has said enough and believes that any word about her is one too many. She asks that her place of residence not be published and that nothing be written about her husband. "What does my husband have to do with this?" Perhaps the fact that he also had tight connections to people close to Yanukovych? Kirsch is now just hoping that she won't get a phone call from Mueller's team and that the attention currently being paid to her will wash over quickly. She'd like to have all this behind her — as fast and quietly as possible, without any more meetings or any more questions.
German domestic intelligence chief removed from post – Google Search
| | |
| --- | --- |
| | mikenova shared this story from German domestic intelligence chief removed from post – Google News. |
---
Hans-Georg Maaßen was removed from his role as Germany's domestic intelligence chief | Odd Andersen/AFP via Getty Images …
Washington Post
–
Sep 13, 2018
BERLIN — Chancellor Angela Merkel's junior coalition partners demanded the removal of Germany's domestic intelligence chief on Thursday …
manafort and abwehr – Google Search
---
manafort and abwehr – Google Search
---
manafort and abwehr – Google Search
---
manafort and abwehr – Google Search
---
Manafort's guilty plea exposes hardball tactics he used to thrive in Washington swamp
---
Manafort Trick Bag: Planting Murder News, Muscling `Obama Jews'
---
Paul Manafort's bag of tricks was even deeper than billed.
In the years before Manafort became Donald Trump's campaign chairman, he schemed to plant murder allegations about an opponent to bolster his Ukrainian client. He enlisted someone in the Israeli government to help brand that opponent, and by extension a senior Obama administration official, as anti-Semitic. His pro-Ukrainian message was carried all the way to the Oval Office by secret lobbyists.
Those details emerged in documents filed in court on Friday, when Manafort provided a dramatic turn to Special Counsel Robert Mueller's investigation into Russian election meddling. Pleading guilty in Washington, Manafort will now cooperate with prosecutors, offering a potential window on the Trump campaign.
As he does so, the filings on Friday give a more detailed look at how Manafort paired ground-level subterfuge, international networking and high-stakes politics in Ukraine. His work was in the service of Ukraine's then-President Viktor Yanukovych, whose administration sent a previous prime minister, Yulia Tymoshenko, to jail.
In 2012, Manafort orchestrated a scheme to have what he characterized as "obama jews" apply pressure on the administration to disavow Tymoshenko, whose jail sentence in 2011 was widely condemned as politically motivated. He sought to plant stories that an Obama cabinet member was supporting anti-Semitism by advocating for Tymoshenko, who had formed a political alliance with a Ukraine party that espoused anti-Semitic views.
Manafort coordinated privately with a "senior Israeli government official" to issue a written statement publicizing the narrative, which he then worked to disseminate in the U.S. press.
That may have been a response to an October 2012 New York Times op-ed article co-bylined by Hillary Clinton, then the U.S. secretary of state, in support of Tymoshenko.
"I have someone pushing it on the NY Post. Bada bing bada boom," Manafort wrote to an associate. "The Jewish community will take this out on Obama on election day if he does nothing."
It's not clear from the filings that Manafort succeeded in placing an article in the Post. But shortly after Clinton's comment, a Breitbart news article quoted an unnamed "prominent Jewish leader" who accused her of creating "a neo-Nazi Frankenstein by issuing a de facto endorsement of Mrs. Tymoshenko and her choices."
'Plant Some Stink'
Manafort hatched another plan the next year. "My goal is to plant some stink on Tymo," Manafort wrote, describing an effort that should have "no fingerprints." He suggested planting news stories alleging that Tymoshenko had paid for the murder of a Ukrainian official.
Manafort ran some of his efforts through a collection of former European heads of state he called the Hapsburg Group. "It is very important we have no connection" to such stories, Manafort wrote on May 16, 2013.
On that same day, according to prosecutors, a Hapsburg Group member was part of a delegation that met in the Oval Office with the president and vice president, Barack Obama and Joe Biden. Prosecutors say the shadow lobbyist, who they didn't identify, didn't disclose his lobbying agenda. The lobbyist reported to Manafort that he had delivered a message to the White House on Ukraine.
A lobbyist reported back to Manafort that the Hapbsurg Group member had delivered the message of not letting "Russians Steal Ukraine from the West."
That would have dovetailed with Manafort's efforts to cast Ukraine as building a "rule of law" democracy that complied with western demands. In a Feb. 24, 2013 memo, which is attached to the court filings, Manafort wrote, "I propose to reinforce the key geopolitical messaging of how 'Europe and the U.S. should not risk losing Ukraine to Russia' through an intensive 60-day Hapsburg activity phase."
Pence exposed as part of Manafort's right-wing trans-atlantic conspiracy – People's World
---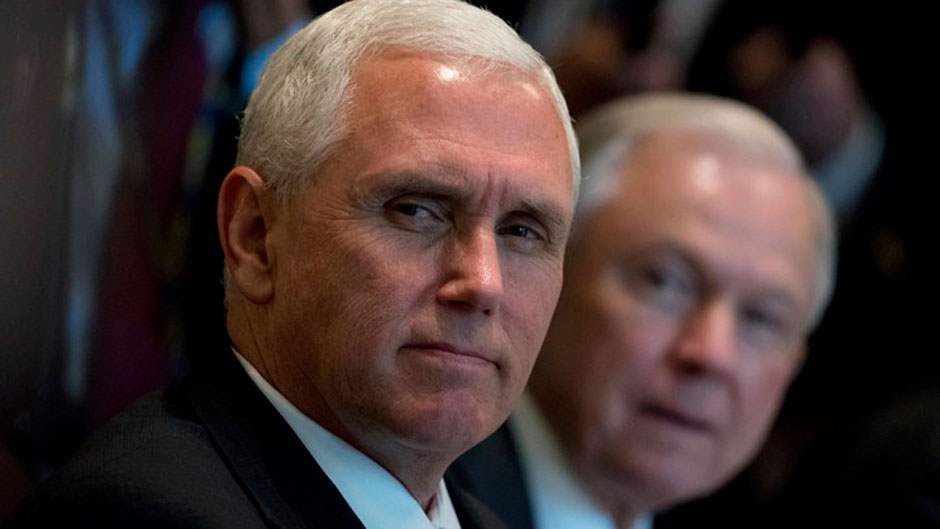 Vice President Mike Pence | Andrew Harnik/AP
WASHINGTON—It's not the "vast right-wing conspiracy" Hillary Clinton once railed against, but the employees – and clients – of uber-lobbyist Paul Manafort show the extent of right-wing ties stretching across the Atlantic Ocean.
And though he isn't a Manafort client or fixer, you can add GOP President Donald Trump's vice president, Mike Pence, to the mix, too. He owes his current job to Paul Manafort.
Manafort was Trump's campaign manager during the key period in 2016 when top Trump officials and confidantes met with Russians who were trying to fix the 2016 presidential election in the Manhattan mogul's favor.
But before that, Manafort was a fixer, propagandist and virtual campaign manager for then-Ukrainian President Viktor Yanukovych – and he illegally hid that work from the Justice Department and hid his millions in earnings from the IRS.
Yanukovych heads one of two leading parties which have been battling over Ukraine for a decade. His organization, the Party of the Regions, is pro-Russian and also his own personal fiefdom.
The opposition, headed now by Yulia Timoshenko, a former prime minister whom Yanukovych briefly jailed, is known for its right-wing ties, its pro-U.S. slant – and its past anti-Semitism, a virulent disease in Ukraine.
The Justice Department documents said Yanukovych paid Manafort two million Euros, then equivalent to $2.5 million. Yanukovych is widely considered to be a corrupt puppet of Russian President Vladimir Putin, who ordered Russia's pro-Trump interference in the election.
Manafort pleaded guilty to two counts covering such crimes on September 14 in federal court in Alexandria, Va., across the Potomac from Washington – and agreed to sing to Special Counsel Robert Mueller, who's probing the 2016 Trump campaign's contacts – or worse – with the Russians.
But in lobbying for Yanukovych, Manafort set up a dummy PR firm, the Hapsburg Group – named after the dynasty that ran the old Austro-Hungarian empire.
Manafort planned for the PR firm to "appear to be providing their independent assessments of Government of Ukraine actions, when in fact they were paid lobbyists for Ukraine," the prosecutors' statement of information – in essence what they planned to prove and what Manafort admitted to — said.
Manafort recruited three former European leaders for the PR firm to make the case both here and on the other side of the Atlantic:
Alfred Gusenbauer, a former short-term right-wing Chancellor of Austria. After leaving that political post, Gusenbauer spent his time in "paid consulting work for autocratic regimes," the Washington Post reported earlier this year. That work, including for Manafort, wasn't Gusenbauer's only shady deal: He shows up in the Panama Papers, the trove of documents about off-shore tax havens for the rich, politicians and their aides, as a board member of one such tax haven in Malta.
In addition to lobbying lawmakers for Manafort's Hapsburg Group – and for Yanukovych – Gusenbauer also funneled money to:
Romano Prodi, the sole non-right-winger in the crowd. The former Italian prime minister, an economist by trade, was not a multi-millionaire. Prodi told the New York Times he got the money from the Austrian and didn't know it really came from Manafort, or from Yanukovych.
Former Polish President Aleksander Kwasniewski. Longtime co-leader, with his late brother – who was Poland's prime minister – of the now-ruling Law and Justice Party, Kwasniewski became a Manafort operative with the Hapsburg Group.
But he had another particularly important link to work. Records from the European Parliament show that when the Ukrainian conflict was turning into a chaotic mess in 2013-14, the Parliament named two special envoys to probe and work with the Ukrainians. Kwasniewski was one.
The two heads of the European section of a Parliamentary Cooperation Committee were to meet with lawmakers from the Verknova Rada, the Ukrainian parliament.
The U.S. contacts for Manafort's three top recruits included Rep. Edward Royce, R-Calif., chair of the House Foreign Affairs Committee, Rep. Robert Aderholt, R-Ala., and Rep. Tom Marino, R-Pa.
Marino became infamous several months ago when he was forced to withdraw his nomination as Trump's drug czar after revelations that in 2017 he pushed through a law weakening federal enforcement against opioid distributors and manufacturers – after getting $100,000 in campaign contributions from the drug makers.
Royce has been a prime congressional mover of sanctions against Russia for its actions in Ukraine.
And Pence? Well, that's a direct Manafort tie to Trump – not Ukraine — without all the go-betweens.
Trump originally planned to name then-Gov. Chris Christie, R-N.J., as his running mate. Manafort inserted Pence, then the governor of Indiana who was going down the tubes politically after companies and conventions fled the state due to Pence's anti-LGBTQ law.
"Manafort had arranged for Trump to meet with his first choice for the job on July 13: Pence," Yahoo News reported." Afterward, the plan was for Trump and Pence to fly back to New York together and a formal announcement would be made, a campaign source said of Manafort's thinking. Set on changing Trump's mind, he concocted a story that Trump's plane had mechanical problems," forcing Trump to stay overnight in Indianapolis with the Pences. That clinched it.
"Other than softening the Republican Party's stance on Russian thuggery in the Ukraine" – the new language in the 2016 Trump-written GOP platform – "and maneuvering Mike Pence into the vice presidency, Manafort didn't do much in the short time he managed the president's campaign, except possibly commit some crimes," the Yahoo analysis pointed out.
---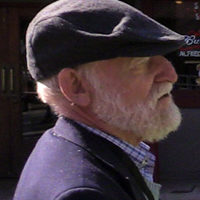 Mark Gruenberg
Mark Gruenberg is head of the Washington, D.C., bureau of 
People's World
. He is also the editor of Press Associates Inc. (PAI), a union news service in Washington, D.C. that he has headed since 1999. Previously, he worked as Washington correspondent for the Ottaway News Service, as Port Jervis bureau chief for the Middletown, NY 
Times Herald Record
, and as a researcher and writer for 
Congressional Quarterly
. Mark obtained his BA in public policy from the University of Chicago and worked as the University of Chicago correspondent for the 
Chicago Daily News
.
manafort hapsburg group – Google Search
---
Search Results: canaris
---
… Take, for example, the unequivocal sentence "Canaris had a mistress in Vienna
whose sister was married to Menzies's brother" (67). …


– 24k

 – 2016-04-20
The Secret War: Spies, Codes and Guerillas, 1939–1945 …

… Take, for example, the unequivocal sentence "Canaris had a mistress in Vienna
whose sister was married to Menzies's brother" (67). …


– 82k

 – 2016-03-29
… David Lampe, THE SAVAGE CANARY: The Story of Resistance in Denmark …
Colvin, MASTER SPY: The Incredible Story of Admiral Wilhelm Canaris. …


– 84k

 – 2008-07-01
Bodyguard of Lies by Anthony Cave Brown. Book review by …

… resistance movement against Hitler that functioned throughout the war and
received significant support from Admiral Canaris' Abwehr (military …


– 112k

 – 2011-08-10
… note: there are two autonomous cities – Ceuta and Melilla – and 17 autonomous
communities including Balearic Islands and Canary Islands, and …


– 118k

 – 2018-07-05
Introduction :: ATLANTIC OCEAN

… clockwise North Atlantic Gyre consists of the warm Gulf Stream in the west,
the North Atlantic Current in the north, the cold Canary Current in the …


– 17k

 – 2018-01-19
… managing the plot," we should have written "the individual who was in a position
to advance the plot." This terrorist had raised Canary Wharf as a …


– 16k

 – 2016-01-07
[PDF] tel1igence

U"NCLASSIFI,ED — APPROVED FOR RELEASE: 08 DEC 2014 SECRE1/
/NOPOm~ lHE DIRECTOR CENTRAL D'JTELLIGENCEAGENCY …


– 731k

 – 2016-01-07
In order to show you the most relevant results, we have omitted some entries very similar to the 8 already displayed.
If you like, you can repeat the search with the omitted results included.
What everyone's forgetting about Paul Manafort
---
Bert And Ernie Are A Gay Couple, Says Former 'Sesame Street' Writer – HuffPost
---
Unraveling the Mystery of a 12-Day Killing Spree at the Border – New York Times
---
A new trail to the Islamists
---
Heilbronn / Stuttgart. The NSU investigation committee of the Stuttgart state parliament is on the home straight. Actually. A few meeting dates are still pending. But a now surfaced document could extend everything. The Federal Police Crime Police could play a role in the complex around the Heilbronn police murder. For the murder, the Federal Prosecutor's Office makes the National Socialist underground alone responsible.
The BKA note states that condemned former Islamist Fritz G. of the Sauerland Group "could finally bring the detonators to their area of ​​access on April 25, 2007". Once again, there is a connection between the Islamists, who wanted to blow up US buildings in Germany, and the neo-Nazis, who have committed unidentified murders for years.
The special feature of the date: So far, it was said by authorities that the Sauerland Group on April 22, 2007 in Turkey took the detonator and only brought to Germany in August. In September, the access and later long-term sentences. If the detonators were in Germany on April 25, 2007, on the day of the Heilbronn police murder, the new speculation nourishes whether Islamists were involved in the crime scene or involved in the murder.
Mevlüt K., fifth man of the Sauerland Group, reported that the "star" was reportedly killed in the April of the year because of a shootout on the Theresienwiese.
Protocol real or a fake?
The German authorities stated immediately that the document was forged, there was no Islamlistebezug. At the same time, however, they were examining what happened, as can be seen from a correspondence that is classified as secret for 60 years. The then BND boss Ernst Uhrlau wrote on 8 December 2011 to the President of the Military Shielding Service and the Federal Chancellery, a day later to the Attorney General, that the US side had evidence that possibly the FBI had two employees travel to Germany and ordered them back after the incident in Heilbronn. A call of the Americans rejected the Germans but from. It was not until the spring of 2017 that the coverage in the SÜDWEST PRESSE became known, among other things. that in the police murder investigation further connections in the Islamist scene had emerged. Thousands of mobile phone numbers logged into the surrounding cell towers at the time of the crime were matched by Europol. There were 50 cross hits.
Brisant are two. One is known to authorities in connection with the Sauerland investigation team. She was logged in on the day of the murder from 11:20 to 13:49 at the Theresienwiese near the crime scene. Shortly before 14 o'clock Michèle Kiesewetter was killed there, her colleague Martin A. was mortally wounded. The other number leads to the BKA investigation group "EG Martan". In 2003 she investigated the deaths of three jihadists from Ulm and the Stuttgart area in Chechnya. One number could later be assigned to a Ulmer textile company, the other remains unidentifiable.
A connection still emerges: Attila S. is said to have told one of his lawyers at the edge of the Sauerland trial in 2009 that he had been trained at the Tokarew terror camp, which was also used in police murder. At that time the product was not yet public. S. should have continued to speak of a weapons deal in Heilbronn. Before the NSU committee, the former Sauerland terrorists contradicted this information.
That there was movement around the Sauerland Group and US officials around those April 2007 is certain. Whistleblower Edward Snowden is known to have around 100 US agents stationed in Neuss. Five days before the police murder a rare US terror alert was issued for Germany. Background, it is speculated: Mevlüt K. had communicated with the Islamist terrorists about "the shipment of the first detonator delivery from Turkey to Germany", which had been banned by US authorities according to the BKA. An hour before the police murder had been flashed on the A6 near Heilbronn, the US Elite Officer Master Sergeant Andrew H. He was a member of the Special Forces Group, which inter alia operates in the Islamist security.
The NSU committee in Stuttgart, will probably deal with the new data, says Chairman Wolfang Drexler. "The next session is on 24th September. It depends, however, on which requests for evidence come from the political groups. "Then it is decided whether witnesses will be reloaded. Drexler himself considers it unlikely that the detonators were actually handed over on April 25 in Heilbronn. "At Fritz G., for example, we know very well what he did that day because he was constantly under surveillance. He was in Singen, not in Heilbronn. "
Drexler could not explain why, for example, Mevlüt K. was only closely observed in Turkey until April 22, 2007. It remains unclear where he stayed afterwards.
Walter Martinek, advocate of the surviving civil servant Martin A., considers the official thesis on the murder of a police officer plausible. He suspected a failed weapon, which disturbed the police and were therefore attacked. So it said as an adjunct lawyer in the Munich NSU trial.
Roy The Cohn – Google Search
---
Is Donald Trump a Fascist?
---
Later, in critiquing American conservatives who want universities to teach the Western canon, Stanley writes, "it should give fans of such 'Great Books' programs pause that Hitler declares in 'Mein Kampf' that, 'all that we admire on this earth … is the creative product of only a small number of nations.'" Really? Is there no difference between Hitler's motivations and William Bennett's?
But if Stanley's lumping is sometimes a weakness, it also accounts for his book's conceptual power. By placing Trump in transnational and transhistorical perspective, Stanley sees patterns that others miss. He notes the apparent paradox that Trump — like many fascist politicians — rode to power in part by attacking government "corruption," yet practices it even more brazenly himself. The explanation, Stanley suggests, lies in what fascists actually mean by the term. "Corruption, to the fascist politician," he argues, "is really about the corruption of purity rather than of law. Officially, the fascist politician's denunciations of corruption sound like a denunciation of political corruption. But such talk is intended to evoke corruption in the sense of the usurpation of traditional order."
Stanley's comparative perspective is particularly effective in illustrating how fascists use fears of sexual violence. He notes that fascist politicians, who portray themselves as defenders of a pure, mythic, patriarchal past, frequently play on fears that alien groups pose a sexual threat. Segregationists used the specter of black rape to justify lynchings. After World War I, Germans "promulgated racial fantasies of mass rape of white women" by African soldiers serving among the French occupying forces, fantasies embraced in the United States by the renascent Ku Klux Klan. Nearly half a century later, the wave of Middle Eastern migrants entering Germany has spawned another sexual terror, which has again crossed the Atlantic, and become a staple of pro-Trump platforms like Breitbart.
Crucially, Stanley also links fascism to economic inequality, and he quotes Hannah Arendt, who argued that fascism flourishes when individuals are "atomized." He explains that Hitler denounced labor unions because he feared they might create solidarity among racially and religiously diverse workers. And he shows that the "right to work" movement that today seeks to cripple unions in the United States has its roots in an effort by Southern business elites to divide black and white workers in the 1940s. Many commentators have linked Trump's victory to the economic dislocation brought by globalization. But by focusing on declining participation in labor unions — which can create class solidarity across racial, ethnic and religious lines — Stanley illustrates a key mechanism through which economic stress buttresses fascist politics.
Even the reader who finds much to admire in Stanley's book may still wonder why he employs the term "fascist" so freely. In his epilogue, Stanley offers an answer. Citing a 2017 study in the journal Cognition, he observes that "judgments of normality are affected both by what people think is statistically normal and what they think is ideally normal." Thus, if American politicians routinely associate Latino immigrants with murder and rape, Americans may grow less outraged by such accusations simply because they occur so often. Stanley supports this scholarly insight with a personal one, from his grandmother, a German Jew who wrote about the way Jews in Berlin psychologically accommodated themselves to Hitler's rule as late as 1937: "We were still able to leave the country; we could still live in our homes; we could still worship in our temples; we were in a Ghetto, but the majority of our people were still alive."
Syrian regime accidentally shoots down Russian military plane – CNN
---
syria russia plane – Google Search
---
Moscow (CNN) Syria inadvertently shot down a Russian military plane after an Israeli attack on Syrianpositions, killing 15 people on board, …
MOSCOW (Reuters) – Russia on Tuesday accused Israel of indirectly causing a Russian military plane to be shot down near Syria's …
mueller israel russia trump – Google Search
---
Washington Post
–
Sep 14, 2018
… election and whether any Trump associates may have conspired with Moscow. … [Inside a Russiandisinformation campaign in Ukraine in 2014] … Manafort "coordinated privately with a senior Israeligovernment official to issue a … [Manafort pleads guilty to two charges and will cooperate with Mueller].
The Guardian
–
Sep 14, 2018
The dramatic development in the Trump–Russia saga was … Mueller's team indicated that Manafort would receive a maximum … with an Israeli government official to spread allegations linking Tymoshenko to antisemitism.
mueller israel russia – Google Search
---
mueller israel – Google Search
---
mueller – Google Search
---
macron gay scandal – Google Search
---
Russia blames Israel after Syria, an ally, killed 15 by downing a Russian plane in a wild air battle – Business Insider
---