"The biggest question in U.S. politics – what has Putin got on Trump?" Simon Tisdall
M.N.: Do you want to know my answer? Nothing. Absolutely nothing, nada, zilch, zero. And it is absolutely does not matter and is irrelevant, what they have or don't have. There some bigger and the more important questions on the horizon. 
Trump's silence over the fresh round of sanctions has "intensified what may be the biggest question in U.S. politics – what has Putin got on Trump?" Simon Tisdall argues at the Guardian.
The Early Edition: August 10, 2018
In Brief – Saved Stories
–
Saved Stories – None
The politics of the Trump administration's Russia strategy – Fox News
Psychologists surveyed hundreds of alt-right supporters. The results are unsettling. – Vox
Steve Bannon on How 2008 Planted the Seed for the Trump Presidency – New York Magazine
Just Security's Summer Reading List

During these final days of summer, hopefully some of you are able to take a break and relax a little before gearing up for what lies ahead this fall. And what a great time to squeeze in some reading … To help you out, here are some recommendations from the Just Security team.***

Less by Andrew Sean Greer. Summer is a time for fiction, and Less is an immediately engaging, surprisingly funny, and very smart novel about the connection between one's writing and one's identity. Winner of the Pulitzer Prize for fiction. — Joshua Geltzer

LikeWar: The Weaponization of Social Media by P.W. Singer and Emerson T. Brooking (Out Oct. 2, 2018). I've had the pleasure of reading an advance copy of LikeWar, and it's a must-read for anyone interested in how the Internet is changing the nature of conflict and how the dynamics of conflict are changing the Internet. — Joshua Geltzer

The Cure at Troy by Seamus Heaney. This is Heaney's translation of Sophocles' Philoctetes, telling the story of the wounded hero marooned on a Island during the siege of Troy. Perfect reading for those thinking deeply about the conflict between personal integrity and political expediency. — Fionnuala Ni Aolain

Wars of Law, Unintended Consequences in the Regulation of Armed Conflict by Tanisha M. Fazal. A great and counterintuitive read on the modern implementation of international humanitarian law by my colleague at the University of Minnesota. — Fionnuala Ni Aolain

Journey to Extremism in Africa by UNDP. For those wanting a serious policy read on the drivers to violent extremism and radicalization, this is, in my view, the most substantial and well-researched work on the topic currently available. A weighty but accessible study with much to say not only about radicalization on the African continent but beyond as well. — Fionnuala Ni Aolain

Frankenstein in Baghdad by Ahmed Saadawi. Written around the rubble-strewn streets of U.S.-occupied Baghdad, this is the story of a scavenger who builds a modern day Frankenstein.  It is a dark and satirical gothic tale, an extended metaphor for the interminable carnage in Iraq but also a gloriously funny read about the traction of the human spirit in the midst of it all. Winner of the International Prize for Arabic Fiction. — Fionnuala Ni Aolain

Destroying the Caroline: The Frontier Raid That Reshaped the Right to War by Craig Forcese. Why on earth do so many international lawyers think that an isolated incident from 19th century North America provides the legal test for whether the United States can legally bomb Iran, or North Korea, or launch a massive military campaign against ISIS in Syria? Forcese's sophisticated and beautifully written book places the Caroline incident in its historical and legal context, and explains how it was later transformed and transplanted into the modern law of interstate force. — Adil Ahmad Haque

American War By Omar El Akkad — Set in the closing decades of the 21st century and the opening ones of the 22nd, El Akkad's novel recounts what happened during the Second American Civil War between the North and South and its catastrophic aftermath. It is a story that extrapolates the deep, partisan divisions that already plague American politics and looks at where those widening splits could lead. — Jennifer Granick

Asymmetry by Lisa Halliday. Novel about a young book editor's affair with (a barely fictionalized) late-in-life Philip Roth, and then it segues into the story of an Iraqi Kurdish American economist stuck in security holding at Heathrow Airport while en route to try to find his brother, who has gone missing in Iraq. A page-turner; I'm still thinking about, weeks after finishing it. — Laura Rozen

Who is Vera Kelly? by Rosalie Knecht. Spare, elegant and understated spy novel, about a young American woman working for the CIA in Argentina ahead of a military coup in the 1960s. — Laura Rozen

Tangerine by Christine Mangan. A young, newly wed British woman living in Morocco gets a visit from an old American college friend…in the tradition of Patricia Highsmith (The Talented Mr. Ripley). —Laura Rozen

Messing With the Enemy by Clint Watts. A must-read chronicle of how social media morphed from connecting people, to connecting terrorists, to now dividing Americans. Watts describes how platforms like Facebook, Twitter, and YouTube have allowed out enemies to coordinate with each other and infiltrate our social fabric in plain sight. — Asha Rangappa

Political Tribes by Amy Chua. Chua explains how America's blindness to the power of bonding based on race, religion, and other fundamental identifications has often led it astray in creating foreign policy — and how those same "tribal" pulls are polarizing American society and potentially creating our own greatest Achilles heel. — Asha Rangappa

Bad Blood: Secrets and Lies in a Silicon Valley Startup by John Carreyrou. I could not put this book down. It's an incredible feat of investigative reporting about a sham of mind-boggling proportions. If you think you know about Theranos, the blood-testing startup exposed for its pervasive fraud in 2015, you have no idea how bad it actually was on the inside until you read this book. — Kate Brannen

The Unwinding: An Inner History of the New America by George Packer. I read this when it first came out in 2014 and loved it. At the time, I saw it as a lookback at how the country had reached its current state, but now I see it as a foreshadowing of what was to come. With profiles of Newt Gingrich and Andrew Breitbart, Packer had his finger on exactly which forces at play were shaping our future. I think it's a good time to revisit it. — Kate Brannen
Photo Illustration by Justin Sullivan/Getty Images
Paul Manafort trial Day 9: Judge seals discussion of Rick Gates, Trump and the ongoing Mueller investigation – Washington Post
Concerns grow about Russian defectors' safety in US after brazen Skripal poisoning – NBCNews.com
The Hill's Morning Report: Where the Mueller probe stands – The Hill
Will Trump give Putin a key to the city? – LancasterOnline
Will Trump give Putin a key to the city?

LancasterOnline

We hope President Donald 

Trump

 will follow proper protocol should Russian President Vladimir 

Putin

 accept his invitation to visit Washington and present him with the key to the city. Stephen A. Kirsch …
The Early Edition: August 10, 2018

Signup to receive the Early Edition in your inbox here.Before the start of business, Just Security provides a curated summary of up-to-the-minute developments at home and abroad. Here's today's news.

U.S.-RUSSIA RELATIONS 

Fresh U.S. sanctions against Russia are "absolutely illegal" under international law, a spokesperson for the Kremlin said yesterday after news of the penalties sent the rouble plummeting. The new raft of sanctions are in response to an investigation into Russia's alleged use of the illegal nerve agent Novichok in an assassination attempt against ex-spy Sergei Skripal and his daughter Yulia in the U.K. in March, Stephanie Murray reports at POLITICO.

The rouble shed as much as 5% against the dollar yesterday and stocks plunged as much as 9%, led by state banks and national airline P.J.S.C. Aeroflot-Russian Airlines, which risks losing access to U.S. markets should sanctions escalate. Anatoly Kurmanaev and Courtney McBride report at the Wall Street Journal.

Russia yesterday sought to characterize the U.S. as an erratic and volatile actor that had betrayed "constructive" talks between the two countries' presidents. Spokesperson for the Russian President Vladimir Putin, Dmitry Peskov commented that "anything can be expected from Washington now … [the U.S.] is quite an unpredictable participant in international affairs," Henry Foy and Kathrin Hille report at the Financial Times.

"Once again we totally reject any allegations of possible Russian government involvement over what happened in Salisbury," Peskov added, arguing that "Russia did not have and does not have anything to do with the use of chemical weapons." Emma Burrows and Judith Vonberg report at CNN.

"If some ban on banks' operations or on their use of one or another currency follows, it would be possible to clearly call it a declaration of economic war," Russian Prime Minister Dmitry Medvedev said today, adding that in such a situation "it would be needed to react to this war economically, politically, or, if needed, by other means…and our American friends need to understand this," Reuters reports.

Russian Foreign Ministry spokesperson Maria Zakharova said yesterday that Moscow is starting to work on retaliatory measures, telling reporters at a briefing that no evidence had been presented to prove Russia's blame, and that the pretext for the new round of sanctions had been made up. Reutersreports.

The new U.S. sanctions on Russia will target exports of national security-related goods, a senior U.S. State Department official said yesterday. The official commented that "the categories covered by this could include things such as electronic, computers, sensors and lasers, telecommunications, specialized oil and gas production equipment and information and security technologies, just to name a few," Reuters reports.

Russia and China yesterday objected to a U.S. proposal to add a Russian bank, a Moscow-based North Korean banker and two other entities to a U.N. Security Council blacklist, according to diplomats. The list of proposed designations mirrors sanctions announced by the U.S. Treasury last week, imposed on Moscow-based Agrosoyuz Commercial Bank, North Korean banker Ri Jong Won, China-based Dandong Zhongsheng Industry & Trade Co Ltd and North Korea-based Korea Ungum Corporation, Reutersreports.

Top congressional Republicans are trying to shut down conversations surrounding the invitation of a Russian delegation to the Capitol, despite the fact that Sen. Rand Paul (R-Ky.) pitched the idea during his trip to Moscow this week. Senate Majority Leader Mitch McConnell (R-Ky.) and House Speaker Paul Ryan (R-Wis) have neither issued an invitation nor are discussing it, according to a spokesperson for the most senior Republican leaders, Jordain Carney reports at the Hill.

Trump's silence over the fresh round of sanctions has "intensified what may be the biggest question in U.S. politics – what has Putin got on Trump?" Simon Tisdall argues at the Guardian.

Russia's reaction to new U.S. sanctions will likely put the U.S.' access to space at risk, David Axe comments at The Daily Beast.

TRUMP-RUSSIA

U.S. District Judge T.S. Ellis – currently sitting in the trial of former Trump campaign manager Paul Manafort – has granted a request by special counsel Robert Mueller to seal portions of a sidebar conversation between the judge and attorneys during the testimony of Manafort's associate Richard Gates this week. "Sealing a limited portion of the sidebar conference is necessary because it would reveal substantive evidence pertaining to an ongoing government investigation," Mueller's team wrote in the motion to seal portions of the transcript yesterday, Jaqueline Thomsen reports at the Hill.

Mueller is set to issue a subpoena requesting a formal interview with an associate of informal Trump campaign adviser Roger Stone – Randy Credico, who was Stone's alleged connection to Wikileaks during the 2016 presidential election. Mueller is investigating alleged Russian interference in that election, John Bowden reports at the Hill.

WikiLeaks founder Julian Assange is "seriously considering" a request to testify in person before the U.S. Senate intelligence committee about Russian interference in the 2016 U.S. presidential election,according to a statement from his lawyer Jennifer Robinson. Assange has been living at the Ecuadorian embassy in London since 2012, over fears that he could be extradited to the U.S., Merrit Kennedy reports at NPR.

Top Democrat on the House Intelligence Committee Rep. Adam Schiff (Calif.) has hit out at Republicans on the panel, accusing them of attempting to block witnesses from answering certain questions in an attempt to protect the president. "As you know, they would frequently interject with the witness when we were asking them questions, 'you know you don't have to answer that question,'" Schiff said in an interview, adding "that's how you obstruct an investigation, not how you conduct one," Olivia Beavers reports at the Hill.

Sen. Bill Nelson (D-Fla.) claimed this week that Florida's election systems had been "penetrated" by Russian hackers ahead of the 2018 midterms; comments that have led Florida officials to seek answers from the Senate Intelligence Committee. Florida Secretary of State Ken Detzner (R.) sent a letter yesterday to committee chairman Sen. Richard Burr (R-N.C.) asking for details about remarks Nelson made the previous day in which he claimed that hackers had "already penetrated certain counties in the state." John Bowden reports at the Hill.

Chairman of the House Judiciary Committee Bob Goodlatte (R-Va.) is preparing subpoenas for Justice Department official Bruce Ohr, his wife Nellie Ohr and Fusion G.P.S. co-founder Glenn Simpson,according to two congressional sources familiar with the matter. The subpoenas relate to the controversial dossier produced by former British Intelligence officer Christopher Steele that made a series of salacious allegations about Trump's links to Russia, Olivia Beavers reports at the Hill.

Accused Russian agent Mariia Butina went to a Kremlin-linked public relations power player named Igor Pisarsky for cash, in a detail missed by prosecutors, Betsy Woodruff and Allison Quinn report at The Daily Beast.

U.S. SPACE FORCE

"The time has come to establish the United States Space Force," Vice President Mike Pence said yesterday, announcing the plans for Trump's proposed sixth branch of the armed forces at the Pentagon. Ellen Mitchell reports at the Hill.

"Just as we've done in ages past, the United States will meet the emerging threats on this new battlefield," warning of the advances adversaries have made in space and the challenges they pose to U.S. assets. Christian Davenport and Dan Lamothe report at the Washington Post.

The Space Force should be in operation by 2020; however, its establishment requires legislation to be passed by Congress, which is divided on the issue. Helene Cooper reports at the New York Times.

The plan to establish the Space Force has prompted the U.S. Air Force to "justify its manpower and funding," leading some to propose ill-conceived ideas. David Axe explains at The Daily Beast.

The KOREAN PENINSULA

The U.S. has responded to North Korea's practical denuclearization steps by "inciting international sanctions and pressure against [Pyongyang]," North Korea's Foreign Ministry said in a statement issued yesterday, blaming "some high-levels within the U.S. administration" for going against the president's will and undermining he spirit of dialogue established at June's summit meeting between Trump and North Korean leader Kim Jong-un in Singapore. James Griffiths, Richard Roth and Will Ripley report at CNN.

There can be no expectation of progress "as long as the U.S. denies even the basic decorum for its dialogue partner and clings to the outdated acting script which the previous administration have all tried and failed," the statement said, highlighting measures it has taken, including stopping nuclear missile testing, dismantling a nuclear test ground and repatriating the remains of some U.S. soldiers killed in the 1950-53 Korean War. Haejin Choi and David Brunnstrom report at Reuters.

"Expecting any result, while insulting the dialogue partner" is a "foolish act that amounts to waiting to see a boiled egg hatch out," the statement also said. The BBC reports.

"We will preserve our nuclear science as we know that the Americans will not abandon their hostility toward us," North Korea's Foreign Minister Ri Yong-ho was quoted as saying by Iran's Mehr news agency, saying during his visit to Tehran that "dealing with the Americans is difficult." Bryan Harris reports at the Financial Times.

Senior North and South Korean officials will meet next week to discuss a possible third summit meeting between Kim and South Korean President Moon Jae-in, South Korea's Unification Ministry said yesterday. The two leaders reached a broad agreement on easing military tensions and improving bilateral relations at the truce village of Panmunjom when they met in April, Choe Sang-Hun reports at the New York Times.

ISRAEL-PALESTINE

A ceasefire between the Palestinian Hamas militant group and the Israeli military appears to be holding up, with the Israeli military saying that no rockets were fired from the Hamas-controlled Gaza Strip into Israel overnight and it conducted no airstrikes in Gaza against Hamas targets. The ceasefire was brokered by Egypt and comes after two days of escalating violence which saw Gazan militants fire around 200 rockets at Israel, leading the Israeli military to carry out a similar number of airstrikes in response. Ian Deitch reports at the AP.

The ceasefire was reached by Israel and Hamas late last night, according to a foreign diplomat, adding that the truce is not part of the wider U.N.- and Egypt-proposed agreement between the two parties. Jack Khoury, Yaniv Kubovich and Noa Landau report at Haaretz.

The ceasefire will be tested later today as Palestinians in Gaza plan on resuming weekly border protests. The protests have been held since March 30, and have frequently turned violent, Reutersreports.

The latest round of violence "left many wondering if these were the final shots ushering in a new, if fragile, cease-fire, or the opening shots of the next war," Isabel Kershner explains at the New York Times, providing an overview of the violence within the context of the ongoing negotiations on an Egypt- and U.N.-proposed plan to broker a long-term agreement to de-escalate tensions and improve conditions in Gaza.

President Trump's close advisers hold views on Israel that are "well to the right of the American mainstream," including their position on the U.N.'s Palestinian refugee agency's (U.N.R.W.A.) designation of who constitutes a Palestinian refugee. Colum Lynch explains at Foreign Policy.  

SYRIA

Syrian military helicopters yesterday dropped leaflets over parts of the rebel-held northwestern province of Idlib, calling on residents to reconcile with the government even as warplanes bombard the region, according to opposition activists. The leaflet drop came as a top humanitarian adviser to the U.N. Jan Egeland cautioned that "war cannot be allowed to go to Idlib. The AP reports.

Northwestern Syria is the final significant area still in the hands of rebel fighters, following the recapturing of the area around Damascus and the southwest earlier this year by the government. The U.N. is concerned that an offensive in the area could force 2.5 million people towards the Turkish border. Reuters reports.

"Hopefully, we are seeing the beginning of the end to the big war," Egeland said, adding that "there are signs" that the U.N. and humanitarian partners might finally get access to civilians that they have been trying to reach "for a very long time … and that some of the cruel practices of the war are coming to an end." The U.N. News Centre reports.

The U.N. Economic and Social Commission for Western Asia (E.S.C.W.A.) has found that Syria's seven-year-long civil war has cost the country $388 billion in economic damage. The agency convened a two-day conference in Beirut on Tuesday and Wednesday, at which Syrian and international experts discussed Syria's reconstruction. The AP reports.

Russian Foreign Minister Sergei Lavrov will visit the Turkish capital of Ankara on August 13-14 to discuss the situation in Syria with his Turkish counterpart, Russian Foreign Ministry spokesperson Maria Zakharova said yesterday. Reuters reports.

Russia and the Assad regime are suspected of coordinating with Islamic State group in a massacre of the Druze the minority group last month. Anne Speckhard and Adrian Shajkovci provide an analysis at The Daily Beast.

The Czech Foreign Ministry has said that Czech diplomats have negotiated the release of two humanitarian workers for a German non-governmental organization who were arrested in Syria. The AP reports.

U.S.-led airstrikes continue. U.S. and coalition forces carried out 20 airstrikes against Islamic State targets in Syria and Iraq between July 30 and Aug. 5. [Central Command]

YEMEN

U.N. Secretary-General António Guterres has called for an "independent and prompt investigation" into an airstrike carried out by the U.S.-backed Saudi-led coalition in Yemen that left dozens of children dead. A U.N. spokesperson has said that yesterday's airstrike hit a bus carrying children from a summer camp in a busy market area in the northern Majz District, CNN reports.

The International Committee of the Red Cross (I.C.R.C.) said medics in the city of Saada had received the bodies of the 29 killed, all of them younger than 15, alongside 48 wounded people. The health ministry controlled by Yemen's Houthi rebels put the death toll higher last night, at 50 killed and 77 wounded, Asa Fitch and Mohammed al-Kibsi report at the Wall Street Journal.

Senior Yemeni rebel leader Mohammed Ali al-Houthi said the rebels welcome the U.N. call for an independent investigation, and are willing to co-operate. Ahmed Al-Haj and Menna Zaki report at the AP.

"[The airstrikes] conformed to international and humanitarian laws," a statement quoting coalition spokesperson Col. Turki al-Malki said, but one Yemeni journalist based in Sana'a has said that there no Houthi fighters in the vicinity of the market where the strike took place. Al Jazeera reports.

"The Coalition will take all necessary measures against the terrorist, criminal acts of the terrorist Iranian-Houthi militia, such as recruiting child soldiers, throwing them in battlefields and using them as tools and covers to their terrorist acts," al-Malki said in a statement. Colin Dwyer reports at NPR.

U.S. State Department spokesperson Heather Nauert said that U.S. officials cannot confirm all the details about the attack, but said that "we call on the Saudi-led coalition to conduct a thorough and transparent investigation into the incident … we take all credible accounts of civilian casualties very seriously." Ahmed Al-Haj reports at the AP.

"Attacks on children are absolutely unacceptable," U.N.I.C.E.F. Executive Director Henrietta Fore commented in a message on Twitter, adding "I'm horrified by the reported airstrike on innocent children, some with U.N.I.C.E.F. backpacks. Enough is enough." The U.N. News Centre reports.

AFGHANISTAN

The Taliban attempted to overrun the provincial capital of Ghazni in Afghanistan's southeastern Ghazni province in an overnight attack, killing at least 14 police officers. Akhtar Mohammad Makoii and agencies report at the Guardian.

The U.S. military launched airstrikes today to counter the Taliban assault on Ghazni, with officials saying that Afghan Special Forces were deployed to the city. A spokesperson for U.S. forces in Afghanistan said the fighting had "ceased" this morning, the AFP reports.

The Taliban's assault on the strategic city of Ghazni was ambitious and imperils the chance of a potential ceasefire between the government and the Taliban before the Muslim Eid al-Adha festival in less than two weeks' time. Ehsan Popalzai, Euan McKirdy and Tim Lister explain at CNN.

The bodies of dozens of Afghan soldiers have been found at a military base in the southern province of Uruzgan, officials said yesterday. The discovery follows an attack by Taliban on the base last week, Reuters reports.

OTHER DEVELOPMENTS

Senior U.S. national security officials worked behind the scenes to complete a formal policy agreement at the N.A.T.O. summit in July. European diplomats and U.S. officials have said the efforts were pursued to shield the military alliance from President Trump's unpredictable antipathy and to allow N.A.T.O. diplomats to push through key initiatives, including improving allied defenses against Russia. Helene Cooper and Julian E. Barnes reveal at the New York Times.

An analysis of the Chinese government's rapidly expanding militarization of the South China Sea is provided by Brad Lendon, Ivan Watson and Ben Westcott at CNN.

Democrats on the House Oversight and Government Reform Committee are appealing to its chairman Trey Gowdy (R-S.C.) to subpoena the State Department, for documents related to former Secretary Rex Tillerson's decision to close an office responsible for advancing U.S. interests in cyberspace. Morgan Chalfant reports at the Hill.

U.S. Defense Secretary Jim Mattis will leave Sunday for his first trip to South America, where he will highlight the Pentagon's "strong defense ties" with Brazil, Argentina, Chile and Colombia. The Pentagon said in a statement yesterday that "these relationships are critical to a collaborative, prosperous and secure Western hemisphere," Ellen Mitchell reports at the Hill.

Air Force Col. Shelly W. Schools has been assigned to preside in the U.S.S. Cole case at the Guantánamo war court, replacing retired chief trial judge Vance Spath. Carol Rosenberg reports at the Miami Herald.

The replacement of Jordanian Prince Zeid Ra'ad Al Hussein by former Chilean President Michelle Bachelet as United Nations' High Commissioner for Human Rights, should "prompt a searching reassessment of the role … and a commitment to steps that will make the position more viable and effective going forward," Suzanne Nossel argues at Foreign Policy.

We can expect to see further drone assassination attempts following the effort to kill Venezuelan President Nicolás Maduro last week, Jeremy Kryt comments at The Daily Beast.
'Manhattan Madam' to testify before grand jury in Mueller investigation – CNN
Omarosa Claims Trump Repeatedly Used 'N-Word' During 'The Apprentice'

The former White House aide's forthcoming book "Unhinged" reportedly says the racial slurs were caught on tape.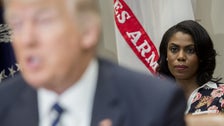 The Daily 202: Trump loses more battles in his war on immigration – Washington Post
Trump announces doubling of tariffs on Turkey imports
The Note: Trump effect not what GOP hoped for

President Donald Trump took another post-election victory lap. But the Republican Party is back where it started – and still potentially off-track. This week confirmed that the Trump effect isn't all …
Ron DeSantis, Ben Carson and a Roger Stone sighting at Palm … – Palm Beach Post (blog)
Several fake Trump stars reportedly appear on Hollywood Walk of Fame – Fox News
U.S. Officials Scrambled Behind the Scenes to Shield NATO Deal From Trump

WASHINGTON — Senior American national security officials, seeking to prevent President Trump from upending a formal policy agreement at last month's NATO meeting, pushed the military alliance's ambass…
Court filing reveals the Rick Gates plea deal is all about Donald Trump
Two days into the trial of Paul Manafort, before his former sidekick Rick Gates even took the stand, it was clear that Manafort was going to be convicted. The bookkeeper and accountant testimony alone made it clear that Manafort was guilty of what he'd been charged with. It raised the question of why Robert Mueller even bothered to give Gates a plea deal. Now a court filing has revealed that the Gates deal was never about Manafort – it was about Donald Trump.
We first saw some hint of this when there was a question earlier this week of whether prosecutors were even going to call Rick Gates to testify against Paul Manafort, though the judge quickly made clear that he wanted Gates to testify after all. It suggested that there was a good reason why Mueller's team wouldn't want to put him up there. The cross examination of Gates revealed that he wasn't a liability as a witness, so there was nothing for Mueller to have been concerned about on that front. Now we have our answer.
Mueller's team has made a court filing asking that a side conversation about Rick Gates with the judge be kept under seal because it related to an "ongoing investigation" according to a CNN on-air report. So now we know that Mueller is building a criminal case against someone else based on the Rick Gates plea deal. So who else could Gates have incriminating information about?
After Paul Manafort's Russia ties started coming to the surface during the general election, Donald Trump forced him out of his role as campaign chairman and manager. However, his sidekick Rick Gates remained on board for the duration of the campaign, and was around during the transition period as well. At this relatively late date, the only person who fits the bill is Trump himself. So we now know that the Gates plea deal is all about taking Trump down. No wonder Trump has been afraid to publicly attack Gates.
The post Court filing reveals the Rick Gates plea deal is all about Donald Trump appeared first on Palmer Report.
felix sater – Google News: New book claims Trump was compromised by Russian spies in 1987 – New Zealand Herald
 felix sater – Google News
Donald Trump broke the presidency. It's time to get rid of the job altogether.

We've seen it: the belligerent typo-ridden tweets; the fawning press conferences with autocrats and overlords; the self-described Nazis on parade praising an American president's name. We have seen it …
Omarosa says Trump is a racist who uses N-word – and claims there's tape to prove it

Donald Trump and Omarosa Manigault (now Manigault Newman) attend a church service in Detroit in September 2016. Photograph: Carlo Allegri/Reuters Donald Trump is a "racist" who has used the "N-word" r…
Should President Trump voluntarily talk to Mueller? – New Jersey Herald
Trump Hatred, A Consuming Virus – Townhall

Townhall

Trump Hatred, A Consuming Virus

Townhall

Trumply deranged Rosie O'Donnell proudly led a controlled 

mob

 of Broadway performers in a singalong against "Lyin' King" President 

Trump

. Even more unhinged was Philadelphia Mayor Jim Kenney's scapegoating of 

Trump's

 "hateful rhetoric" for a black …

and more »
Robbers unleash terror on Edo, kill 12 in bank raid – New Telegraph Newspaper
What would the intelligence community's 'insurance policy' against Trump look like?

The views expressed by contributors are their own and not the view of The Hill Let's begin in the realm of the fanciful. Assume, for the sake of argument, that powerful, connected people in the intell…
–
The News and Times of Puerto Rico – Recent Posts
The News and Times of Puerto Rico
8:21 AM 8/10/2018 – Trump Administration Sanctions Russia Over Spy Poisoning, After Rebuke From Congress – New York Magazine – Saved Stories
5:42 PM 8/7/2018 – Saved Stories
5:36 PM 8/7/2018 – Beryl – Wikipedia – Mike Nova's Shared NewsLinks 
1:41 PM 8/7/2018 – Ole says: Hurricane, Be Real! – Huracán Beryl causó depresiones en Estados Unidos – Segundo Enfoque-Jul 7, 2018 – Ernst Uhrlau – Google Search
7:16 AM 8/3/2018 – The Real Demiurge and The Hermeneutic Circle – Review
12:10 AM 7/30/2018 – Mike Nova's Shared NewsLinks: German Hypothesis Trump and 9/11 – Google Search
1:27 PM 7/27/2018 – FBI: Email swindlers have now redirected as much as $12bn in payments – CSO Australia | Irregularities plague Puerto Rico Corrections Department phone deal – Caribbean Business
1:09 PM 7/24/2018 – The Hapsburg Group: Ernst Uhrlau – Gerhard Schroeder – Vladimir Putin – Hapsburg Group – Manafort – Trump – CONNECTION
6:22 AM 7/23/2018 – Opinion | What the Russia Hack Indictments Reveal About Bitcoin – NYTimes
8:34 AM 7/19/2018 – Two children attacked by sharks off Long Island, officials say – Fox News | Selected Articles Review
11:07 AM 7/18/2018 – How to Disrupt an Election with Cryptocurrency
7:26 AM 7/18/2018 – Russia-U.S. Military Ties Strengthen While Political Ties Fray – WSJ
In The Infinity And Wilderness of Mirrors They Dance: The Meshuggah – Demiurge Or The German Hypothesis Of The Operations "Trump" And "9/11" – By Michael Novakhov
4:21 PM 7/14/2018 – If Mueller is conducting a witch hunt, he sure is finding a lot of witches – WP
7:57 AM 7/14/2018 – Cryptocurrency Industry in a CRYPTO-STATE of Puerto Rico, and the Bitcoins, REVISITED: "So, in 2016, the Russians came up with a new way to secure money — they created it by mining their own Bitcoins."
4:51 PM 7/9/2018 – Update | The Demiurge – By Michael Novakhov: The Operations "Trump" And "9/11"
6:05 AM 7/7/2018 – Open Letter to San Juan Police Chief, Mr. Calderon
3:49 AM 7/7/2018 – Hurricane Beryl, First Hurricane of the 2018 Atlantic Season, Forecast to Rapidly Weaken Near Lesser Antilles – The Weather Channel
5:13 AM 7/2/2018 – Nazi official Heinrich Himmler's daughter worked for West German intelligence |  Michael Cohen teases new interview with ABC's George Stephanopoulos – The Hill |  Oil drops after Trump tweets about output hike – Financial Times |  Trump Calls His Critics 'Very Dangerous For The Country' |  Trump congratulates Mexico's new president: 'I look very much forward to working with him' – The Hill
4:25 PM 6/30/2018 – Latest Posts
FBI vs Global Russian Jewish Mafia (GRJM) – News Review
9:50 AM 6/26/2018 – The FBI Crisis Of 2018 – News Review
7:01 AM 6/25/2018 – Looming question for Mueller probe: How much to make public? – Washington Post
11:46 AM 6/24/2018 – Carlos Cases FBI – Google Search, and other Saved Stories
9:34 AM 6/24/2018 – The game they play… | "Former FBI director James Comey is "ashamed" and "horrified" at the way the United States government has separated …"
–