Mike Nova's Shared NewsLinks
Ernst Uhrlau – Gerhard Schroeder – Vladimir Putin – Hapsburg Group – Manafort – Trump – CONNECTION – Google Search
---
Ernst Uhrlau – Gerhard Schroeder – Hapsburg Group – Manafort – Trump – CONNECTION – Google Search
---
Your search – Ernst Uhrlau – Gerhard Schroeder – Hapsburg Group – Manafort – Trump – CONNECTION – did not match any news results.
What we know about the 'Hapsburg group' named in Manafort lobbying scheme
---
Ex-Trump campaign manager Paul Manafort secretly paid a group of former senior European politicians to covertly promote the interests of Ukraine's previous pro-Russia government in Washington, according to a new indictment.
The superseding indictment filed by special counsel Robert Mueller on Friday says Manafort "secretly retained" the ex-politicians, known as the "Hapsburg group", to lobby for Ukraine in 2012 and 2013.
Here is everything the indictment tells us about the group and their involvement in the scheme.
Why Ukraine?
The indictment says Manafort earned tens of millions of dollars in income representing the interests of Ukraine, its political parties and leaders in a covert lobbying scheme.
Manafort, who was previously charged with multiple counts of tax and bank fraud, faces new charges of conspiracy, money-laundering, failing to register as an agent for a foreign actor and making false statements as a result of the alleged scheme.
How did the former European leaders get involved?
According to the indictment, acting on behalf of then-Ukrainian president Viktor Yanukovych and his Party of Regions, Manafort in 2012 retained the so-called Hapsburg group to "take positions favorable to Ukraine, including by lobbying the United States."
The plan was for the group to "appear to be providing their independent assessments of Government of Ukraine actions, when in fact they were paid lobbyists for Ukraine," the indictment said.
Why did Manafort want them?
Manafort called the group "SUPER VIP" in an "EYES ONLY" memo created around June 2012, in which he explained that he wanted to "assemble a group of high-level European highly influencial [sic] champions and politically credible friends who can act informally and without any visible relationship with the Government of Ukraine."
Who was in the 'Hapsburg group'?
The indictment says the group was managed by a former European chancellor, who it names as Foreign Politician A, in coordination with Manafort.
While the former chancellor is not named in the filing, the head of government in both Austria and Germany is known as the chancellor.
What did the group actually do?
In 2013, the former chancellor and other former politicians from the group lobbied US Members of Congress, officials in the Executive Branch and their staff in coordination with Manafort, the indictment says.
How much did the group get paid?
According to the filing, Manafort paid the group more than 2 million euros in 2012 and 2013, wiring the money through at least four offshore accounts.
The 'Hapsburg group'? European ex-politicians under scrutiny after Mueller indictment – The Washington Post
---
Though the group's members weren't named, they are collectively given an informal nickname: the "Hapsburg group," an apparent reference (using an alternative spelling) to the Habsburg royal dynasty that ruled the Holy Roman Empire for centuries.
More details on Manafort's 'Hapsburg group'
---
With Daniel Lippman and Garrett Ross
MORE DETAILS ON MANAFORT'S 'HAPSBURG GROUP': We reported earlier this month that a document released as part of special counsel Robert Mueller's investigation shed new light on the former European politicians Paul Manafort considered recruiting as part of the "Hapsburg group." Mueller has accused Manafort of violating foreign lobbying law by orchestrating the group's lobbying efforts in the U.S. without registering as a foreign agent. The document, a 2012 memo written by former journalist Alan Friedman and addressed to Manafort, identified eight politicians that Friedman and Alfred Gusenbauer, a former Austrian chancellor, proposed recruiting to lobby.
Story Continued Below
— Only one of those politicians responded to requests for comment from POLITICO at the time. But we heard from another one, Aleksander Kwaśniewski, a former Polish president, late last week. He said he'd never heard of the Hapsburg group. Kwaśniewski said he met Manafort for the first time on Oct. 23, 2012, "during the international conference in Berlin, so the attached documents from September 2012 are completely unclear to me," he wrote in an email, referring to the memo in which Friedman proposed recruiting him. Kwaśniewski said he traveled to the U.S. a few months later. On Feb. 1, 2013, he "had a series of meetings in Congress, Senate and State Department about Ukraine, but I cannot find my notes from these meetings and after so many years I do not recall who I was meeting with," he wrote.
— In a follow-up email, Kwaśniewski wrote that he didn't recall who had arranged those meetings, but that it wasn't Manafort. "I have never worked for Mr. Manafort," he wrote. "I was acting as a Former President of Poland, engaged in the Ukrainian matters since 1991. … The main subject of the meetings was the situation in Ukraine and the relations between Ukraine and the West."
Good afternoon, and welcome to PI. It's not easy keeping up with the intrigue on K Street. Help us out by sharing a tip or two: mlevine@politico.com and tmeyer@politico.com. You can also follow us on Twitter: @theodoricmeyer and @marianne_levine.
POLITICO will be reporting from inside the World Gas Conference June 25-29. Sign up now for our pop-up conference newsletter to receive on-the-ground insights and information every afternoon from POLITICO Pro Energy Editor Matt Daily.
HAGIN'S FORMER BUSINESS PARTNER HAS A WHITE HOUSE IN: When Joe Hagin, one of President Donald Trump's top aides, planned the president's first foreign trip last year, Steve Atkiss went to Saudi Arabia, too. Atkiss, one of Hagin's former partners at the Command Group, a security and intelligence firm, served as the White House's volunteer logistics lead. "Hagin's partnership with Atkiss since joining the Trump White House has drawn attention in the tight-knit community of presidential trip planners," POLITICO's Josh Meyer and Andrew Restuccia report. "Last month, some complained when Hagin's former business partner was tapped for an even more high-profile and sensitive assignment than planning the Saudi trip — working as his on-site deputy in orchestrating the historic nuclear summit between Trump and North Korean leader Kim Jong Un in Singapore."
— "It's common for the White House to farm out the intensive planning known as 'advance' work to outsiders, who like Atkiss often work as volunteers. … But by tapping Atkiss, 41, for such sensitive and influential positions, Hagin may be helping him gain an edge in drumming up business for Command by affording him easy access to foreign governments and private individuals who could help the firm win future security and consulting contracts, current and former U.S. officials told POLITICO." Full story.
COMPANIES WINNING TARIFF WAIVERS DON'T HAVE LOBBYISTS: The Commerce Department announced last week that seven companies received exclusions from the Trump administration's steel and aluminum tariffs: Schick Manufacturing Inc., Nachi America Inc., Hankev International, Zapp Precision Wire, U.S. Leakless Inc., Woodings Industrial Corporation and PolyVision Corporation. None of the companies retain lobbyists, according to disclosure filings. That's not unusual. "This is an administrative or a regulatory process, so some companies will do it themselves, some companies would hire a lawyer to help them fill out the paperwork," said Paul Nathanson, a spokesman for theCoalition of American Metal Manufacturers and Users. But he predicted that "you'll likely see an uptick in lobbying activity if you see many exclusion requests rejected by the Commerce Department."
NATURAL GAS COALITION LAUNCHES: A new coalition to promote the natural gas industry launched today. The members of the so-called Global Natural Gas Coalition include the Interstate Natural Gas Association of America; American Petroleum Institute; the American Gas Association; the U.S. Chamber of Commerce, Global Energy Institute; the American Chemistry Council; the National Association of Manufacturers; and the Laborers' International Union of North America. In an interview with PI, Don Santa, chief executive of INGAA, said the coalition's main objective is to be "a unified voice in term of the benefits of natural gas" both domestically and internationally. Today's launch coincides with the World Gas Conference this week.
THINK TANK OF THE 'RADICAL CENTER' SEARCHES FOR IDENTITY IN TRUMP'S WASHINGTON: Rachel Cohen has a detailed piece in Washingtonian examining the travails of the think tank New America. "Founded at the height of the Nasdaq boom, New America was meant to be an antidote to other Washington think tanks — a young, nimble provocateur that would dispense with convention and birth fresh ideas. Nearly two decades later, the organization, which now employs more than 250 people, is casting about for relevance in a hyper-partisan era, according to interviews with more than three dozen current and former staffers, many of whom wanted anonymity for fear of retribution in the tight-knit DC policymaking community. In a way, it's a symbol of an entire Washington industry — policymaking — that's under pressure to fund itself without making ideological or ethical sacrifices." Full story.
IF YOU MISSED IT THIS WEEKEND: "Scott Pruitt, the head of the Environmental Protection Agency, discussed hiring a friend of a lobbyist family that owned a condominium he was renting for $50 a night, newly released emails suggest," The New York Times' Lisa Friedman and Hiroko Tabuchi report. The potential hire "was discussed in emails between Mr. Pruitt's chief of staff, Ryan Jackson, and [J. Steven] Hart, who was chairman of the Washington lobbying firm Williams & Jensen and whose wife, Vicki Hart, rented the condo to Mr. Pruitt. Other subjects discussed during and after Mr. Pruitt rented Ms. Hart's condo included refrigerant chemicals, which was raised on behalf of Coca-Cola, and the Paris Agreement — the global climate pact to address climate change — discussed on behalf of the global bank HSBC."
— "The emails also show that Mr. Hart suggested other potential hires to the E.P.A., including one person who he emphasized was a Republican and an African-American, on behalf of an executive of the philanthropic arm of the pork giant Smithfield Foods." Full story.
WHERE YOU WANT TO WORK: The Washington Post is out with its latest ranking of the best workplaces in Washington. Among the law and lobbying firms on the list: WilmerHale, Akin Gump Strauss Hauer & Feld Kelley Drye & Warren and Alston & Bird. Among the trade groups: the National Rural Electric Cooperative Association, the American Speech-Language-Hearing Association, theNational Recreation and Park Association (which does sound like a nice place to work), the American Health Care Association and the American Gas Association. The AARP also made the list.
JOBS REPORT
— Lisa Hanna has joined Delta Air Lines' Washington office as general manager for corporate communications, with a focus on government affairs. She previously ran her own consulting shop, engage360 Public Affairs.
NEW JOINT FUNDRAISERS:
None
NEW PACs:
Crimson Democratic Alliance (PAC)
HSBC North America Federal Political Action Committee (HSBC Federal PAC) (PAC)
Majority in Action (PAC)
Rural and Red Political Action Committee (PAC)
NEW LOBBYING REGISTRATIONS:
None
NEW LOBBYING TERMINATIONS:
None
manafort hapsburg group – Google Search
---
manafort hapsburg group – Google Search
---
manafort hapsburg group – Google Search
---
manafort hapsburg group – Google Search
---
manafort hapsburg group – Google Search
---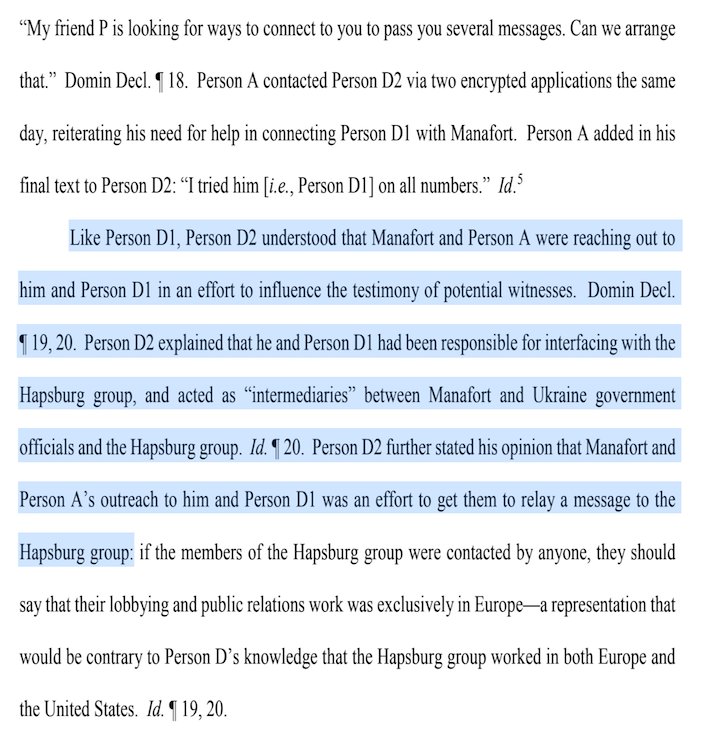 manafort hapsburg group – Google Search
---
manafort hapsburg group – Google Search
---
manafort hapsburg group – Google Search
---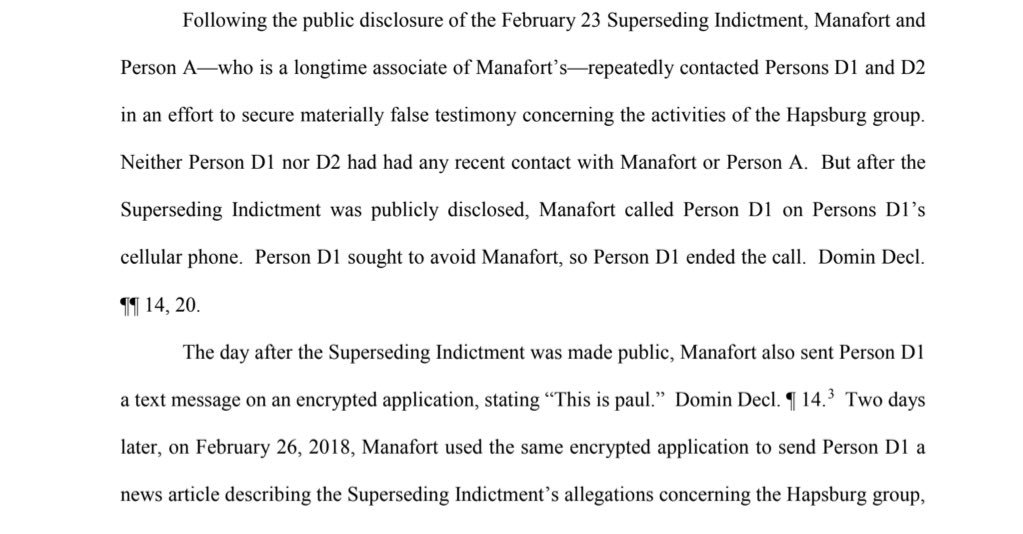 manafort hapsburg group – Google Search
---
In Laos, a Dam Collapses and Hundreds Are Missing – New York Times
---
Revanche! Revanche! "RUSSLAND-AFFARE"; Made in Germany! "He's making us dance"… – Google Search
---
Revanche! Revanche! "RUSSLAND-AFFARE"; Made in Germany! "He's making us dance"… – Google Search
---
bart stabbing accidents – Google Search
---
Iran has laid groundwork for extensive cyberattacks on US, say officials – NBCNews.com
---
'Death traps': Federal officials have warned about dangers from duck boats for two decades – USA TODAY
---
Heart doctor for former President George HW Bush killed in bicycle drive-by shooting – CNN
---
The Duck Boat Tragedy Was Preventable Because The Storm Did Not 'Come Out Of Nowhere' – Forbes
---
Historic plane crashes at Texas airport; 13 passengers onboard survive – Fox News
---
Dallas officer killed by suspected drunk driver while on funeral escort – Fox News
---
George HW Bush's Heart Doctor Fatally Shot In Broad Daylight as He Cycled to Work – PEOPLE.com
---