Ernst Uhrlau: "Why can't we be friends"? 
M.N.: Is this possible in principle? 
These noble mediating efforts on the part of Mr. Uhrlau might be humane and sincere, in addition to being the valuable tools for his own strategies; however they do not make the professional contemporary German Intelligence, and looking broader, the contemporary German society, any less (and traditionally and deeply) antisemitic, and if anything, these efforts serve as the very convenient covers, in my as always very humble opinion. One thing we can learn here: Mr. Uhrlau manages his publicity and his Internet and Google presence very well, with the deft adeptness of the true and skillful master, which can be viewed as the confirmation of my hypothesis regarding him as the possible and hypothetical "Demiurge". 
It is difficult to envisage how the certain states can be friends if their nature and the nature of their relations with the other states and social groups are deeply and irreversibly predatory. 
Mr. Uhrlau, why don't you tell us your story, the whole story; the truth and nothing but the truth?! This might be a fascinating story, a lesson for humanity, a subject of studies for the jury of your peers. 
"Por que todo tiene su final 
Echa pa lante mamá!" 
In other words, confess you Diablo, confess! 
Hecho, Mamita!
Michael Novakhov
7/8/2018
________________________________
Mike Nova's Shared NewsLinks
Ernst Uhrlau – Google Search
---
Hurricane Beryl Puerto Rico – Google Search
---
Hurricane Beryl's Path and Track: See the Storm's Forecast
---
Signed in as mikenova
Share this story on NewsBlur
Shared stories are on their way…
Tropical Tracker: Hurricane Beryl heads for Puerto Rico
---
SAN JUAN, Puerto Rico —
A compact Hurricane Beryl, the first hurricane of the Atlantic season, was on a path early Saturday that would carry it over the Lesser Antilles at the end of the weekend and into the eastern Caribbean, bringing a new threat to islands still rebuilding from last year's storms.
A hurricane watch was issued for Dominica, which was battered by Hurricane Maria in September as a Category 5 storm. The island's meteorological service said weather conditions would start deteriorating Saturday night and warned of six to 12 inches of rain. A tropical storm watch was issued for the French Caribbean territories of Martinique, Guadeloupe, St. Martin and St. Barts as well as the islands of Barbados and St. Lucia. Deeper into the Caribbean, a state of emergency was declared in Puerto Rico, where Maria caused more than an estimate $100 billion in damage.
Beryl formed Friday and was a Category 1 storm late in the day. At 8 a.m. Saturday, the U.S. National Hurricane Center said Beryl had maximum sustained winds of 75 mph (120 kph). It was centered 780 miles (1260 kilometers) east-southeast of the Lesser Antilles and was moving west at 14 mph (22 kph).
CURRENT FORECAST TRACK FROM THE NATIONAL HURRICANE CENTER

The hurricane became less organized on Saturday morning and forecasters said it soon could be downgraded to a tropical storm.
People in the Caribbean, however, were taking no chances. Long lines were reported outside grocery stores on the islands of Dominica, Puerto Rico and elsewhere as people bought food and water as a preventive measure. Among those stocking up was Sandra Whitcher, an owner of Coffeeriver Cottages in Dominica.
"We're pretty prepared," she said in a phone interview, adding that crews fortified the roofs on all seven cottages that survived Hurricane Maria. "Just because they go through one hurricane doesn't mean they will go through a second one."
Forecasters said Beryl would weaken further after entering the Caribbean late Sunday or early Monday. It was expected to pass about 70 miles (113 kilometers) south of Puerto Rico on Monday, but forecasters warned the storm-wracked U.S. territory could see up to 30 mph winds and heavy rains that could cause flooding and mudslides.
Meteorologist Odalys Martinez said in a phone interview that conditions would deteriorate late Sunday, with up to 3 inches (7.62 centimeters) of rain possible.
"There is a lot of uncertainty," she said, adding that the storm's track and strength could change in the next 24 hours.
Beryl is considered a small storm, with hurricane force winds extending out about 10 miles (20 kilometers) from its center. Forecasters said the storm probably would dissipate once it moved south of Haiti and the Dominican Republic on Tuesday or Wednesday.
Puerto Rico Gov. Ricardo Rossello declared a state of emergency for the island and suspended work for Monday.
Rossello told reporters the island would probably experience power outages, given that its electricity grid has become more vulnerable since Hurricane Maria, which caused damage estimated at more than $100 billion. He said, however, that the recovery should be quicker since there are more power restoration crews and more equipment on the island now.
The governor urged people without sturdy roofs to move to one of the 424 shelters that the government planned to open across the island. He recently noted that some 60,000 people still have only tarps for roofs.
"There are a lot of Puerto Ricans who are in a vulnerable position," Rossello said. "We are keeping an eye on this minute by minute. It is not the moment to panic, but it's the moment to prepare."
Puerto Rico Health Secretary Rafael Rodriguez urged all those with serious health conditions, including diabetics, to seek shelter at health facilities, which have generators.
Meanwhile, a tropical depression formed in the Atlantic well off the North Carolina coast, but forecasters said it wasn't expected to pose any threat to land. The hurricane center said it would likely become a tropical storm Saturday and continue strengthening over the next few days while remaining far offshore.
At 11 p.m. EDT, the storm was centered about 195 miles (315 kilometers) south-southeast of Cape Hatteras with maximum sustained winds of 30 mph (48 kph). It was moving north-northwest at 6 mph (9 kph).
———-
*
 *
 *
Follow us on YouTubeMore local news
 *
 *
(Copyright ©2018 by The Associated Press. All Rights Reserved.)
Hurricane Beryl Puerto Rico – Google Search
---
Hurricane Beryl – Buscar con Google
---
Segundo Enfoque
–
hace 1 hora
Este viernes el huracán Beryl causó depresiones frente a la costa este de los … Hurricane #Beryl Advisory 4: Tiny Beryl Becomes the First Hurricane of the 2018 …
La Opinión (Comunicado de prensa)
–
hace 10 horas
Update: Resilient #Beryl may maintain #hurricane status into the Lesser Antilles late Sun/Mon. <a href="https://t.co/ud9cQpCRR5″ rel="nofollow">https://t.co/ud9cQpCRR5</a> pic.twitter.com/qlxLuJEDBR.
The "Operation Trump" And The "Operation 9/11" – By Michael Novakhov
---
The "Operation Trump" And The "Operation 9/11" – By Michael Novakhov: "The smart German boy Ernst Uhrlau might have fooled everyone: Putin, the …
Amesbury Novichok police operation 'will take months' – BBC News
---
Amesbury Novichok – Google Search
---
Amesbury Novichok – Google Search
---
mohammed haydar zammar – Google Search
---
bnd germany – Google Search
---
deutsche bank – Google Search
---
Gerhard Schröder – Wikipedia
---
Gerhard Schröder
Jump to navigation Jump to search
Gerhard Fritz Kurt Schröder ([ˈɡɛɐ̯haɐ̯t fʁɪts kʊɐ̯t ˈʃʁøːdɐ] (
 listen); born 7 April 1944) is a German politician, and served as Chancellor of Germany from 1998 to 2005, during which his most important political project was the Agenda 2010. As a member of the Social Democratic Party of Germany (SPD), he led a coalition government of the SPD and the Greens. Before becoming a full-time politician, he was a lawyer, and before becoming Chancellor he served as Prime Minister of Lower Saxony (1990–1998). Following the 2005 federal election, which his party lost, after three weeks of negotiations he stood down as Chancellor in favour of Angela Merkel of the rival Christian Democratic Union. He is currently the chairman of the board of Nord Stream AG and of Rosneft, after having been hired as a global manager by investment bank Rothschild, and also the chairman of the board of football club Hannover 96.
gerhard schröder – Google Search
---
hamburg cell – Google Search
---
<a href="http://NBCNews.com" rel="nofollow">NBCNews.com</a>
–
Apr 20, 2018
Atta was born in Egypt and studied in Hamburg. Atta was the head of the so-called Hamburg cell, which was central to the attacks on the United …
Alleged 9/11 mastermind linked to Hamburg cell
---
Khalid Shaikh Mohammed, who authorities now believe conceived the Sept. 11 attacks, apparently met with the terrorist plot's chief suicide hijackers in 1999 in Hamburg, Germany, U.S. intelligence officials said Wednesday.
A senior intelligence official said "several different sources" had placed Mohammed at the Hamburg apartment that was used for meetings by three of the Arabs who are believed to have piloted the hijacked planes, as well as by several others implicated in planning and funding the operation.
The new intelligence may help to solve one of the major puzzles about Sept. 11—who outside the hijacking teams helped coordinate their actions and provided the link to senior Al Qaeda leaders. Mohammed is now believed to have filled at least part of that pivotal role.
The intelligence official said interrogation of Al Qaeda prisoners captured in Afghanistan and elsewhere, as well as "tracing of documents" and other raw intelligence collected in recent months, indicated that Mohammed was one of the few people with direct knowledge of the recruiting, training, funding and other operational details behind the attacks.
"The number of people central to this plan was very small," said the official, who spoke on condition of anonymity. "He was one of them."
Although Mohammed was little known to the public until this week, officials said he has now been tied to the 1993 bombing of the World Trade Center, a foiled 1995 attempt to bomb 12 U.S. airliners over the Pacific, the 1998 bombings of U.S. embassies in Tanzania and Kenya, and the Sept. 11 attacks on New York and the Washington area.
"He is the Forrest Gump of Al Qaeda," a Bush administration official said. "He has more of a presence in some of their plots than we had previously known."
The official said counter-terrorism experts had focused their attention over the last two years chiefly on the more high-profile Abu Zubeida, the Al Qaeda operations chief who was captured in March in Pakistan.
"Khalid Shaikh Mohammed had been quiet and had stayed off the airwaves," the official added. "In hindsight, I don't think people appreciated how important a player he had become in the Al Qaeda hierarchy. We are learning all that now."
Mohammed was indicted by a U.S. court in 1996 for his alleged role in the airliner plot, but the federal arrest warrant was sealed so he wouldn't know that authorities were scouring the globe for him.
Officials said it is still unclear precisely when Mohammed visited Hamburg, or which of the hijackers he met there. Mohamed Atta, Marwan al-Shehhi and Ziad Jarrah—who are believed to have piloted three of the hijacked planes—lived in the northern German city for most of 1999.
Atta's two roommates—Ramzi bin al-Shibh and Said Bahaji—also are suspected of participating in the plot. Unable to get a U.S. visa, Bin al-Shibh helped wire tens of thousands of dollars to the hijackers and to Zacarias Moussaoui, who was arrested before Sept. 11 and later was charged with conspiracy. Investigators have said Moussaoui was supposed to take bin al-Shibh's place as the 20th hijacker.
Mohammed's whereabouts are unknown, although officials hinted that at least one unsuccessful covert operation was launched to capture him in the late 1990s in the Middle East.
"We don't have a real good bead on where's he been," another intelligence official said. "Obviously we'd love to talk to him."
U.S. authorities are offering a reward of as much as $25 million for information leading to his capture. He is believed to be in Afghanistan or Pakistan.
Mohammed initially was known as an accomplice to Ramzi Yousef, the convicted mastermind of the first World Trade Center bombing in 1993 and of a 1995 plot to detonate bombs aboard 12 U.S. airliners over the Pacific Ocean.
According to the 1996 U.S. indictment, Yousef, using the name Dr. Adel Sabah, rented an apartment in the Tiffany Mansion condominium building in the San Juan section of Manila, the capital of the Philippines, in August 1994.
In the next two months, Yousef and Mohammed lived there and used the location to mix chemicals for explosives. They were also in possession of "modified timing devices," the indictment said.
On Dec. 1, 1994, they and a number of other men blew up an explosive device at Manila's Greenbelt Theater. That was a test, authorities say, for the explosive device placed on Philippine Airlines Flight 434 from Manila to Tokyo 10 days later. The small bomb exploded in midair, according to the indictment, killing passenger Haruki Ikegami.
The plot was uncovered in January 1995 when Mohammed's "bomb factory" caught fire and authorities searching Yousef's computer found detailed plans to blow up the airliners. Abdul Hakim Murad, a commercial pilot who wanted to hijack planes, and Wali Khan Amin Shah, a suspected Bin Laden associate, were captured and convicted in the plot along with Yousef.
Also in the computer: a communication signed by "Khalid Shaikh" and an apparently related letter that threatened to attack American targets "in response to the financial, political and military assistance given to the Jewish state in the occupied land of Palestine by the American Government."
The letter, apparently written by Mohammed and his associates, also threatened to assassinate the president of the Philippines, attack aircraft or even launch a biochemical attack if one of their co-conspirators was not released from custody.
At the time, U.S. counter-terrorism officials tried but failed to find connections between the group and the still-embryonic terrorist network called Al Qaeda.
They concluded, however, that Mohammed was unlike the low-level "soldiers" who had helped Yousef in the airliner plot, which was called Bojinka, Bosnian for "big noise."
Mohammed, they said, appeared to be an equal to Yousef, and someone whom Yousef trusted and respected, said one former law enforcement official involved in that investigation and prosecution.
"Yousef was a one-man band who planned it, built [the explosives], and it never would have happened without him," said the official, who spoke on the condition of anonymity. "The others were a bunch of clowns who couldn't have done it without Yousef."
Except Mohammed, the official said. "He was someone of stature that Yousef respected," said the former official. He also said Mohammed was believed to be Yousef's relative by marriage.
But Mohammed now appears to have had early links to the larger terror network. His citizenship remains in question—the FBI says he is from Kuwait, while other officials suspect he may be from Baluchistan, a Pakistani province. Moreover, he has had access to significant sums of money, an indication that others may be backing him, officials said.
"I was always under the impression that he had connections; he could move around, had money and could go from one place to another," said the former official.
Later, authorities linked Mohammed to the 1998 bombings of the two U.S. embassies in Africa. On Wednesday, they said his role in those attacks was still being investigated.
Since Sept. 11, authorities have struggled to piece together the complex plot, as well as the Al Qaeda hierarchy and network that spawned it. They now have concluded that Mohammed had quietly risen from a low-level figure to a position of relative authority.
He had access to Zubeida and Bin Laden, and authorities now believe that he thought up the Sept. 11 plot, possibly incorporating elements of the first World Trade Center attack and the botched airliner plot.
"He's definitely a player," said the Bush administration official Wednesday. "He's definitely a major guy. People have known about him for a while."
The latest information places him in Hamburg in 1999, after the Sept. 11 cell had been assembled.
The young Arabs who formed it had arrived in Germany over the previous decade, but all were in Hamburg and were in contact with one another by 1998.
Atta came first, arriving as a student in 1992 from his home in Egypt. In early 1999, he moved out of student housing and into a refurbished apartment on Marienstrasse that investigators think served as the base for the cell.
Al-Shehhi moved to Germany from the United Arab Emirates in 1996, settling two years later in a Hamburg apartment close to Atta's. Jarrah arrived in the fall of 1997.
German investigators think that the Hamburg group was chosen by Al Qaeda for their technical skills and relative sophistication. The investigators say the three probably were singled out at Al Qaeda training camps in Afghanistan, probably in late 1998 or early 1999.
In any case, German federal police say airline records show that the three presumed pilots, plus Bin al-Shibh, flew to Pakistan in late 1999, presumably en route to Afghanistan. The three pilots were in Florida by July 2000, the first leg of the U.S. travel that ultimately would end in the airborne attacks.
_ _ _
Times staff writer Terry McDermott in Los Angeles contributed to this report.
puppet master – Google Search
---
The 15 Russian Billionaires Tied To The Games
---
Viktor Vekselberg was recently sanctioned by the U.S. Department of Treasury. (Sefa Karacan/Anadolu Agency/Getty Images)
With Sergey Titov for Forbes Russia
AT LEAST 15 Russian billionaires found a way to get in on the World Cup, which begins in their homeland on June 14. They either received state contracts — just 6 of them control the companies that collected nearly $7 billion to construct or repair facilities and transportation infrastructure — or invested money to do things like run ticketing systems and provide internet availability in stadiums.
An estimated 1.2 million soccer fans will travel to and from 11 host cities for the month-long event. And while watchdog NGOs are calling this period the worst human rights crisis in Russia since the Soviet era due to Kremlin-sanctioned crackdowns on human rights defenders, migrant workers and the LGBTQ community, Putin's billionaire pals will fare just fine. As the dollar figures alone indicate, in Russia, the same old cronies are getting richer yet again.
Net worths are Forbes estimates as of June 8, 2018.
Viktor Vekselberg, aluminum baron tied to Trump lawyer Michael Cohen
Net worth: $13.6 billion
Vekselberg, who reportedly had ties to an investment firm that paid $500,000 to an LLC owned by Donald Trump lawyer Michael Cohen, was sanctioned earlier this year for his alleged role in promoting Russia's subversive agenda abroad. Back at home, his firm Airports of Regions spent $560 million to renovate airports in four World Cup host cities: Ekaterinburg, Nizhny Novgorod, Rostov-on-Don and Samara.
Arkady Rotenberg, Putin's onetime judo-partner
Arkady Rotenberg. (Mikhail Tereshchenko/TASS via Getty Images)
Net worth: $2.6 billion
No one landed a bigger payday. Rotenberg runs contractor Mostotrest, which owns a subsidiary that received over $4 billion in state contracts for a 425-mile highway connecting St. Petersburg and Moscow. But the highway won't be finished in time for the sporting event. His company also received just another $1 billion to renovate three airports.
Mikhail Fridman, German Khan, Alexei Kuzmichev, Pyotr Aven, tied to the "Trump Dossier"
Mikhail Fridman. (Mikhail Svetlov/Getty Images)
Net worths: $13.6 billion, $8.8 billion, $6.8 billion, $4.7 billion
Fridman, Khan and Kuzmichev were former college classmates who in 1989 founded Alfa Group, a diversified outfit that controls Alfa-Bank, the largest non-state owned bank in Russia. Aven joined later in 1994 as President of Alfa-Bank. With 745 offices and branches throughout Europe, Alfa-Bank is a sponsor of the event and will support FIFA on all ticketing sales in exchange for billboard advertising during matches.
German Khan. (Andrey Rudakov/Bloomberg)
In late 2017 Fridman, Khan and Aven sued Fusion GPS, the Washington D.C.-based opposition research firm behind the "Trump Dossier," for defamation. The dossier claims the three billionaires worked with the Kremlin to influence the 2016 presidential elections. Fusion GPS filed a motion to dismiss the case in January, claiming the research it conducted was not defamatory. The case is still pending.
Aras Agalarov, met with Trump when Miss Universe was held in Moscow
Aras Agalarov, left, Miss Universe 2013 Gabriela Isler, from Venezuela, center, and Donald Trump, in the 2013 Miss Universe pageant in Moscow, Russia.  (Irina Bujor/Kommersant Photo via AP)
Net worth: $1.7 billion
His Crocus Group was awarded $580 million in state contracts to erect two stadiums in host cities Kaliningrad and Rostov-on-Don. Agalarov also has a Trump connection: he met with Trump in November 2013 when the Miss Universe competition was hosted in Agalarov's Crocus City Hall in Moscow. The developer's son told Forbes there were plans to build a Trump Tower in Russia prior to the 2016 presidential elections, but the Trump Organization denies this.
Gennady Timchenko, sanctioned by the U.S. in 2014
Gennady Timchenko. (Maxim Shemetov/Pool Photo via AP)
Net worth: $16.6 billion
Timchenko is the majority shareholder of engineering-and-construction firm Stroytransgaz, which received $530 million in state contracts to construct 45,000-seat stadiums in two cities hosting matches: Volgograd, in southern Russia, and Nizhny Novgorod, seven hours east of Moscow. Timchenko was sanctioned by the U.S. in 2014 at the height of the Crimea annexation crisis due to his close ties to Russian President Vladimir Putin.
Alisher Usmanov, controls one of Russia's largest phone companies
Alisher Usmanov (Andrey Rudakov/Bloomberg)
Net worth: $13 billion
Usmanov, who made his first fortune producing plastic bags in the former Soviet Union, is a main shareholder of USM Holdings, which controls telecommunications provider MegaFon. The telecom company received $680 million in state contracts to provide internet and communications infrastructure to all 11 stadiums and all training camps for the 32 teams descending upon Russia for the games.
Leonid Fedun, former military man turned oil executive
Leonid Fedun. (Alexander Zemlianichenko Jr./Bloomberg)
Net worth: $7.3 billion
Fedun is president of FC Spartak Moscow, known as the "people's team," one of Russia's most popular soccer clubs. Fedun spent a reported $500 million to renovate the team's home stadium in Moscow, where World Cup matches will be hosted. He owns nearly 10% of energy conglomerate Lukoil, which he helped privatize in the 1990s.
Dmitry Kamenschik, airport billionaire
Dmitry Kamenshchik. (Andrey Rudakov/Bloomberg)
Net worth: $3.4 billion
Kamenschik owns Moscow's Domodedovo Airport, which invested $690 million on renovations in preparation for the World Cup. The airport will have a special service system for athletes and officials traveling through the airport during the international sporting event, including separate boarding and resting areas for athletes only.
Alexander Ponomarenko, Alexander Skorobogatko, construction partners
Alexander Ponomarenko. (Andrey Rudakov/Bloomberg)
Net worths: $3.3 billion, $3.3 billion
The two Alexanders first partnered on a small perfume factory in Ukraine. They moved on to banking and sea ports before winning a tender in 2013 to develop Moscow's Sheremetyevo International Airport, which had the most passenger traffic (nearly 41 million)  of all Russian airports in 2017. The airport invested $722 million on renovations for the influx of soccer fans, including a new passenger terminal, a multi-level parking garage, an underground interterminal pass under runways and a new refueling complex.
Roman Trotsenko, owns 14 airports in Russia
Roman Trotsenko (Andrey Rudakov/Bloomberg)
Net worth: $1.6 billion
Trotsenko founded Aeon Corporation in 2007; it manages the Moscow Steamship Line, several river ports and 14 airports around the country. His airport holding company, Novoport, invested $190 million in renovating airports in Volgograd and Kaliningrad, both of which are World Cup host cities.
Dmitry Pumpyansky, controls pipe conglomerate
Dmitry Pumpyansky. (Andrey Rudakov/Bloomberg)
Net worth: $1.6 billion
The construction subsidiary of his Sinara Group spent $190 million to renovate Ekaterinburg Arena, a 65-year-old stadium that will host matches during the World Cup. Pumpyansky started as a trader before teaming up with billionaires Sergei Popov and Andrei Melnichenko to acquire pipe conglomerate TMK in the early 2000s. He bought out the other two in 2006 and counts Gazprom, the state-owned energy company with the world's largest natural gas reserves, as one of his customers.
Senate Judiciary Committee Investigating Curt Weldon
---
Signed in as mikenova
Share this story on NewsBlur
Shared stories are on their way…
viktor vekselberg – Google Search
---
ghost ship fire – Google Search
---
New York Times
–
Jul 3, 2018
The warehouse, which was illegally occupied and often referred to as the Ghost Ship, became the site of one of the nation's deadliest structural …
Novichok poisoning: Gurgling and foaming at the mouth, he was like a zombie | News
---
The Times and The Sunday Times and carefully selected third parties use cookies on this site to improve performance, for analytics and for advertising. By browsing this site you are agreeing to this. For more information see our Privacy and Cookie policy.
Subscription Notification
Please update your billing information
Your subscription will end shortly
Want to read more?
Register with a few details to continue reading this article
All articles now feature tags allowing you to explore related topics and articles
Your choice of two articles a week
Unlock quality journalism on the topics that you decide matter most.
Or enjoy full digital access
Get The Digital Pack from just £1 for 30 days.
Debug
All BookmarksAdd Bookmarks
N.B. Creating a new bookmark with a pre-exisiting label will cause an overwrite.
If you'd like full access to our quality journalism, use our smart tool to help you choose the right subscription for you. Just answer a few quick questions.
Help me choose
Signed in as mikenova
Share this story on NewsBlur
Shared stories are on their way…
Wiltshire – Google Search
---
Novichok poisoning: UK urges Russia to give explanations
---
The UK government blames Russia for the poisoning of Sergei Skripal and his daughter Yulia in March, a claim Moscow denies.
Now a couple identified in British media as Charlie Rowley, 45, and Dawn Sturgess, 44, are in critical condition in Salisbury District Hospital — the same hospital where the Skripals were treated — after falling ill Saturday in the nearby town of Amesbury.
"It is now time that the Russian state comes forward and explains exactly what has gone on so that the most appropriate course of action can be taken," Javid told Parliament after chairing a meeting of Britain's emergency committee.
"It is completely unacceptable for our people to be either deliberate or accidental targets. Or for our streets, our parks or our towns to be dumping grounds for poison."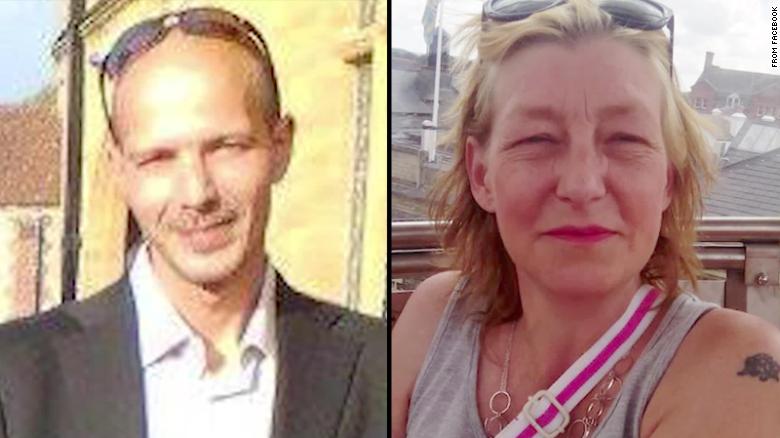 Images of Charles Rowley and Dawn Sturgess from their Facebook accounts.
Javid told lawmakers that all the sites that were decontaminated after the Skripal poisoning are safe and there is "no significant risk" to the public.
After additional tests, authorities now suspect the pair were exposed to Novichok after "handling a contaminated item," London's Metropolitan Police said in a statement Thursday. "Detectives are working as quickly and as diligently as possible to identify the source of the contamination," the statement read.
Six sites have been cordoned off by police in Amesbury and Salisbury, both in the southern English county of Wiltshire, as they investigate the latest poisoning. Anyone who visited those sites is advised to wash their clothes and any items they had with them, Javid said.
Police have expanded their investigation of one of those sites — low-income housing in the center of Salisbury — to include part of the nearby street and inside the building. Dawn Sturgess is understood to have links to John Baker House, which CNN saw residents leaving under instruction from police. The social housing is located about half a mile from a restaurant where the Skripals dined before falling ill.
Speaking at a multi-agency news conference in Amesbury on Thursday, Wiltshire Police Chief Constable Kier Pritchard said that while there remains the possibility that the two incidents might be linked, there is as yet no immediate evidence to suggest the victims were targeted or linked to the Skripals.
UK Prime Minister Theresa May has been updated on the situation, her office told CNN.
"My thoughts are with the people of Wiltshire … to see two more people exposed to the Novichok in the UK is obviously deeply disturbing, and the police, I know, will be leaving no stone unturned in this investigation," May said in Berlin, speaking alongside German Chancellor Angela Merkel.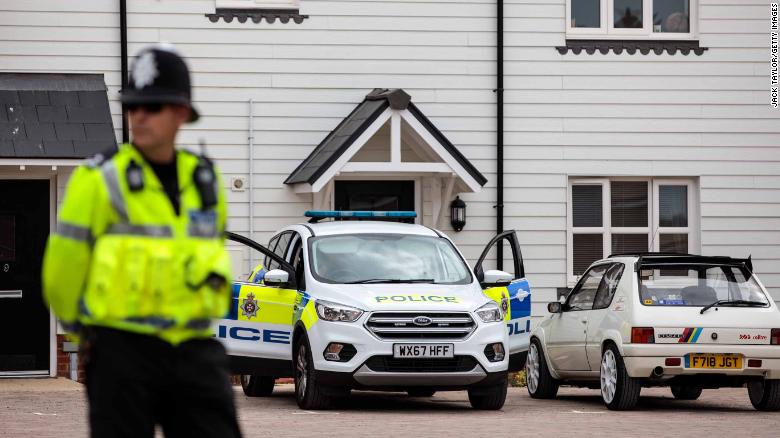 Police on the scene Wednesday at Muggleton Road where a major incident was declared.
What happened?
Rowley and Sturgess, both British nationals, live in Amesbury, a town of fewer than 10,000 people about 8 miles from Salisbury, where the Skripals were found slumped on a city center bench in March. Both spent weeks in the hospital
.
Paramedics were called to an address on Muggleton Road, Amesbury, at 10:15 a.m. Saturday, after a woman, later identified as Sturgess, collapsed, according to Neil Basu, the assistant commissioner for counter terrorism with London's Metropolitan Police.
They were called back later the same day when the man had also fallen ill.
The couple made a round trip to Salisbury from nearby Amesbury on Friday, according to family and friends who spoke to British media.
Doctors initially thought they'd been exposed to a batch of contaminated cocaine or heroin. However, concerns over their symptoms prompted medical officials to look at Novichok and test results Wednesday confirmed their exposure to the agent.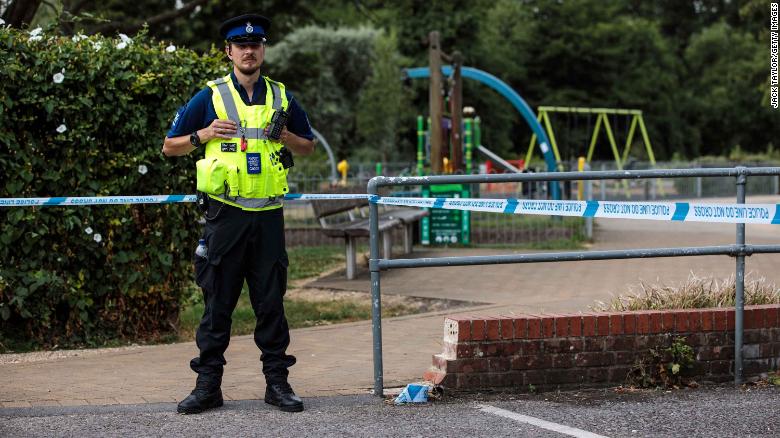 A police officer stands by a cordon at Queen Elizabeth Gardens in Salisbury on Thursday.
Residents told CNN they were very concerned by the news, coming only weeks after the poisoning of the Skripals and subsequent cleanup by the authorities.
"It is quite scary and very worrying as well. To know it is still about," said Paula Bull, a mother of six. "This is no place for my kids to grow up, it's really worrying. I'm going to be more cautious."
Another Salisbury resident, who gave her name only as Susan, said she was "really angry" with the authorities for not living up to their promise to clean up the area after the Skripal case.
"The only place I ever saw getting cleared was the bench where Sergei Skripal was found," she said. "We don't need this sort of thing, it's very quiet lovely beautiful area, and to have chemicals like that around — you just can't have it. There are too many elderly and too many children."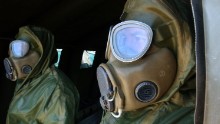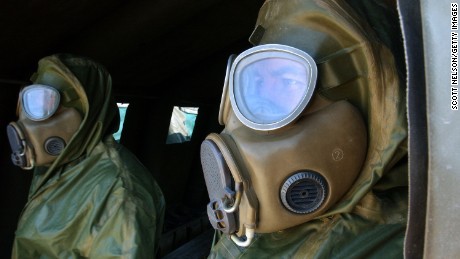 MUST WATCH
Caption Settings Dialog
Beginning of dialog window. Escape will cancel and close the window.
01:34
Is there a connection to the Skripal case?
Basu said police were looking into whether the two incidents were linked. Britain has not accused Russia of deliberately targeting the latest victims, who have been described as ordinary local residents with no ties to Russia.
The March incident in Salisbury sparked a diplomatic dispute between the UK and Russia after British investigators and the Organisation for the Prohibition of Chemical Weapons (OPCW) blamed Moscow for the attack.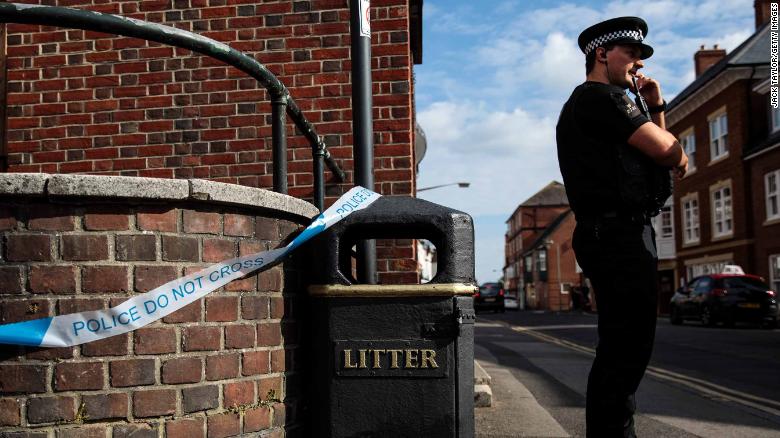 A police officer stands at a cordon around a public trash can Wednesday next to a supported housing project in Salisbury, thought to be connected to the Amesbury victims.
Kremlin spokesman Dmitry Peskov said Thursday that Britain had provided no proof of Russian involvement in the attack on the Skripals. "You know that from the very beginning of the Salisbury case, Russia categorically denied and continues to deny the possibility of any involvement," he said.
Russian Foreign Ministry spokeswoman Maria Zakharova said the UK government should "stop playing games with poisonous chemical substances."
She also accused the British government of "creating obstacles" to investigating the poisoning of the Skripals earlier this year. Russia has repeatedly insisted, to no avail, that UK authorities should allow it jointly to probe the incident.
"I'm sure that for everything May's government has done, this government and its immediate representatives will have to apologize one day," Zakharova said.
Hours earlier, the Russian Embassy in the Netherlands tweeted that Britain was "dumb" if it believed Russia was behind the latest poisoning.
The Russian government has put forward multiple theories as to who may have been behind the Skripal attack.
Addressing lawmakers, Javid said: "We can anticipate further disinformation from the Kremlin, as we saw following the attack in Salisbury. And as we did before, we will be consulting with our international partners and allies following these latest developments."
What are authorities doing?
The priority for investigators, said Basu, is to establish how Rowley and Sturgess came into contact with Novichok.
Police have cordoned off a number of sites the two are thought to have visited before they fell ill.
Wiltshire Police Deputy Chief Constable Paul Mills listed five: Amesbury Baptist Church; a Boots pharmacy in Amesbury; Queen Elizabeth Gardens in Salisbury; the John Baker House in Salisbury, a supported living facility; and the property on Muggleton Road.
Authorities did not say when the victims visited each location, but church secretary Ray Collins told CNN he believed the couple attended a family fun day at the church on Saturday, though he did not know who the pair were.
Risk to the general public remains low, Debbie Stark, south west deputy director of Public Health England, said during Thursday's press conference.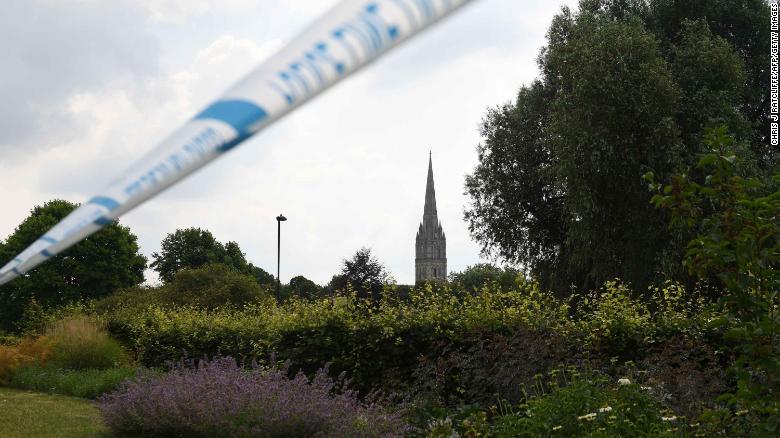 The spire of Salisbury Cathedral is seen behind police tape cordoning off Queen Elizabeth Gardens in Salisbury on Thursday.
What is Novichok?
Nerve agents kill by affecting the nervous system in various ways.
Novichok, which works by causing a slowing of the heart and restriction of the airways, is one of the world's
. Very few people outside of Russia have experience with it.
It was first developed in secret by the Soviet Union during the Cold War in the 1980s, as a means of countering US chemical weapons defenses but was revealed to the world by former Soviet scientist and whistleblower Vil Mirzayanov.
Mirzayanov told CNN that Novichok is up to 10 times as potent as VX, the weapon used to kill Kim Jong Un's half brother,
, in 2017.
"A lethal dose … and the person will die immediately. If [the dosage] is less, [the person] will go through very tortuous scenes. They will start convulsions, and stop breathing and then lose vision, and there are other problems — vomiting, everything. It's a terrible scene," Mirzayanov
.
CNN's Lindsay Isaac, Sebastian Shukla, Hilary McGann, Nick Paton Walsh and Mary Ilyushina contributed to this report.