6.26.18 
Let us start with the present crisis in the FBI as the whole organization, and then we will try to address the specific problems of Puerto Rico.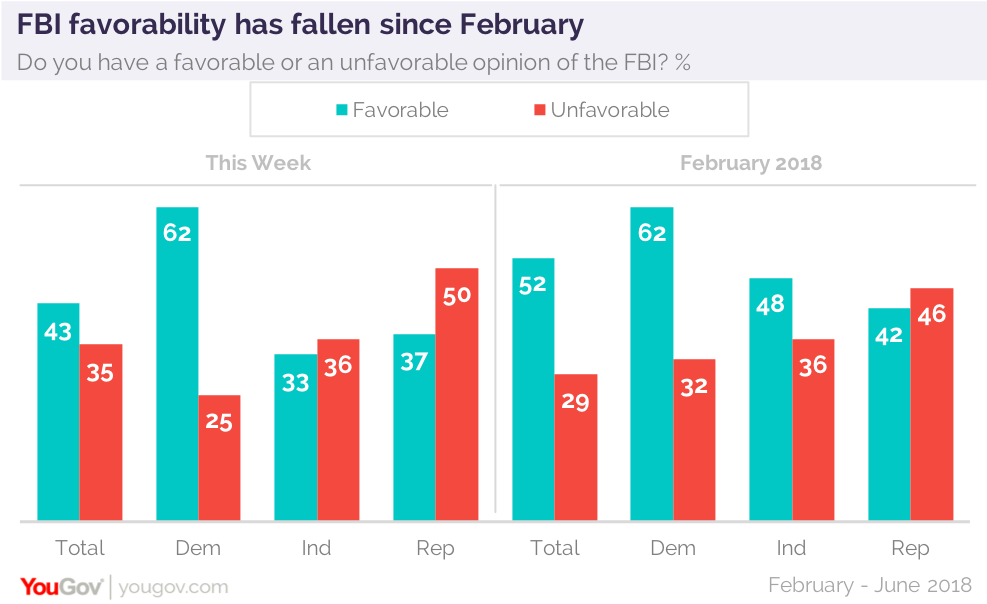 "FBI may be biggest loser in investigation of investigations: Favorable opinion of FBI has dropped from 52% to 43% since February" [of 2018]. 
Some observers supposed that there were able to diagnose the problem correctly and they conveniently blamed on the FBI leadership, attempting to pinpoint the root causes of this dangerous disorder. Me thinks humbly, that those "root causes" are many, and they are intricately intertwined, as it always is in the genesis of the complex phenomena, and these "causes" are in the perpetual need of good, objective, scientific analysis. However, "the leadership aspect" of this undeniable crisis appears to be painfully and definitely present. That what the papers say. 
_______________________________
The FBI is in crisis. It's worse than you think https://ti.me/2HK7V3j 

The FBI Is in Crisis. It's Worse Than You Think

'I've never seen anything like this'

time.com
Here's why the inspector general's report was such a blow to James Comey https://ti.me/2MtWag6?utm_source=twitter.com#7cf6de6c-a617-4819-8fd0-f4dc58baece8&utm_medium=social&utm_campaign=social-button-sharing …

Here's Why the Inspector General's Report Was Such a Blow to James Comey

It hits right at his reputation for integrity.

time.com
Former FBI Director James Comey's Comments On Donald Trump Are Brutal – LBC @LBC http://shr.gs/GZdQ8WH 

Former FBI Director James Comey's Comments On Donald Trump Are Brutal

James Comey found out he was being fired by Donald Trump by seeing it on TV. He told Nick Ferrari the truth of his relationship with the President of the US.

lbc.co.uk
http://p.dw.com/p/2zxJy?maca=en-Twitter-sharing … Exclusive: James Comey talks Trump, Russia probe and FBI legacy

James Comey talks Trump, Russia and FBI legacy

In an exclusive interview with DW, the ex-FBI director talks about the most challenging moments of his career. He told DW that Donald Trump's nature "actually increased my commitment to stay in my…

dw.com
____________________________________
What did Comey know, and when did he know it? 
The following episode is the illustration of the sick, almost surrealistic, obviously dysfunctional state, akin to prostration, that FBI found itself, on and off, during the Obama Administration. No wonder, they missed the show. 
James Comey didn't know Anthony Weiner was married to Clinton aide Huma Abedin https://washex.am/2t3cSdg 

James Comey didn't know Anthony Weiner was married to Clinton aide Huma Abedin

Former FBI Director James Comey admitted to the Justice Department's inspector general that he initially forgot that Anthony Weiner was married to Hillary Clinton aide Huma Abedin, the IG said in a…

washingtonexaminer.com
If Mr. Comey, the former FBI Director, did not know that Weiner and Abedin were married (and this was the whole point of this circumstance), and most likely he did not know and did not care about the other very relevant things, it means that he, and consequently the whole of the FBI in that period, was out of touch, out of place, and out of time. 
"And still your fingers on your lips, I pray. The time is out of joint—O cursèd spite, That ever I was born to set it right!" 
Mr. J.E. Hoover would get hysterical, and he would pull his hair out in a fit of rage, if he knew that, and if he had any hair left by that time.  
"We asked Comey to explain why this initial information about the Weiner laptop did not "index" with him given that Abedin was closely connected to Clinton. Comey stated, "I don't know that I knew that [Weiner] was married to Huma Abedin at the time." 
"James Comey doesn't know what he knows", concluded the commentators. 
Margot Cleveland

@ProfMJCleveland

Everyone is laughing @Comey for not knowing Weiner was Huma Abedin's husband. But think about that for a minute: Comey thought some random dude had Hillary's emails on his laptop and didn't think twice about it.
___________________________
Mr. Trump will use the facts to attack the FBI, but most agents are honest and nonpartisan. Christopher Wray, the new FBI director, promised Thursday to implement the IG's recommendations, but his cleanup task is larger. He can start by ending the FBI's stonewall of Congress on document requests.
Mr. Wray and Attorney General Jeff Sessions have to understand that radical measures are needed to restore public trust in both the FBI and Justice Department. If they won't do it, someone else must."
— The Wall Street Journal 
With regard to the treatment of this FBI malaise, the outlines of the prescription become gradually clear. 
"Michael Waller, an intelligence expert with the Center for Security Policy, said the IG report lays bare what some have been saying for decades: "The United States is the No. 1 target of every hostile intelligence service on earth."
"With few exceptions, the FBI has very little to show that it has the strategy and leadership to cut off much more than the low-hanging fruit," Waller said. 
"It's time to reorganize the whole FBI, retire a lot of the upper dead wood and fast-track the aggressive and capable younger field agents who think strategically and put the nation ahead of their careers,"
he added. "That will help give the FBI the new leadership the country so desperately needs it to have." 
The structural and the organisational issues also came to the fore. "It's Time to Get the FBI Out of the Spy Business", advises John Schindler. The prospects of the counterintelligence reform started to appear on a horizon. 
Michael Novakhov
–