Next Page of Stories
Loading…
Page 2
Next Page of Stories
Loading…
Page 3
Every unhappy terrorist movement is unhappy in its own way, and the global jihadist movement is no exception. Disagreements over targeting, tactics, organization and the fundamental question of what it means to be a good Muslim have plagued the movement since its inception and remain a source of weakness.
As the Islamic State declines, these differences become even more important. The Islamic State has lost the bulk of its territory in Iraq and Syria, but it is likely to endure there as some form of insurgency and, beyond that, as a terrorist movement. Still, playing the leadership role the movement claimed when it declared the Caliphate in 2014 will be harder. Al-Qaeda, for its part, has tried to play a longer game, but it too remains weak and may not be able to reclaim the leadership standard. Yet even as there is no clear leader, the broader movement remains robust. Jihadist groups, some of which have ties to al-Qaeda and the Islamic State, are active in Yemen, the Maghreb, India, the Philippines and of course Syria, among many other locations. In Europe, the jihadist movement enjoys support from too many Muslims, enabling it to attract fighters and inspire terrorist attacks.
This broad movement, however, is divided over several key questions. A very basic one concerns who is a "true" Muslim. Every religion, even the most accepting, has a line that separates believers from non-believers. Islam is no exception: It would be hard to claim to be a Muslim if one did not believe in God and did not consider Mohammad his prophet. Jihadists are often much stricter. Although jihad is generally justified as defending Muslims or reclaiming Muslim land from unbelievers, in practice many jihadists condemn whole groups of nominally fellow Muslims to the status of unbeliever (kafir). This goes against the approach most Muslim scholars have historically taken with this issue, as they've heeded the Prophet Mohammad's warning that being quick to accuse others of unbelief can lead to debilitating divisions among the faithful. Some jihadists contend that only observant Muslims truly are Muslims and that all others are apostates. Many would also say that only Sunni Muslims count: Shiite Muslims are the majority in Iraq, Bahrain and Iran, but under jihadists' strict interpretation of monotheism, Shiites are not true Muslims because their veneration of Ali, the fourth caliph and the prophet's cousin and son-in-law, gives him semi-divine status. Alawites, who control the Syrian government; Houthis, Yemenis who follow a different form of Shiism; and other religious minorities such as the Ahmadis, Druze and Yazidis are also beyond the pale. Others would go further and draw the line between Salafis—a puritanical form of Sunnism that rejects traditional politics, man-made laws and anything that smacks of human innovation—and all others, rejecting non-Salafi Islamist groups such as the Muslim Brotherhood as insufficiently pure. Still, others would draw the line between those Salafis who embrace jihad and those who don't—you're either with us or against us.
Having drawn the line between true believers and others, the next question is what to do about those who fall short. The Islamic State and, before that, al-Qaeda in Iraq made their names targeting Shiites and Sunni Muslims who cooperated with enemy governments, arguing that both deserved death for their impious allegiances. In Algeria in the 1990s, some jihadist groups went so far as to slaughter ordinary Muslims who tried to stay out of the fray, arguing that their non-cooperation was tantamount to rejecting the faith. Al-Qaeda, by contrast, has usually called on its followers to ignore these groups and, ideally, proselytize to put them on the true path.
The movement is also divided over who is a legitimate target. More broadly, there are divisions over the concept of tatarrus, or the killing of innocents as part of military operations (what the Pentagon would call collateral damage). Muslim scholars, like their Christian counterparts, have wrestled with how to balance the reality of war and its needs with their faith's call to protect the innocent. Many jihadist groups have lost popular support when they killed innocents, especially innocent Muslims, in their operations. Two al-Qaeda attacks against residential compounds in Riyadh in 2003 killed almost 20 Saudis—far more than the number of Americans—and drew widespread condemnation among ordinary Saudis.The May 2003 bombings killed nearly as many Muslims as infidel Westerners; the attack that followed in November—during the holy month of Ramadan, as it happened—killed and injured almost exclusively Muslims. Some 36 children were wounded. Ordinary Saudis turned sharply against al-Qaeda. Al-Qaeda in Iraq's decision to target hotels frequented by Westerners in Jordan, one of which was hosting a local couple's wedding, had a similar effect there. Al-Qaeda has tried to learn its lesson from this. Especially with regard to Muslims, the group is far more discriminating in its targeting than it was 15 years ago. When the Islamic State captured and murdered Western aid workers in Syria, for example, al-Qaeda's Jabhat al-Nusra decried this as "wrong under Islamic law" and "counter-productive." Abu Omar Aqidi, a senior Nusra militant, even tweeted to publicly call on ISIS to release Peter Kassig, an American aid worker (and convert to Islam) who had "performed a successful [medical] operation under bombardment by the regime" on Aqidi himself and treated other jihadists. After the infamous immolation of a Jordanian (Muslim) fighter pilot, al-Qaeda in the Arabian Peninsula denounced the video as "conclusive proof of ISIS deviance."
These differences are obscure to many, but the movement also has a basic question regarding organization: Should it be strictly hierarchical or far more decentralized? Al-Qaeda in the 1990s and later the Islamic State along with its predecessor organizations usually pushed hierarchy: They have a top leader, senior lieutenants, committees to handle key issues such as security and media, and so on. The Islamic State also tried to replicate this at a local level to ensure order and control. The relentless counterterrorism campaigns of the United States and its allies, however, made hierarchies dangerous. The killing or capturing of key leaders could bring a group to a temporary halt or at least severely limit operations. In addition, the constant communication needed to run a large insurgency or global terrorist movement risked revealing the whereabouts of key figures. The Islamic State still favors some degree of hierarchy, but other groups have called for far more decentralized operations. These are harder to disrupt, but they run the risk of fragmentation. Even if the organization does set out clear instructions regarding tatarrus and other targeting concerns, it is hard to enforce order, running the risk that unauthorized actions of a local cell or foreign affiliate could discredit the broader group.
The jihadist movement is also profoundly divided on the question of the caliphate. The Islamic State has made its reputation in part on declaring its return. Al-Qaeda, however, has waffled in many public statements because of the concept's popularity and the group's long-term goal of establishing an Islamic state of its own. In private, though, it has often been scathing, arguing that the jihadist movement as a whole does not enjoy the popular support necessary for a caliphate to survive and that establishing state structures in a given area simply tells the United States and its allies where to bomb.
Even below the level of the caliphate, the groups disagree on whether to impose Islamic law in areas they control. The Islamic State contends that it is its religious duty to do so, and of course, a caliphate would not be a true caliphate if it did not govern according to Islamic law. In areas where al-Qaeda-linked groups have controlled territory, however, they have vacillated between strictly imposing Islamic law and taking a more lenient approach of educating the locals or even leaving it to local leaders to settle disputes and otherwise rule.
In general, al-Qaeda and associated groups favor a more "hearts and minds" approach of providing services, working with local leaders and partnering with other rebel groups. The Islamic State, however, wants to crush necks and spines, displacing local leaders, and ensuring its own power. It often puts foreigners in control of areas it conquers, while al-Qaeda groups prefer local leaders. In Syria and other places with many jihadist groups, the Islamic State demands their loyalty while al-Qaeda has called for partnering with, and often taking a back seat to, other Syrian rebel groups.
The movement also differs as to how much to focus locally and regionally vs. those who want to focus on the United States or other Western countries. Most groups try a mix of both: Al-Qaeda at the time of 9/11, for example, spent the bulk of its money and forces helping the Taliban and used its camps in Afghanistan to train fighters focused on fomenting insurgencies in the Muslim world; at the same time, it engineered a massive terrorist attack on the United States. Similarly, the Islamic State mostly pursued the consolidation and expansion of its caliphate, but it has also tried to encourage attacks on the West and used operatives to carry out bloody strikes such as the 2015 Paris attacks. Having it both ways, however, makes it harder for the groups to concentrate their resources and risks attracting new enemies, which more local rebel groups understandably hate. Al-Qaeda's Syrian affiliate, for example, has declared that it will not attack the West and ostensibly separated from the al-Qaeda mothership to demonstrate to local allies that it would not stand in the way of their receiving military aid from the United States and its partners.
An important question is whether these are differences in objectives or simply differences in priorities. If jihadists disagree on fundamental outcomes, then any unity of purpose or organization will be much harder to achieve. If the question is simply one of priorities, then changes in circumstances can bring different factions together in the name of expediency.
Questions of tatarrus or the precise line where apostasy begins and ends mean little to most foot soldiers. Data from captured Islamic State records showed that 70 percent of recruits claimed they had only a basic knowledge of Islam. But some of these questions have a tremendous impact on the appeal of different groups. The revival of the caliphate, for example, proved compelling to many recruits and, regardless of its perceived legitimacy among purists, the temptation to play this popular card will be there in the future.
It's always tempting to urge the United States to try to play up these divisions, and I've done so myself at times. The U.S. track record of influencing the jihadist dialogue, however, ranges from poor to nonexistent, and deliberately trying to generate ever more extreme factions isn't wise. But these internal fissures do hamper U.S. enemies and do some of the work for us. At the very least, they expend precious time and energy trying to one-up rival groups in their propaganda. At most, the differences lead to actual shots fired or recruits and donors being turned off by infighting.
Read the whole story
· · · · · ·
Critics probably have the best insight into the changes the platform needs to make
 Donald Trump – Google News
Next Page of Stories
Loading…
Page 4
Next Page of Stories
Loading…
Page 5
Next Page of Stories
Loading…
Page 6
Next Page of Stories
Loading…
Page 7
Next Page of Stories
Loading…
Page 8
Signed in as mikenova
Share this story on NewsBlur
Shared stories are on their way…
Washington (CNN) Puerto Rico and Washington seem farther than 1,500 miles apart right now — in fact they're experiencing a different version of reality.
But after eight months in office, that pledge has become a favorite punchline on the web. Rather than a home to efficient, skilled operators, the Trump White House has been marked by an eccentric swirl of office politics run amok and off-hours fits of pique.
Here's a quick skip through the profound — and very real — weirdness that has colored much of the current administration.
No one hides from the press (or the President) better than Trump's people.
First there was former FBI director James Comey. Trump initially decided to keep Comey on in his job and, during a post-inaugural reception at the White House, singled him out for a handshake and slap on the back. But as Comey confidante Ben Wittes
, the lanky lawman tried to avoid the awkward interaction by blending in with the drapes, which matched his blazer.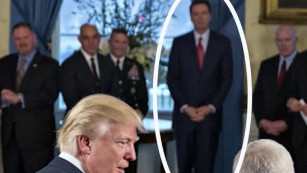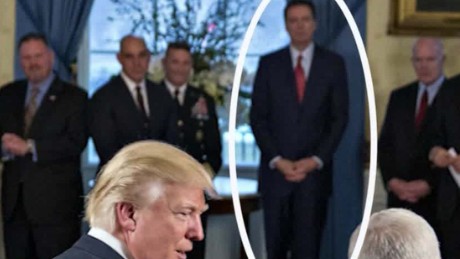 JUST WATCHED
Friend: James Comey tried to avoid Trump
MUST WATCH
Loaded: 0%
Progress: 0%
0:00
Loaded: 0%
Progress: 0%
0:00
02:42
"So he stood in the back, right in front of the drapes," Wittes wrote, "hoping Trump wouldn't notice him camouflaged against the wall."
Alas, the President caught a glimpse. "Oh, and there's Jim," Trump said. "He's become more famous than me!"
That relationship would sour a bit, and on the occasion of Comey's firing, in early May, Trump communications staffers tried to steer clear of the media. Most notable was Sean Spicer, the dissembling former press secretary, who hid in —
— some bushes on the White House grounds rather than confront a hungry pack of reporters.
Former chief of staff Reince Priebus's departure from his job, ditched on the tarmac after a ride on Air Force One, was an uncomfortable affair. Perhaps it would have been less so if there was a large trash can there to obscure reporters' view.
And then there is the curious case of Jared Kushner, Ivanka Trump and their vacation schedule. The couple and their children
 when the President starts lighting fires. Is it a coincidence? Are they keeping a lid on Oval Office shenanigans — only to see it pop off when they leave?
Or is it — as the critics have increasingly suggested — that they are actively trying to stay out of the less flattering headlines?
Starman Trump
To Trump, North Korean dictator Kim Jong Un is the
 That song, by Elton John, is from 1972. Another famous tune, from the same year, could be applied to Trump: David Bowie's
Trump has repeatedly found himself in odd situations with the biggest star of all: the sun.
He most recently took on a solar eclipse — training the presidential retinas directly on it.
According to the press pool on hand that afternoon, "White House aides standing beneath the Blue Room Balcony shouted 'don't look'" as Trump, well, looked.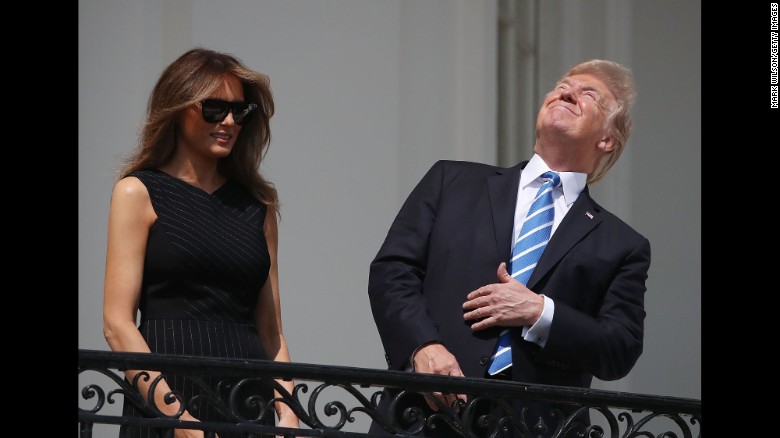 President Donald Trump looks up toward the Solar Eclipse while joined by his wife first lady Melania Trump on the Truman Balcony at the White House on August 21, 2017.
Before that, there was the famous "orb." During his first visit to the Gulf as President, Trump gathered with Saudi King Salman bin Abdulaziz and Egyptian President Abdel Fattah al-Sisi to paw an odd-looking, glowing sphere.
As it turns out, this was less a star than some kind of incandescent globe, meant to signify, as noted in the Saudi embassy tweet, some kind of new joint effort to combat terrorism.
But Trump's
 grappling with solar power came during a pair of visits to Europe earlier this year, when he repeatedly engaged in prolonged handshakes with French President Emmanuel Macron. The young leader has an appreciation for both clean energy and
the power exercised by the Sun King, Louis XIV
.
Does it please the President?
If we know one thing about Trump, it's that he prizes loyalty —
. He tells us constantly. His subordinates know it and have, on occasion, gone to outsize lengths to prove their own.
One memorable example: Before his own wings were clipped,
, Priebus was called on to ground a fly that infiltrated an Oval Office meeting. It had been buzzing, and annoying Trump, who duly "summoned his chief of staff and tasked him with killing the insect."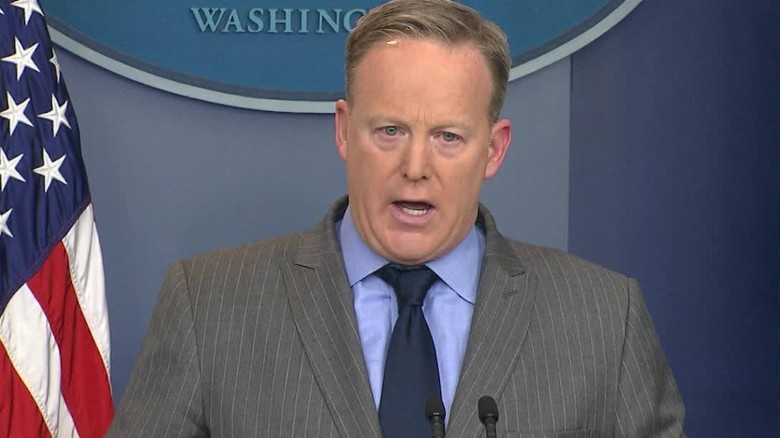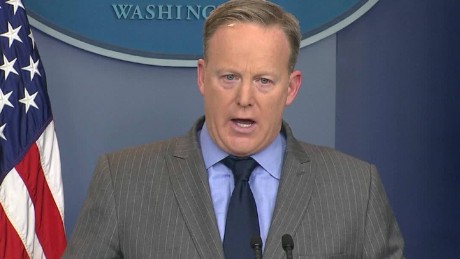 JUST WATCHED
Spicer: Inauguration had largest audience ever
MUST WATCH
Loaded: 0%
Progress: 0%
0:00
Loaded: 0%
Progress: 0%
0:00
01:13
Doing Trump's bidding, however ridiculous, is a core competency in this White House. Spicer's thirst for the job was tested on his first weekend, when he declared the audience for the previous day's festivities the largest "to ever witness an inauguration, period."
Spicer's rant was a signal of things to come. The next day. Trump senior adviser Kellyanne Conway went on NBC to defend her colleague's assertions, up to a point.
"You're saying it's a falsehood," she told "Meet the Press" host Chuck Todd. "And they're giving — Sean Spicer, our press secretary — gave alternative facts."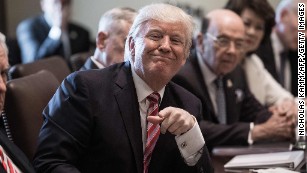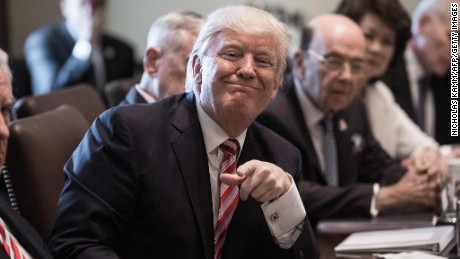 JUST WATCHED
Trump's Cabinet showers boss with praise
MUST WATCH
Loaded: 0%
Progress: 0%
0:00
Loaded: 0%
Progress: 0%
0:00
02:36
But there was no alternative, only love, when Trump formally introduced his Cabinet in June. As the group went up and down a long conference table, they hand-bathed the President in praise.
Here's a taste:
Vice President Mike Pence: "Greatest privilege of my life to serve as your vice president."
Attorney General Jeff Sessions: "We are receiving, as you know — I'm not sure the rest of you fully understand — the support of law enforcement all over America."
Labor Secretary Alexander Acosta: "I want to thank you for keeping your commitment to the American workers."
Energy Secretary Rick Perry: My hat's off to you for taking that stand (on the Paris climate deal), for sending a clear message around the world that America is gonna continue to lead in the area of energy.
UN envoy Nikki Haley: "It's a new day at the United Nations. We now have a very strong voice. People know what the US is for, they know what we're against, and they see us leading across the board.
White House budget director Mick Mulvaney: "With your direction we were able to also focus on the forgotten man and woman who are the folks who are paying those taxes, so I appreciate your support and your direction in pulling that budget together."
Health and Human Services Secretary Tom Price: "I can't thank you enough for the privilege that you've given me and the leadership that you've shown."
Transportation secretary Elaine Chao: "I want to thank you for getting this country moving again and also working again."
Agriculture Secretary Sonny Perdue: "I want to congratulate you on the men and women you've placed around this table. The holistic team of working for America is making results in each and every area."
And then came Priebus for the topper:
"On behalf of the entire senior staff around you, Mr. President, we thank you for the opportunity and the blessing that you've given us to serve your agenda and the American people."
Business dinners
Do a deal. Have a meal.
Trump has brought with him to the presidency some of the vestiges of the New York City real estate life. Among them, a desire to combine food with business.
Earlier this month, that meant dinner with Democratic leaders Chuck Schumer and Nancy Pelosi included Chinese food, but no Republicans. They walked out of the meeting with some conflicting reviews, though not of the cuisine. The questions centered on whether Trump had agreed to a deal that would protect DACA recipients in exchange for a bump in border security (but no money for the wall).
That last bit is still a mystery. What's not is the President's preference for a chocolate dessert. At the Pelosi-Schumer get-together, it was pie. But back in April, there was a different order. Two of them, actually. First for cake, then for airstrikes on Syria.
How do we know — and why do we care — what Trump had for dessert before making the decision? Because he told us. In an interview with Fox Business Network's Maria Bartiromo, the President turned his recollection of the strikes into an advertisement for his Mar-a-Lago resort.
"We had finished dinner," he said of himself and visiting Chinese President Xi Jinping. "We're now having dessert — and we had the most beautiful piece of chocolate cake that you've ever seen, and President Xi was enjoying it — and I was given the message from the generals that the ships are locked and loaded."
And then?
"We made a determination to do it, so the missiles were on the way."
It wasn't the first time the President put on a show for the paying customers at Mar-a-Lago. In February, Trump and Japanese Prime Minister Shinzo Abe were tucking into iceberg wedge salads when word came down that North Koreans had launched an intermediate-range ballistic missile.
The leaders got down to business in full view of gawking guests. Some aides even
illuminated potentially sensitive briefing papers
 with the flashlights on their phones, which might or might not have been secure. (Spicer later told reporters the leaders had been "reviewing the logistics for the press conference," not scouring classified documents.)
Waiters stayed on the scene too, swapping out the salads for a main course. But Trump and Abe soon moved to another room. It's unclear if they ever made it to dessert.
Loose lips sink…
The Trump administration is still short of the quarter pole and it's already staked a claim to being the leakiest in American history.
How bad is it? Well, when national security adviser H.R. McMaster authored a memo warning against the "unauthorized disclosure of classified information or controlled unclassified United States Government information," it was promptly
.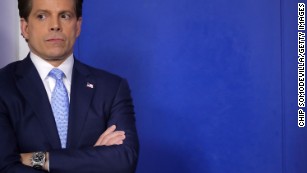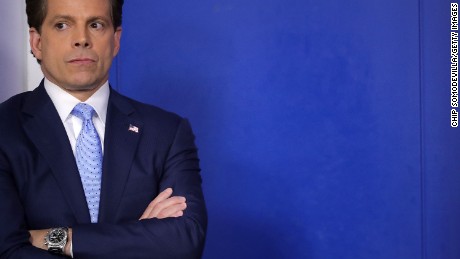 JUST WATCHED
Audio of Scaramucci's vulgar call released
MUST WATCH
Loaded: 0%
Progress: 0%
0:00
Loaded: 0%
Progress: 0%
0:00
01:21
And while it's not usually considered a leak when it comes from the President's mouth, The Washington Post in May reported that Trump shared highly classified information with the Russian foreign minister and ambassador during an Oval Office meeting.
The list goes on. Short-lived communications director Anthony Scaramucci sealed his own fate when, in his zest for pursuing leakers, he called up the New Yorker's Ryan Lizza to chat — on the record — about his colleagues. Warning,
 contains lots of graphic language.
And then there is new Trump lawyer Ty Cobb. He recently
a look at the inner workings of a White House increasingly at odds with itself over how to manage special counsel Robert Mueller's Russia probe.
How so? By conducting the conversation, with a colleague, over lunch at a popular Washington steakhouse in the immediate vicinity of both the White House and the Times' DC bureau.
How did the reporter spot him? Well, here's a picture of Cobb.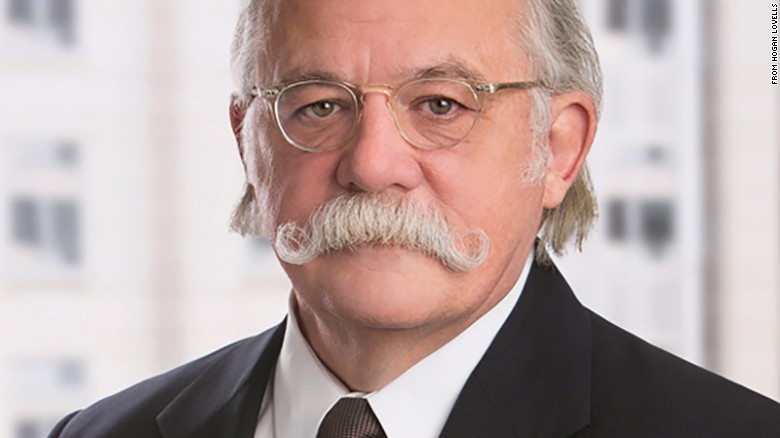 Ty Cobb, the Trump lawyer and flamboyant mustache wearer.
And here's what he looked like on that afternoon, dining and prattling on about all manner of internal intrigue.
Read the whole story
· · · · · · · · · · · · · · · · · ·
So have we seen the kind of full-court, all-out relief effort such a catastrophe demands? No.
Admittedly, it's hard to quantify the federal response. But none of the extraordinary measures you'd expect to see have materialized.
The deployment of military resources seems to have been smaller and slower than it was in Texas after Harvey or Florida after Irma, even though Puerto Rico's condition is far more dire. Until Thursday the Trump administration had refused to lift restrictions on foreign shipping to Puerto Rico, even though it had waived those rules for Texas and Florida.
Why? According to the president, "people who work in the shipping industry" don't like the idea.
Furthermore, although it's more than a week since Maria made landfall, the Trump administration has yet to submit a request for aid to Congress.
And where's the leadership? There's a reason we expect visible focus by the president on major national disasters, including a visit to the affected area as soon as possible (Trump doesn't plan to visit Puerto Rico until next week). It's not just theater; it's a signal about urgent priorities to the rest of the government, and to some extent to the nation at large.
But Trump spent days after Maria's strike tweeting about football players. When he finally got around to saying something about Puerto Rico, it was to blame the territory for its own problems.
The impression one gets is of a massively self-centered individual who can't bring himself to focus on other people's needs, even when that's the core of his job.
And then there's health care.
Obamacare repeal has failed again, for the simple reason that Graham-Cassidy, like all the other G.O.P. proposals, was a piece of meanspirited junk. But while the Affordable Care Act survives, the Trump administration is openly trying to sabotage the law's functioning.
This sabotage is taking place on multiple levels. The administration has refused to confirm whether it will pay crucial subsidies to insurers that cover low-income customers. It has refused to clarify whether the requirement that healthy people buy insurance will be enforced. It has canceled or suspended outreach designed to get more people to sign up.
These actions translate directly into much higher premiums: Insurers don't know if they'll be compensated for major costs, and they have every reason to expect a smaller, sicker risk pool than before. And it's too late to reverse the damage: Insurers are finalizing their 2018 rates as you read this.
Why are the Trumpists doing this? Is it a cynical calculation — make the A.C.A. fail, then claim that it was already doomed? I doubt it. For one thing, we're not talking about people known for deep strategic calculations. For another, the A.C.A. won't actually collapse; it will just become a program more focused on sicker, poorer Americans — and the political opposition to repeal won't go away. Finally, when the bad news comes in, everyone will know whom to blame.
No, A.C.A. sabotage is best seen not as a strategy, but as a tantrum. We can't repeal Obamacare? Well, then, we'll screw it up. It's not about achieving any clear goal, but about salving the president's damaged self-esteem.
In short, Trump truly is unfit for this or any high office. And the damage caused by his unfitness will just keep growing.

New York Times

Trump's Deadly Narcissism

New York Times

According to a new Quinnipiac poll, a majority of Americans believe that Donald 

Trump

 is unfit to be president. That's pretty remarkable. But you have to wonder how much higher the number would be if people really knew what's going on. For the trouble 

…
Next Page of Stories
Loading…
Page 9

The New Yorker

The Republican Casualties of Trumpism

The New Yorker

Why is Trump so hostile to the leaders of his own party? Ryan Lizza joins Dorothy Wickenden to discuss how Mitch McConnell and Paul Ryan have become among the most reviled figures in Washington, and what the war on the Republican establishment …
 Rudy Giuliani – Google News
He accidentally listed himself as a woman on his voter registration form.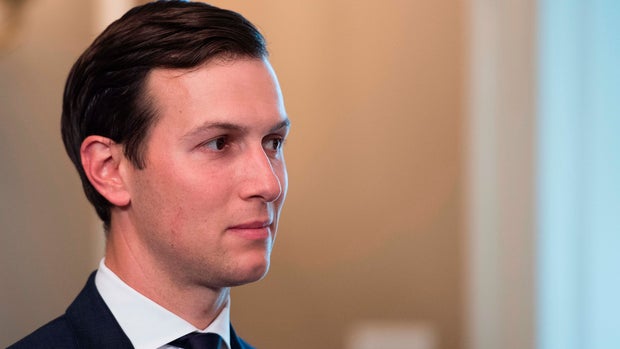 FBI Director Christopher Wray, who replaced fired former Director James Comey, said the bureau must embrace change.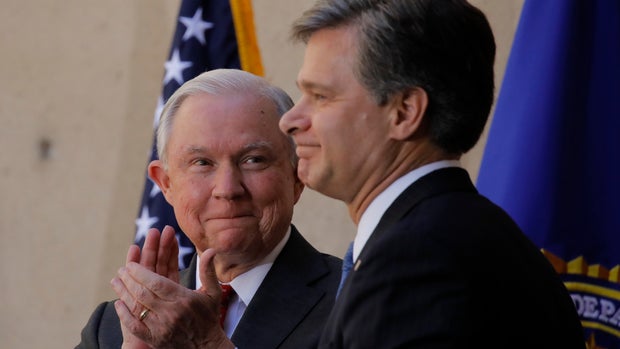 Next Page of Stories
Loading…
Page 10